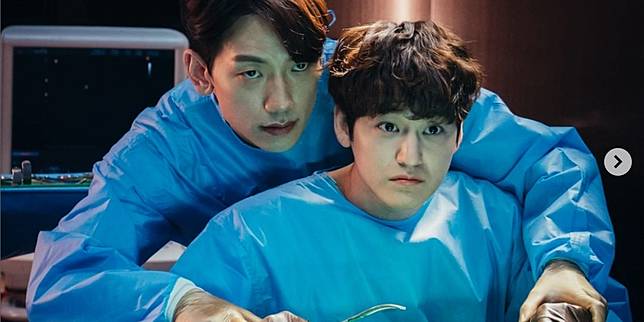 KOMPAS.com– Actor Kim Bum revealed his preparations first when he would play someone possessed by Rain's character in the Ghost Doctor series.
On February 24 KST, Kim Bum sat down for an interview to express his thoughts on the drama Ghost Doctor that he co-starred with Rain.
In the drama series, Kim Bum plays the role of Ko Seung Tak, a resident doctor in the cardiothoracic surgery unit.
Apart from showing great on-screen chemistry with Rain, Kim Bum received praise for his detailed performance in showing the character changes.
From being possessed by Cha Young Min (Rain) and then back again as Ko Seung Tak.
Also read: Ghost Doctor Ends, Here Are Five Heart Touching Haunted Moments
Kim Bum said the experience of playing a ghost possessed was fun.
"It was fun. For example, when we were younger, we would watch variety shows where when you 'pop!' someone will disappear and when you go 'pop!' (again) they will reappear," said Kim Bum quoted from Allkpop.
Though at first he had felt very embarrassing to do that in the real world.
"At first, it was embarrassing, and it felt like the staff members were laughing at me. If I wasn't serious about this, then it would be a low-quality comedy," said Kim Bum.
"So I thought 'it's okay to be like this.' I have confidence in myself while acting," he said.
Also read: Lots of Talk, Here Are 3 Reasons Ghost Doctor Can't Be Missed
Receiving praise for his acting as a possessed doctor, Kim Bum then explained how he immersed himself in Rain's character while possessing his body.
"First of all, it was a situation where I also had to act as the 'ghost version of Seung Tak,'" said Kim Bum.
"So when I wasn't filming for the first two months, I kept watching Ji Hoon (Rain) hyung," he added.
The Boys Over Flowers star admitted that he had secretly watched Rain's movements.
"I secretly pay attention to his external characteristics, by observing the way he walks, the way he talks, and his body movements," said Kim Bum.
"While wearing a doctor's gown, Seung Tak put his hands in his pockets and was in a bent position. I described him as a character who is sensitive to touch," he continued.
Due to observing Rain in detail, Kim Bum knows Cha Young Min (Rain)'s habits and wants to differentiate him from Seung Tak's character.
"There is a difference in Young Min's appearance when he puts his hands in his pants pockets," said Kim Bum.
"While walking, I copied Disney cartoon characters for Seung Tak and for Young Min I tried to show someone who was full of confidence," he said.
Author : Rintan Puspita Sari Editor : Rintan Puspita Sari