Talking about Yogyakarta means talking about tourism. Yogyakarta and its surroundings are indeed a tourist city that has been famous since time immemorial. After being famous as a city of cultural tourism, Yogyakarta continues to develop its territory as a tourist city. Currently, there are many tourist attractions in Yogyakarta and its surroundings which are a shame to pass up. One of them is the natural tourist attraction of Kalibiru.
Kalibiru is actually the name of a forest that is currently being processed into a natural tourist spot. Kalibiru Forest has an altitude of 450 meters above sea level and is a fertile hilly area. The air temperature in this place is very cool. Kalibiru is managed by the government and local communities as nature tourism and education. There are many things that can be found there, including outbound, lodging, and several spots to find contemporary photos. There is also a trekking route that can also be used as a camping location.
Read also:
Location and Access
The Kalibiru tourist attraction is located in the Kulon Progo area, Yogyakarta with the concept of nature tourism. Kalibiru is popular recently because of mass media and social media. The exact location is in Hargowilis Village, Kokap District, Kulon Progo, Yogyakarta. The distance from the city center is about 40 kilometers.
Kalibiru is also close to other tourist attractions such as Sermo Reservoir, Nglinggo Tea Garden, and Sidoharjo waterfall. Even from Kalibiru, you will be able to see a charming view of the Sermo Reservoir from a close distance. The journey to Kalibiru must be passed uphill and quite winding. We recommend using a strong vehicle so that the trip becomes smoother.
To reach Kalibiru, at least there are several alternative travel routes that tourists can choose, including:
Sermo Rute Route
This first route is the most used route by tourists. The reason is because on the way, you will also find views of the Sermo reservoir, so the trip will be more enjoyable. If you are someone who enjoys traveling more than the destination, this route will be for you.
To go to Kalibiru with the Sermo route, you can pass through the Sentolo area, then to Pengasih. From there, head towards the Wates square – Wates Hospital – Beji – Sermo. Just from Sermo, you can go to Kalibiru.
Clereng Route
The second route is the Clereng route. Traveling with this route is faster than the first route, because the climb or twist will not be as bad as the first route. If you don't really like long trips and prefer short trips, just take this route. From the city center, you can go to Sentolo, then to Pengasih.
However, after the Pengasih intersection, turn right (towards Clereng). Just follow that route to get to Kalibiru. There is already a guide on the way, so you don't have to worry about getting lost.
City route (from Malioboro)
This route is the least used route, because there are rarely tourists from Malioboro heading to Kulon Progo. However, if you want to go to Kulon Progo from Malioboro, just take the Purworejo route. Follow the road until you reach the Wates terminal. From the terminal, follow the signpost to get to the Sermo reservoir. From Sermo, follow the route to Kalibiru.
Read also:
Price of admission
Kalibiru is a tourist attraction that is quite affordable and suitable for people who don't want to spend a lot of money to travel around Yogyakarta. Tourists who enter Kalibiru will be charged a relatively cheap fee, which is only IDR 5,000 per head. To park a motorbike, tourists only need to pay Rp. 2,000, while to park a car they only need Rp. 5,000.
Facility
There are many tourist facilities offered by this Kalibiru nature tour. There is a large parking area for motorbikes and cars. There are food stalls, so tourists don't have to worry about running out of food supplies. There are also lodging facilities such as a pavilion, homestay, and also a camping ground. For tourists who want to have fun honing their adrenaline, there are outbound facilities that can be used.
Facilities for Sightseeing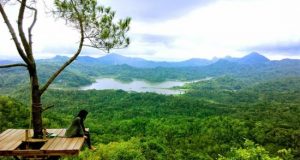 In addition, there is also a viewing tower to enjoy views of the hills from Kalibiru. From there you will also be able to get a cool sunset view if you visit at the right time.
If you want to hunt for photos there, you need to pay only IDR 10,000. In addition, there are several viewing posts in the form of a tree house to enjoy the sunset view and hunt for cool sunset photos.
The view of the green and cold hills will also spoil the eyes of the tourists. No wonder why there are many young people who want to capture the moment there.
Facilities for Stay
The homestay facilities total 6 and can accommodate around 10-15 people in total. This homestay can be used for family homestays with the cheapest price being IDR 120,000 per night for one homestay.
A relatively cheap price for a natural tourist location in Yogyakarta, right? When else can you stay in Yogyakarta at a cheap price and get a unique view of the cool and beautiful hills? In addition to homestays, tourists can also camp at the camping ground provided.
Read also:
Food Facilities
In addition to nature tours, there is also a culinary tourism concept that is presented in this Kalibiru tour. There are many delicious food vendors that are easy to find. Starting from light meals and heavy meals. There is also a shop similar to a cafe near the main entrance of Kalibiru.
In addition, there are also lesehan stalls that are easy to find at affordable prices. The food menu is also very diverse.
Outbound Facilities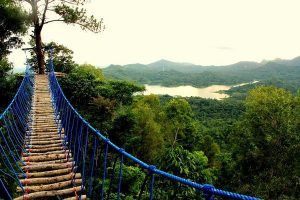 For outbound facilities, Kalibiru also has a flying fox that can be tried by all people, at a price of IDR 5,000 per person (for children) to IDR 10,000 per person (for adults).
However, this flying fox can only be used on Sundays from 8 am to 4 pm. If you want to try flying fox, just come on Sunday.
In addition to flying fox, there is also an outbound facility in the form of a monkey bridge. This monkey bridge is a suspension bridge that is connected from one tree to another.
The material used is wooden planks with rigging. From the top of the bridge, the view of the Sermo Reservoir can also be seen very cool. For those who are afraid of heights, don't worry because there are guards who can attach a safety rope.
Trekking Facilities
For trekking or nature cruising facilities, there are several routes and terrain that can be taken. Tourists are free to choose on which track they will walk. There are tracks that are only 1.5 km, 3 km, 5 km, up to 7 km. For the 7 km track, you can see the view of the Sermo Reservoir from a close distance.
During the trip, you can also see the diversity of fauna scattered, such as eagles, wild boars, hedgehogs, partridges, and tigers. If you plan on going up the mountain, it's a good idea to train physically on this Kalibiru track.
Read also:
Thus the explanation of Kalibiru nature tourism. If you want to visit there, it is better to use a private vehicle so that you can move more freely to other Kulon Progo tours. Happy holidays in Yogyakarta and have a nice holiday.