When the holiday season or weekend arrives, surely many people want to go to several tourist attractions to unwind. Especially those who have small children, of course parents want to take their sons and daughters for a walk. Traveling with children is very fun. In addition, active children can also hone their creativity and social skills. For those of you who live in the Majalengka area of ​​West Java, you don't need to be confused about where to take your children for a trip when the holidays arrive. The recommended family vacation tip is to just invite them to enjoy water rides at Jembar Waterpark Jatiwangi.
Features of Jembar Waterpark
Jembar Waterpark is one of the tourist attractions in Majalengka, West Java which is suitable for children. There are water rides and swimming pools that can be enjoyed by children as a family tour with quite complete facilities. The main concept of Jembar Waterpark Jatiwangi is dinosaurs, which are ancient animals. This concept is sure to be liked by children, especially those who really like water games and swimming pools.
Not only children, adults can also swim there, because there is also a special location for adults. For children, there is a children's pool which is very safe and not too deep. Children can freely play with friends and relatives to spend a memorable holiday.
In the swimming pool, of course there are various water games, such as slides or slides, and various other rides. There is also a high and winding waterboom, perfect for kids who like a challenge. However, the water rides in this place are very safe.
As for the concept of tourism itself, which was explained earlier that the concept is dinosaurs, of course in various corners of the Jembar Waterpark Jatiwangi tourist attraction there are various kinds of dinosaur statues. Some are placed in the corner of the pool, and some are placed in another separate place. The sizes of the statues also vary with different shapes. Thus, children can see several types of dinosaurs.
In addition, the location of this tourist attraction can be said to be very interesting because it is in the countryside. The natural impression is still very much felt. This also causes tourists to be interested in taking pictures when traveling here.
The name Jembar Waterpark itself is taken from the name Jembar Raya, which is one of the large roof tile companies in Jatiwangi and is located in Majalengka. Because it has only been opened in the last few years, this tourist attraction still doesn't feel cool yet, because the plants planted there are still just growing. However, in the next few years, this tourist location will definitely be very lush, because the park there is already designed quite well, and can be an alternative tourism other than Family Tourism Places in Bogor, West Java.
Jembar Waterpark Facilities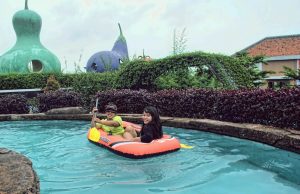 If you really want to visit Jembar Waterpark Jatiwangi, there are indeed many tourist facilities that can be obtained. For both children and adults, this tourist location will be very memorable. Here are some rides and facilities that can be found at Jembar Waterpark.
Spacious parking space – This parking lot is quite spacious and can accommodate vehicles for visitors either in groups (buses) or personal (motorcycles and cars).
Children's swimming pool – Swimming pool for children with safe and shallow conditions, and has a variety of water games. One of the Tips for Vacationing with Toddlers is to take them swimming here.
Adult only swimming pool – Swimming pool for adults who also want to swim or enjoy the tourist atmosphere while waiting for the children to play.
Different types of pools – Current pool, slide pool, wave pool, beach pool, to enjoy more complete water rides.
Spilled bucket rides – For visitors who want to feel the sensation of being splashed by water from a large bucket that spills over their heads.
Dressing room – For visitors who have finished swimming and rinsed themselves, to change into dry clothes.
rinse room – For visitors who have finished swimming and want to rinse themselves.
Toilet – For visitors who need to urinate and defecate.
prayer room – For visitors to worship when prayer time arrives.
Gazebo or hut – For tourists who do not participate in swimming and want to relax for a while while waiting for the rest of the group to finish swimming.
Swimsuit rental service – If visitors don't bring a swimsuit, they can rent it there and don't have to worry about bringing a swimsuit from home.
Tire rental service – If visitors want to use tires when swimming, they can also rent tires and play with them.
Those are some of the facilities and rides at Jembar Waterpark. This tourist attraction is relatively new, so the existing facilities are also very clean and well-maintained. This tourist attraction itself just opened on July 28, 2014. For those of you who have never visited it, you can invite your siblings or relatives to visit and enjoy the excitement.
Jembar Waterpark Entrance Ticket Prices
To travel to Jembar Waterpark Jatiwangi itself, tourists also don't have to pay a high price. The entry ticket price itself is only IDR 20,000 on weekdays and IDR 25,000 for weekends and holidays. The price is definitely fairly cheap when compared to the various facilities that can be obtained.
Location and Route to Jembar Waterpark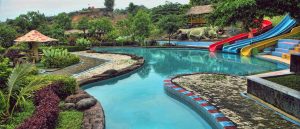 The location of the Jembar Waterpark Jatiwangi tourist attraction is in the Dukuhjeruk Hills area, Ranji Wetan Village, Kasokandel District, Majalengka Regency, West Java. Majalengka is also close to Purwakarta, so don't forget to also stop by other tourist attractions in Purwakarta.
To go to the waterpark, you can start the journey from Majalengka by heading towards the Jatiwangi intersection. From the intersection, head towards Ranji Village. From there, you can go directly to the entrance of the Jembar Waterpark. This location can be reached by using private vehicles or public transportation. If you use public transportation, you can take public transportation with the direction of Duchy – Cirebon.
Once entering this tourist area, visitors can immediately park their vehicles, both two-wheeled and four-wheeled in a very large parking area. Even large vehicles such as buses can park at this location. Even though it is in the countryside, this tourist attraction can be accessed quite easily and the highway is also comfortable to pass.
Those are some explanations about the Jembar Waterpark Jatiwangi Majalengka tourist attraction in West Java that can be visited as family and child tourism. Hopefully the explanation above can be useful for you. Happy Holidays.