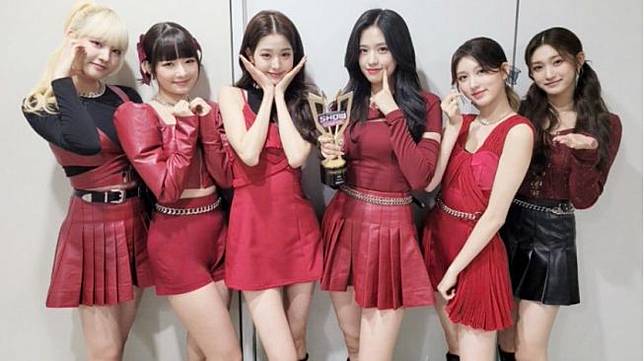 Suara.com – Reported via Soompi, the KBS music program "Music Bank" was not broadcast today (11/2), due to the broadcast of the 2022 Beijing Winter Olympics. However, this week's winner was still announced through the music show's official website.
As a result, IVE managed to rank first and at the same time won their 12th win for the debut song "ELEVEN" with a total score of 3,058 points. Then followed in 2nd place with a total score of 2,323 for "Winter Sleep" IU and GOT (Girls On Top) who took 3rd place with 2,315 points for "Step Back."
With this, "ELEVEN" IVE ranks 3rd as the debut song of a K-Pop group that won the most music awards.
1. Seo Taiji & Boys – I Know (26 wins)
2. Wanna One – Energetic (15 wins)
3. HOT – Candy (12 wins)
3. IVE – ELEVEN (12 wins)
4. X1 – Flash (11 wins)
In addition, IVE has also been named the 4th generation K-Pop group with the most wins on music programs with ITZY.
As a rookie group, in fact IVE managed to carve out various impressive achievements at the beginning of its debut. Previously, on January 17th, IVE managed to collect 44 million cumulative streams on Spotify. This impressive figure was obtained through the debut song "ELEVEN". In addition, IVE also managed to reach 5,036,026 monthly listeners on Spotify within 47 days of its debut.
In addition, IVE also recorded success in maintaining the top 10 positions on the real-time charts of major domestic music sites, such as Melon, Genie Music, and Bugs.
This girl group consisting of Gaeul, Yujin, Wonyoung, Rei, Liz, and Leeeseo is not only loved in their home country, but also internationally. IVE proved its potential on overseas charts, such as Billboard, iTunes, Apple Music, Billboard Japan, and YouTube Music.
It was also noted that IVE's debut album managed to sell 152,229 copies on Hanteo within a week. This achievement makes it the second highest-selling girl group debut album in a week. As for it, there is the album 'Savage' belonging to Aespa which sold around 276,877 copies.
Congratulations to IVE!
How do you respond?