Bali is one of the favorite tourist destinations both domestically and from abroad. Bali is a tourist island that is never empty of visitors every day. Besides having the advantages of Bali tourism in the form of beautiful natural panoramas, Bali is also attractive for various new and modern tourist objects. One of the new and modern tourist attractions in Bali is the Interactive Art Museum Bali which is an attractive tourist location for photography with a unique concept. Suitable for those of you who like photography activities with different background images than others. Here are some explanations about these attractions that you might visit when traveling to Bali.
The Uniqueness of the Interactive Art Museum
The Interactive Art Museum in Bali is considered a new tourist attraction because it only opened in mid-September 2016. However, once opened, this tourist attraction has begun to be known for its uniqueness. The interesting thing about this tourist attraction is the concept of tourism which is the largest 3D painting museum in Bali, even in Indonesia. Of course, this claim will make visitors more enthusiastic to enjoy the various photo facilities that are there.
The Interactive Art Museum Bali is quite complete. This museum offers the concept of one stop photo in one location. At least there are some parts of the Interactive Art Museum that are the work of the nation's children, such as the Upside Down, the Upside Down House, the Spooky House Haunted House, and others. There will also be traditional Balinese clothes that can be used for photo props with a Balinese three-dimensional painting background. It is also suitable for couples who want to hold a prewedding photo session as a unique and different Prewedding Place in Bali.
Interactive Art Museum Location
The location of the Interactive Art Museum is also very strategic, making it suitable for visitors from outside Bali to find it easily. You only need to visit the ground floor of the Bali People's Struggle Monument Bajra Sandhi. Precisely on Jalan Raya Piputan Panjer, South Denpasar, Bali.
This monument has a unique architecture and has a monument in the center of the building so it will be easier to find. This monument is also one of the popular tourist attractions in Bali, especially Denpasar. If you drive from the airport, it only takes about 30 minutes to get there.
Interactive Art Museum Vision Mission
The presence of this tourist attraction is expected to become an icon of museums in Indonesia that presents a creative and interactive impression. In addition, the existence of this museum is expected to represent the appreciation and preservation of local artists. It is evident from the various facilities that are there which provide positive aspects for both the visitors and for the artists who make the 3D artworks.
The museum is also expected to be a means of educational tourism. Education in this case can be seen from several things related to culture in Bali itself made by artists from Bali. So that the concept of education can be taken in a way that is more interactive and attractive and not boring. Therefore, this tourist attraction is also suitable to be visited as family tourism and children's tourism in Bali.
Facilities and Rides at the Interactive Art Museum
Visitors who come to the Interactive Art Museum Bali can enjoy various facilities and rides offered by this tourist attraction itself. Some of the interesting ones include the following.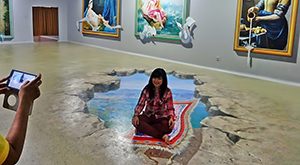 This facility offers a variety of interesting and interactive art collections for visitors who attend. There are so many unique things, such as eye trick art and optical illusion which are 3D Photo Spots in Indonesia.
Visitors will not only get 3D paintings as objects or photo backgrounds. But you can also see how unique the optical illusions that can be obtained from the photo rides are.
In addition, there are also several photo spots that highlight Balinese culture and traditional stories in the Bali and Indonesia Culture section. You can get various interesting things from the three-dimensional paintings that are there.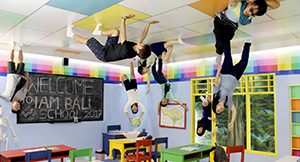 There is also a Special Effect Room facility that can be enjoyed as a photo object. One of them with the existence of the Upside Down House. There, visitors can pose in spaces that seem like anti-gravity.
Of course, this Reverse Photo Spot in Indonesia will give a unique and different impression. The results of your photos can be more unique and also anti-mainstream.
In addition, in this section there is also a Spooky House Haunted House. That is a haunted house ride that is suitable for those of you who want to test your guts and amazement. Also suitable for adrenaline.
In addition to the above facilities, at the Interactive Art Museum Bali there are also additional facilities such as a souvenir shop, places to eat and drink, a changing room for clothes and make up, and much more. So that visitors can do all activities more freely. The point is that visitors will get a complete and interesting tourist impression when visiting there.
Price of admission
Various tourist attractions in Bali must have an entrance ticket price, especially for modern attractions such as the Interactive Art Museum. And it was predictable beforehand that ticket prices for modern tours like this were indeed quite expensive. But for those of you who want to travel there, of course the price is in accordance with the facilities obtained.
Domestic visitors are charged Rp 100,000 per person. Meanwhile, foreign visitors are charged Rp. 120,000 per person. For children under 3 years free. How? Quite affordable right? If interested, you can visit from 09.00 to 20.00 WITA.
Those are some explanations about the Interactive Art Museum Bali that you need to know. Hopefully useful for you. Also know some interesting Night Photo Spots in Bali besides these attractions, especially those related to nature.