Bali has an attraction that has succeeded in attracting domestic and foreign tourists to come there. The advantages of tourism in Bali are not only from its natural beauty, but also from other things that are there. Especially now that there are many modern tourist attractions in Bali that are usually visited when you are bored with the beaches in Bali. Like Upside Down World Bali or as will be discussed in this article, namely Dream Museum Zone Bali.
The Uniqueness of the Dream Museum Zone
Over time the tastes of tourists began to change. Especially in this era of social media. many visitors prefer to travel to places with interesting photo spots. No wonder this has led to the emergence of many tourist attractions with similar themes. In Bali, for example, the Dream Museum Zone Bali or what is commonly referred to as the DMZ 3-Dimensional Museum appears.
As the name suggests, this museum offers a unique concept of photography tourism in Bali with the presence of various three-dimensional photo spots. Opened since July 2014, the existence of the Dream Museum Zone itself has received quite a good appreciation from tourists.
Moreover, the Photo Spots in Bali that are in it are quite unique and seem real. So that visitors will be able to enjoy it even more real.
Apart from Bali, three-dimensional museums already exist in other cities such as Bandung. Not only that in other countries also already exist. Like in Japan and China. Meanwhile, the Dream Museum Zone in Bali itself adopts the theme of the Korean 3D Trick Art Museum, which is the first 3D museum created by artists from South Korea.
DMZ Bali itself offers a variety of interesting and suitable photo objects as an alternative to tourism in Bali so you don't always visit the beach. You can visit it and see for yourself how the three-dimensional artwork is presented there while imagining so that the photo poses look unique and refresh your mind.
Rides in the Dream Museum Zone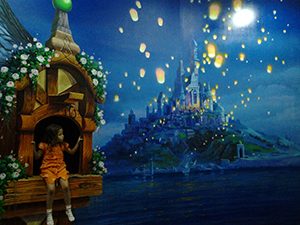 As explained above, there are so many rides in the Dream Museum Zone Bali which are divided into several three-dimensional paintings. There are at least 120 3D Photo Spots in Indonesia that are there. The painting is divided into 14 zones or rooms. Here are some of the rooms in the Dream Museum Zone.
18+ Areas
Aquarium
Big & Small
Contemporary
Dream Park
Egypt
Indonesia
Jurassic Park
Korean Pavilion
Luminescence Zone
Renaissance
Safari
Sport
Venice
Those are some of the rooms in the Dream Museum Zone. Given that there are many rooms that can be used as photo objects, it's a good idea to take advantage of your sightseeing time there so you can take pictures of all the paintings.
If you have difficulty taking pictures, then you don't need to worry because there is also a guide there. The guide there serves as a style guide, as well as giving ideas for taking pictures. They will know where the interesting photo points are and can make the photos even more unique. The existence of a guide will be very helpful for visitors, especially those who have never been there.
Price of admission
Visitors can come every day from 09.00 to 22.00 WITA. To enjoy all the rides there, domestic visitors can pay IDR 165,000 per person. However, if you can show an identity card from Indonesia such as an ID card, then the entrance ticket price will only be charged IDR 100,000 per person. As for visitors from abroad will be charged a price of $ 10. Meanwhile, for children under 3 years old, there is no entry ticket or it is free.
Location of Dream Museum Zone
The location of the Dream Museum Zone Bali is not difficult to reach because it is still in the Kuta area, precisely on Jalan Nakula Npmor 33X, Kuta, Bali. This location is very close to Sunset Road, which is only about 100 meters away. If you drive from Kuta Beach, it only takes 10 minutes. And if from Sanur, then the distance is only 1.6 kilometers. There is also a large enough parking area so it is suitable for those of you who want to bring their own vehicle.
Travel Tips to the Dream Museum Zone
Basically, this tourist attraction is quite comfortable to visit anytime and from anywhere. However, the following things still need to be considered so that tourist activities there can be enjoyed without a hitch.
For the convenience of visitors in exploring these tourist attractions, you should avoid busy holiday periods such as year-end holidays, Eid holidays, or long holidays at the turn of the semester. Because on days like that, visitors will be very crowded and it might interfere with your privacy while taking pictures there.
In order for the photos to be better and more attractive, pay attention to the type of clothes you wear when you visit there.
It is highly recommended that you can visit with friends or other family members so that you can enjoy various photo spots there with fun. Because if you come alone it will not be fun and the photos can be less interesting. This tourist location is also suitable for children's attractions in Bali.
Because this tourist spot is a photo spot, of course you need a camera. Have your camera and spare battery ready. Especially if you plan to take pictures with many poses. But in fact the current cellphone camera is also good enough to be carried everywhere. So just prepare a powerbank for battery backup.
Don't forget to bring an official identity that you are an Indonesian citizen such as an ID card so you can get a discount on the entrance ticket to this tourist attraction.
Don't forget to ask the guide who is there so you get better directions for maximum photo results.
Those are some explanations about the Bali Dream Museum Zone that you need to know. The advantages of Bali tourism do have a variety of tourist spots, from nature tourism to rides. So for those of you who want to go to Bali, you should make the right preparations so that your vacation will run more smoothly. Hopefully useful for you, especially those who want to visit there when on vacation to Bali.