Yogyakarta is one of the most visited cities by tourists from anywhere every day. Yogyakarta has many interesting tourist attractions, ranging from culinary tours, museums, shopping, or others. One of the tourist attractions that you really need to visit is Green Village Gedangsari. Maybe some people don't know where and what destination Green Village Gedangsari is, therefore, see the article about Green Village Gedangsari below!
Read also:
Green village gedangsari is one of the attractions in the Gunung Kidul area, Yogyakarta. A very beautiful panorama with a stretch of hills and very green trees is a treat when we visit this green village. The beauty shines even more as the night begins, the perfect sunset is visible and the city lights sparkle when the day begins to fall. In addition, gazebos are also provided for just resting or taking pictures, there are many very special spots for taking pictures. And don't worry, there are already public toilet facilities and a prayer room in this green village of Gedang Sari.
History of Green Village Gedangsari Yogyakarta
This tourist destination was developed by farmers who are local residents of the area. The development of the Gedangsari Green Village is assisted by the government through the MP3KI program, this program has the aim of improving the local economy that is experiencing shortages. (Also read: Tourist attractions in Cilacap)
Location of Green Village Gedangsari
Green village gedangsari is located in Guyangan Lor Hamlet, Mertelu Gedangsari Village, Gunung Kidul Regency. If you go from downtown Yogyakarta, the distance covered is about 40 km. And if from Adi Sucipro Airport then via Jl. Yogya-Solo about 1 hour 24 minutes. This green village is located on the border of Gunung Kidul and Klaten. Therefore, at night you can see the twinkling city lights on this hill, where the twinkling lights are the city lights in Klaten.
To get to the green village gedangsari, it can be accessed from all directions but the main road to get to this tourist attraction is uphill and very narrow so you have to be careful and prepare extra energy. Green Village Gedangsari has a unique road that looks like a bridge that connects the hills to one another.
By walking you can see this very sight, and if you start to feel tired walking around this tourist attraction, many houses or gazebos are provided to rest and of course it's free. In this tourist area, various facilities are available, starting from a prayer room, toilets, to extreme road routes that have been fenced off to maintain the safety of the visitors. (Also read: Tourist attractions in Semarang)
Price of admission
To enter this Gedangsari Green Village tourist attraction, there is no special ticket payment to enter. You only need to pay for parking the valid vehicle. To enter the area is free. Parking rates that apply are Rp. 3000 for motorbikes/motorcycle and Rp. for cars. 5,000/car.
This tourist area is open every day from morning to night. Besides having a very beautiful view, vacationing in Gedangsari Green Village is also cost-effective, because there is no tariff to enter this area. (Also read: Tourist attractions in Jepara)
Interesting Things in Green Village Gedangsari
1. Landscaped hills
To get to the main tourist attraction, visitors must take a route with a narrow and uphill road. This narrow and uphill road is made in a circle, so that visitors can feel the natural sensation that is on the way to the top of the green village gedangsari.
If you want to visit this tourist spot, come when it's not the dry season. Because during the dry season the hills and trees are not so beautiful, but during the early rainy season the hills and trees look very green and the weather is beautiful.
With a view of the peak of Cabaan Hill or Mount Tugel which is located in the south and houses or gazeboo as a place of rest, it really completes your tour. In the north there are ravines. (Also read: Tourist attractions in Kebumen)
2. Sunset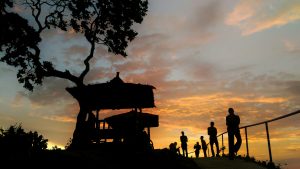 If the weather is good, the sunset spot at Green Village Gedangsari is very beautiful, not inferior to the best sunset spots in other places.
The beauty of the sunset that can be seen directly is complemented by the beauty on the left of the mountain, namely the presence of a hill of stars.
But if it's cloudy, the sunset won't be too obvious. (Also read: Tourist attractions in Magelang)
3. The Beauty of Glittering Lights Klaten Kabupaten Regency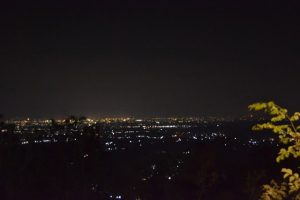 If you are going to visit the Green village of Gedangsari, come in the afternoon or at night, besides the beautiful sunset, there are many beautiful views that can be seen at night at this place.
After the sun sets and the sky begins to darken, the north side of this tourist spot turns into a twinkling light. The flickering lights are the lights of houses in Klaten Regency. This green village has a high peak and is bordered by Klaten so it is clear that the twinkling lights look very beautiful here. Prepare your best camera to get the best photos at green village gedangsari at night. (Also read: Tourist attractions in Tegal)
4. Selfies
Along the route to the top of the green village Gedang Sari, in almost every corner there are lots of people taking selfies because of its enchanting beauty so that every place many people capture the moment by taking selfies. (Also read: Tourist attractions in Purworejo)
5. Challenging Flying Fox
If you are someone who likes adrenaline-pumping games, you should try flying fox in the green village of Gedang Sari. The flying fox in the green village of Gedang Sari is the second longest flying fox in Southeast Asia with a length of 625 meters. With a length that reaches 625 meters and is recorded as the second longest flying fox, this is one of the attractions for tourists to visit this Gedangsari green village. And don't worry, this flying fox is already gated, because it uses French technology and the ropes are also taken from England. (Also read: Tourist attractions in Ambarawa)
Tourist Area
Tourist areas close to Green Village Gedangsari can be reached in less than 1 hour, including:
1. Jombor Reservoir
The Jombor Reservoir is located in Krakitan Village, Bayat Sub-District, District claten, province of Central Java. Reservoir It has an area of ​​198 ha with a depth of 4.5 m and has a water capacity of 4 million m3.
At the single reservoir, visitors can enjoy the beautiful natural scenery and can also enjoy culinary delights in floating stalls.
To reach the floating stall you have to use a raft. This is an attraction for tourists because they eat in the middle of the reservoir while enjoying the stunning natural scenery. And don't worry, this place also provides various play areas for children. (Also read: Tourist attractions in Wonosobo)
2. Embung Batara Sriten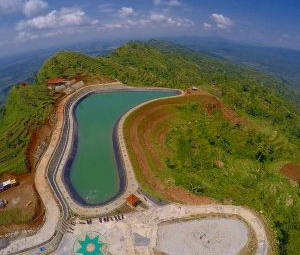 Embung Batara Sriten is located in Pilangrejo, Nglipar District, Gunungkidul. To reach this place will take approximately 1 hour from Green Village Gedangsari.
This place is located at an altitude of 859 meters above sea level, Embung Batara Sriten is the highest artificial lake in Gunung Kidul. Behind this tourist spot there is a magir peak which of course has a very beautiful view where at the top of the mangir you can see a jombor swamp.
In addition to the beautiful scenery, there are also aerosport areas such as paragliding, paramotor, and hang gliding. (Also read: Tourist attractions in Boyolali)
Tips for Vacationing to Green Village Gedangsari
Come in the afternoon or late at night to get the best sunset spot
Try to visit the green village at the beginning or end of the rainy season, so that the scenery looks green and beautiful
Keep it clean, so that this tourist spot is kept clean
If you want to visit here, it is recommended to use a motorbike
Make sure the private vehicle to be used is in good condition
Do not force climbing to the top when it is raining because the road will be slippery and it can endanger our safety.
How? Very interesting isn't it? For those of you who really like traveling and love nature, you must try to come to this place. You will get beautiful things during this trip, and don't forget to capture your vacation moments.
Read also: