Indonesia has many tourist sites that are growing day by day. Be it nature tourism or urban tourism. Urban tourism itself is also developing well in Indonesia because the tourism interest of the Indonesian people is growing day by day. It is proven by the existence of many tourist attractions such as swimming pools, rides for games, or even other educational tours that are never empty of visitors.
One of the urban tours that can be visited and its strategic location is the Lembah Hijau Tourism Park. This tourist location is in Lampung, so it is easily accessible, especially by tourists who come from Jakarta, West Java, or Sumatra and surrounding areas. If you want to travel to this Green Valley, here is some information you might need.
Read also:
Green Valley Tour at a Glance
This tourist attraction was inaugurated on April 14, 2007 with the concept of recreation with a natural nuance with the presence of a lush green valley and educational recreation or knowledge. This tourist park is located in the center of the capital city of Lampung, namely Bandar Lampung, so it is easy to find and access.
This tourist area is a valley with an area of ​​​​30 hectares. Of course this location can be explored with family and friends. The address is on Jalan Raden Imba Kesuma Ratu, Sukadana Ham Village, Tanjung Karang Barat, Bandar Lampung.
There are many interesting recreational rides to try, ranging from water games, game and outbound games, camping ground facilities, to natural educational recreational rides that are presented to pamper families and tourists who come.
Green Valley Tourism Accessibility
This tourist location is not far from the city center of Bandar Lampung, which is only about 30 minutes by vehicle. To get there, tourists can use private vehicles, both two-wheeled and four-wheeled. However, during holidays there are also many tourist buses that stop in the area.
There is no public transportation that can accommodate accessibility to this tourist spot. therefore, it is better to bring a private vehicle. Or you can also rent a vehicle from Bandar Lampung.
The entrance ticket price for this green valley tour is very affordable, which is IDR 10,000 for the public, IDR 8,000 for students, IDR 5,000 for car parking fees, and IDR 2,000 for motorbike parking fees.
Read also:
Green Valley Tour Game Rides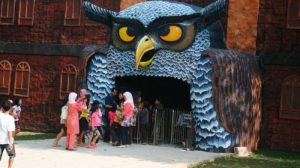 In this vast tourist location, of course, there are many tourist rides that can be enjoyed. The following are some of the rides that tourists can visit to enjoy a trip in the Green Valley.
Elephant riding, which is an elephant ride that can be done by tourists in two treks.
Amphitheater, which is a location for performances or other events.
Cinema 4D, which is a room that can accommodate 6 people to enjoy 4D adventure movies.
Boom boom car, which is a mini car game ride with an arena coverage of 30m x30m.
The haunted house, which is a ride with a scary mean system with a carriage and seats that will take tourists around the haunted house.
Mini train, which is a simulation game vehicle for tourists who want to pretend to be a machinist. However, this ride is only for children under 8 years old.
Waterboom, which is a water game ride and also a swimming ride that can be enjoyed with the family.
Green Valley Tourism Facilities
This tourist facility is very, very complete. Green Valley accommodates many accommodations and fulfillment of attractive tourist facilities. The facilities offered by Lembah Hijau are as follows.
cottages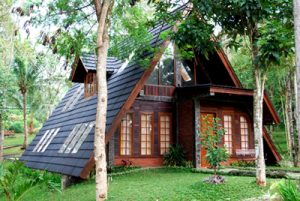 In this Green Valley tour there are cottages or inns that can be rented for the night. In addition, it can also be used to make meeting agendas. The atmosphere of the inn is very warm, comfortable, and of course it will be very helpful for tourist activities there. There are at least 5 types of cottages that tourists can choose from with a total of 11 spacious and airy bedrooms. In the room there are additional facilities such as air conditioning, television, chairs and a guest table, and a dining table.
In the cottages there is also a restaurant or restaurant that can be visited to eat. Various kinds of special menu with delicious taste made by experienced chef. The restaurant is built of wood which further adds to the natural feel of the tour. There is also a lesehan dining location that tourists can visit to eat. In addition, in the restaurant there is also a meeting room which is usually used for meetings and so on.
Read also:
Waterboom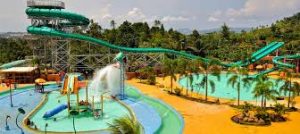 As described above, Lembah Hijau has a water park that will allow tourists to play water and swim to their heart's content. Some water park facilities or water games that can be used include:
Spilled Glass
Stream Pool
Spiral Slide
Torpedo Slide
Twins Boomerang
Water Canon
Water Splash
Outdoor Activities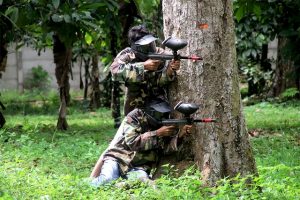 Green Valley also provides facilities for tourists who want to do outdoor activities, including by opening:
Outbound training center, which is an outbound training program that will develop outbound tourist activities with a variety of outbound arenas and games.
Outbound kids & children playgound, which is a learning concept in nature for little tourists to develop their interest and talent about nature as well as discipline through games. To use this package, a fee of IDR 55,000 is charged.
Camping ground, which is a camping area in the Green Valley that can be used for various camping events and adds to the togetherness between tourists. For camping there, tourists have to pay IDR 75,000 per person with full set camping facilities. So that tourists do not need to bring camping equipment from outside.
Paint ball & air soft guns, which are simulation games with special equipment that can be used to train dexterity and add fun. Paint ball can be done by paying IDR 280,000 per person with a minimum of 25 members.
Animal Park
There is also an animal park that accommodates educational recreation that will provide various kinds of information about animals. In the animal park there are several spots that can be explored, such as a bird park, a flora garden, and also an aquarium. There are various rare animals in the animal park that will provide additional insight, both local animals and animals abroad.
Read also:
That's an explanation of the Green Valley Tourism Park that can be visited to spend vacation time with family. Hopefully useful and happy holidays.