Gili Labak is one of the islands in East Java, more precisely, it is still in the Sumenep area, Madura. Gili Labak tourism has started to be visited by tourists since 2015 as one of the marine tourism in Indonesia. Although still relatively new, tourists will be spoiled with beautiful and very natural panoramas there. If you plan to travel to East Java, this small island can be a recommended tourist destination. For more details, see the following explanation.
The charm of Gili Labak
Gili Labak is a small island with an area of ​​only approximately 5 hectares. Although it is quite far from civilization, it turns out that this tourist spot in East Java is home to approximately 35 heads of Madurese families. This small island has a long sandy coastline and can be surrounded by tourists to get the best photo spots.
Currently Gili Labak Tourism has been increasingly recognized by tourists from various regions. Moreover, Madura itself is currently intensifying its attractive tourist attractions so that tourism interest in Madura has increased in recent years. Gili Labak itself was once just a small island inhabited by the Madurese. Over time, this area began to be glimpsed as a tourist area and until now its development has become very rapid.
The beauty of this island is that the sea water is very clear. In addition, the white sand on Gili Labak is very soft and very white. The sand on this beach is practically different from the sand on other beaches. In every corner of the island, tourists can enjoy a very wide view of the open ocean. The blue sky combined with the blue ocean will be a magnet for tourists to come back again in the future.
Tourism Activities on Gili Labak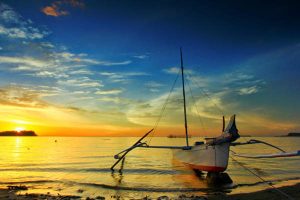 If you are asking about what activities can be done at Tourist Attractions in Madura Gili Labak, then the following is the answer. There are many exciting activities that can be done at Gili Labak Tourism, including:
By boat
The first activity is a boat ride. Riding this boat is indeed a mandatory activity for tourists. How not, this small island can only be reached by fishing boats. You can cross to Gili Labak by fishing boat for approximately 3 hours. For those of you who like seasickness, better prepare yourself so you don't experience nausea and vomiting.
Playing with sand
Another activity that can be done on Gili Labak is playing with sand. As explained above, the sand on Gili Labak beach is very soft and the color is very white. Those of you who like beach sand definitely don't want to miss the opportunity to play sand on the island. One of the packing tips for a vacation to the beach is to prepare sand or volleyball equipment to play beach volleyball.
Snorkeling
If you really like snorkeling activities to see underwater scenery, then get ready immediately. Gili Labak is one of the best locations for snorkeling in East Java. The clear sea water will make the visibility wider. In addition, snorkeling does not need to be done in a spot far from the beach, because not far from the beach the scenery is already very beautiful.
Diving
In addition to snorkeling, diving activities can be done around Gili Labak. You can rent diving equipment there and ask the fishermen to take you to the best spots for diving. Enjoy the underwater beauty around Gili Labak with complete and safe equipment.
Around the island
Gili Labak which only has an area of ​​5 hectares can allow you to explore it by walking around the island. Along the beach can even be surrounded by only spending 30 minutes. The scenery around Gili Labak is very charming and will definitely make you feel at home for long there.
Stay overnight
Although the island is relatively small, you can still stay there. Tourists can stay in people's homes. Of course, by paying the price agreed by both parties. Or, if you have a tent, try camping there. There are many spots to set up a tent there and don't forget to equip Camping Equipment on the Beach.
Sunrise and Sunset
This small island can also provide a charming view of the sunset and sunrise. When the sun is almost setting, head to the west of the island for the best sunsets. Likewise with the atmosphere in the morning when the sun is almost up. You can look for sunrise views by heading to the east side of the island.
Route to Gili Labak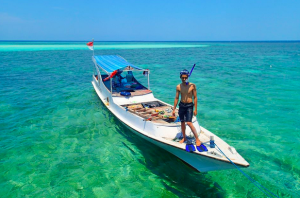 If you are really interested in visiting Gili Labak Tourism on holidays, here are the routes to get there that you can take.
Via Kalianget Harbor
Kalianget Harbor is one of the ports in Sumenep that can be accessed by two-wheeled or four-wheeled vehicles. The distance from the center of Sumenep City is approximately 10 kilometers. From Kalianget Harbor, you can rent a fishing boat or a boat that can take you there.
Via Lobuk Village
Apart from Kalianget Harbor, there is also a route to Gili Labak which can be accessed from Lobuk Village. In this village there is indeed a small port that can take tourists to Gili Labak. This village is also closer to tourists from outside Sumenep.
Via Kombang Village
There is another village called Kombang Village in Talango District. You can go to Kombang Village from Kalianget Harbor for transit. Just from Kombang Village, you can rent a fishing boat to cross to Gili Labak. The crossing time will be shorter than this Kombang Village.
Cost of Traveling to Gili Labak
Basically, there is no special entrance ticket to get to Gili Labak. However, of course, costs are required during the trip to Gili Labak itself. For example, land transportation to the Kalianget Port. If you start traveling from Surabaya, then the journey to Kalianget Harbor itself is approximately 8 hours away. Meanwhile, renting a boat or boat is also quite expensive. The following is the estimated price of a boat or boat to go to Gili Labak:
Ship weighing 10 tons IDR 800,000
Ship weighing 15 tons (capacity 60 people) IDR 1,000,000 – 1,500,000
Fishing boat (8-10 people capacity) IDR 500,000
If you really want to visit Gili Labak, using the services of a travel agency will be more profitable because usually all travel facilities have been well calculated by the travel agency itself. But if you really want to go independently, that's fine too. As long as you have planned a vacation budget.
Those are some explanations about Gili Labak Tourism that you need to know. Prepare the time and cost for a vacation there. Hopefully this article is useful.