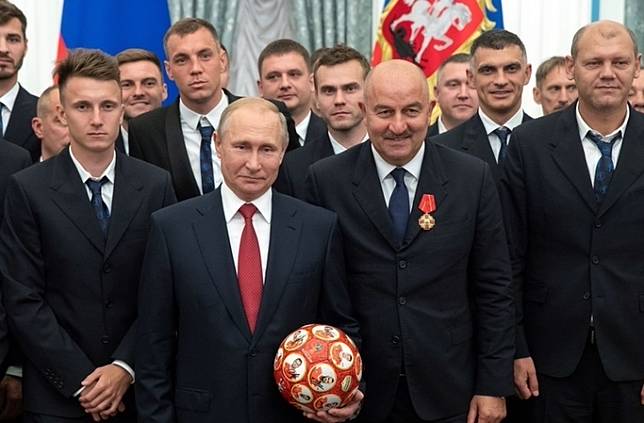 Bolatimes.com – Social media was stirred up by rumors containing threats by Russian President, Vladimir Putin, to FIFA about the 2022 World Cup.
From the rumors circulating, Vladimir Putin threatened FIFA to impose sanctions on the Russian national team so that they could not participate in the 2022 World Cup.
The sanctions imposed simultaneously by FIFA and UEFA are a form of harsh response to the invasion by Russia against Ukraine.
However, is it true that Vladimir Putin poses a threat to FIFA? Here Bolatimes.com presents the description.
Russia, which previously hosted the 2018 World Cup, is currently in danger of not being able to participate in the grand championship.
Because, FIFA and UEFA released a joint statement expelling Russia from all international football competitions. The statement was released on March 1, 2022.
As a result, social media was stirred up by a post claiming that the President of Russia, Vladimir Putin, criticized the attitude of FIFA and UEFA.
This is because there is a postcard featuring the faces of FIFA President, Gianni Infantino, with Vladimir Putin and the World Cup trophy.
In the picture, the sentence reads, "Russia will play in the 2022 World Cup or there is no World Cup to talk about."
A number of Twitter users later had time to re-upload the postcard with a similar description. This is the basis for the assumption that Vladimir Putin has given a threat to FIFA.
However, is the news true? The answer is a hoax!
This claim has been declared false by an organization called India Today Anti Fake News War Room (AFWA).
The reason is, until now there is no evidence stating that Vladimir Putin has threatened FIFA for giving punishment to Russia.
The fact check method carried out by AFWA is carried out through searches on search engines, namely Google Russia and Russia Yandex, using a number of keyword combinations.
As a result, there were no reports or news reports containing Vladimir Putin's threats to FIFA.
In addition, a number of reports released by foreign media mostly contain only the response of the Russian Football Union (RFU) to the sanctions.
Marca, for example, released a report on Thursday (3/3/2022) regarding the RFU's appeal against FIFA's sanctions. This appeal has been submitted by the RFU to the Court of Arbitration for Sport.
Meanwhile, a similar report was also released by Fox Sports on Friday (4/3/2022). From the report, the RFU confirmed that it chose the legal route to cancel FIFA's sanctions.
Thus, there is not a single report or report from foreign media, including Russia, which contains criticism and threats of Vladimir Putin against FIFA and UEFA.
Contributor: Muh Adif Setiawan