Indonesia, which has an amazing geographical location and abundant natural wealth, has indeed become a country with good natural tourism potential. From Sabang to Merauke there are lots of cool locations from nature that can be explored. One of them is a waterfall. Indonesia has many waterfalls because of the many and varied contours and rivers.
Waterfalls are indeed favored by many tourists or travelers. First because the temperature around the waterfall is mostly cool and cold. This is related to the position of the waterfall, which is mostly in mountainous areas. Second, because the waterfall itself can be used as a natural water play location. Third, because the ticket price is mostly cheaper. Therefore, although access to the waterfall is usually far, tourists do not mind.
Bogor, which is famous for its peak tourism, also saves a lot of natural charm. There is also a waterfall called Cilember, or commonly referred to as Curug Cilember. If you are interested in visiting there, maybe the following explanations can help.
Read also:
Features of Curug Cilember
Cilember Waterfall is located in the tourist area of ​​Puncak, Bogor, and has developed into a tourist location. Therefore, getting to that location is very easy to access.
This waterfall is a waterfall that is located at an altitude of 800 meters above sea level, so the temperature is very cool and suitable for spending all day.
In addition, there are many green trees and very complete tourist facilities. So that visitors do not need to be confused looking for food or other accommodation. Because it is in the Puncak area, of course the location is also close to the inn or villa.
This waterfall has seven levels, namely Cilember 1 to Cilember 7. The waterfall which is at the bottom and close to the entrance is Cilember 1, while the highest is Cilember 7. Tourists must travel to reach the top of the waterfall, namely by walk through slippery paths or bebatian.
The higher the level of the waterfall, the more difficult the terrain or track that must be taken by tourists. That's why this waterfall is very special and unique from other waterfalls. The track from Cilember 1 to 4 is quite affordable. However, after Cilember 4, the path has started to become difficult and difficult because it has to pass through a path that is increasingly steep and rocky and slippery.
To travel from the bottom to the top, tourists have to walk approximately 2 to 3 hours. Of course the experience of traveling to this waterfall will be very impressive. This location is suitable for those who like outdoor sports and who like challenges.
The conditions of the waterfall are also different from each other. Cilember 1 is elongated horizontally and short. Cilember 2 is taller with wide water. Cilember 3 widens at the bottom because it is broken by the rocks that have steps below.
Cilember 4 has two waterfalls gathered together at the bottom. Cilember 5 steps in the middle of the waterfall. Cilember 6 has a slope, so the waterfall does not fall straight down. While Cilember 7 waterfall is very high, slender, and the water immediately falls down.
Read also:
Cilember Waterfall Location and Access
The location of this waterfall is in the Puncak Bogor area, so it will be very easy to access, especially for people who live in Jakarta or West Java. From Jakarta, the trip to this location only takes approximately 2 hours of travel, depending on road conditions.
Tourists from Jakarta can reach this waterfall from the Ciawi Toll Road. From the Cisarua area, continue the journey by taking a left turn. If you are confused, just follow the kalan signpost to Taman Matahari, because its location is in the same direction as Taman Matahari.
From Taman Matahari, follow the road for a few more kilometers. Tourists will also be able to see the Cilember tourist gate. After entering, tourists will be charged a relatively cheap fee, which is only IDR 6,000 per person. For private vehicles such as cars, an additional fee of Rp. 8,000 is charged, while for private vehicles, motorbikes are only charged Rp. 4,000.
Cilember Waterfall Facilities
In the tourist area of ​​Cilember, there are many facilities that can be enjoyed by tourists, because this tourist location is already very well developed. Besides waterfalls, there are also wooden huts, butterfly gardens, tourist kiosks, family parks, jungle tracking, flying fox and camping ground.
Stay in Cilember Tourism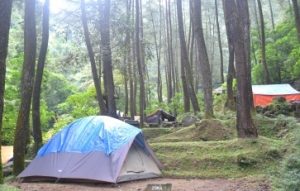 Tourists who want to stay on the tour will be charged an additional vehicle parking fee of IDR 8,000 per night. If you want to stay there, you can do it in two ways, namely staying at the cottage or camping at the camping ground.
Tourists staying at the lodge will be provided with luxurious facilities. There is a cottage that can be used to stay. The huts are made of natural wood and bamboo. Inside there are 3 rooms, a kitchen, a heating stove, and a water heater. However, the price of staying is quite expensive, which is IDR 700,000 to IDR 900,000.
Meanwhile, those who camp at the camping ground will be charged a retribution fee of Rp. 30,000. Tourists can bring their own tent. You can also rent camping equipment whose prices vary, depending on the size of the tent. For a tent with a capacity of 2, the officers rent it out at a price of Rp. 125,000 per night. While for larger capacities, there are prices of IDR 250,000 (capacity 6) and IDR 350,000 (capacity 10).
Read also:
Butterfly Garden
In this waterfall there is a tourist spot called Butterfly Garden. This park itself is a butterfly conservation park and can be entered by paying another ticket for only IDR 5,000. There is a giant net in which there is a lot of insight and general knowledge related to butterflies.
The staff there will help to explain all kinds of things related to the butterfly daut and the various types of butterflies that live on earth.
This location is certainly suitable for use as an educational tourist location for children and families who like animals. In addition, there are also many live butterflies that perch on the flowers.
Read also:
Thus the explanation of this very unique Curug Cilember. If you want to travel to Puncak, Bogor, it's a good idea to visit there. Happy holidays and hopefully useful.