The Lembang Bandung area does save a million charming natural charms. It's no wonder that many tourists stop by Lembang Bandung to unwind for a moment by taking a vacation at some of its tourist objects. This Lembang area does have a cool atmosphere and close to nature. So it is suitable to be used as a tourist destination when visiting Central Java. One of the attractions in Lembang Bandung that often appears on social media is Graphic Cikole. The following is complete information about this tourist attraction.
Cikole Graphics Features
Wisata Graphic Cikole, which is one of the tourist attractions in Lembang Bandung, is basically a restaurant that also has lodging. This location is in a very cool location. Even the air temperature around it is only about 20 degrees Celsius. This is because of its location at an altitude of 1400 meters above sea level and on the slopes of a mountain. Of course, it will be very nice to be able to enjoy the natural atmosphere in this 9 hectare area.
In addition, this tourist area also has various facilities that can be said to be quite complete. Suitable for family trips, trips with friends, or even trips with office friends. The reason is, in this location there is indeed an area that can be used as an outbound location. In addition to outbound, as described above, there are lodgings with complete facilities. There is also a restaurant which serves a variety of good food. The food there starts from Sundanese food, Chinese food, and also seafood.
Location of Cikole Graphics
The location of this Lembang Cikole Graphic Tourism object is on Tangkuban Perahu Street, which is at the 23rd kilometer. Precisely located in Cikole Village, Lembang District, Bandung. To get there, of course you can start the journey from Bandung, namely by heading to the Tangkuban Perahu tourist area. You can come there at any time, because this tourist location is open 24 hours. Therefore, this Cikole Graphic can be one of the alternative Night Tours in Bandung that is interesting to visit.
Cikole Graphics Facility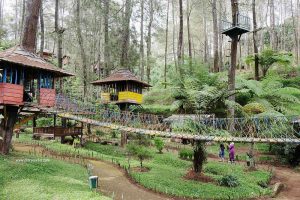 There are lots of tourist facilities at Graphic Cikole Lembang. Here are some tourist facilities that can be enjoyed while traveling there.
Saung Lesehan – This Saung is a restaurant with an open hut close to nature. Built with wood material and has a low fence with thatched roof. The location is in a very beautiful pibus forest.
Forest Pavilion – This pavilion is one of the facilities for guests or visitors. The capacity is 100 people. This pavilion serves Sundanese food and is a restaurant located in front of the entrance of Wisata Grafika Cikole.
Sangkuriang Restaurant – Sangkuriang restaurant is also located in the pine forest area. There is a balcony directly overlooking the pine forest with a beautiful view. Suitable for international tourists because it is specially designed for tourists.
Dayang Sumbi's Hall – There is also a hall with a capacity of 600 people. The building is a building made of wood and natural materials.
Souvenir Shop – A shop that sells various souvenirs at low prices. Suitable for buying gifts for friends or relatives. There are various interesting handicrafts that can be purchased there.
prayer room – For those of you who are Muslim, there is no need to bother if you want to worship, especially when it is prayer time. There is also a prayer room which is quite spacious and comfortable for tourists.
Pine forests – In the Graphic Cikole area, there is an interesting pine forest courtyard to take photos or enjoy a fresh atmosphere.
Cikole Graphics Entrance Ticket Prices
For those of you who are wondering about the price of admission to Wisata Grafika Cikole Lembang, there is no need to worry. Because to be able to enter this tourist area you will not be charged any tariffs or ticket prices. This location is indeed one of the Cheap Tours in Bandung which is suitable for those of you who don't want to stay overnight. You can walk around this tourist area while taking pictures for free. But if you want to try some of the facilities or rides there, here are some price lists.
Flying fox 1 lane IDR 15,000
Flying fox PP IDR 25.000
40 bullet paint ball Rp 85.000
Strawberry picking IDR 60,000 per kilo
Rent ATV 110 cc IDR 30,000 for 2 rounds
200 cc ATV rental IDR 50,000 for 2 rounds
Strawberry Farm Rp 5,000
In addition, there are several tour packages offered by the Graphic Cikole management, specifically for tourists who want to hold events there. Here are some of them.
Interactive Angklung starting from IDR 15,000 to 40,000
Children's Outbound Packages start from IDR 15,000 to IDR 65,000 for a minimum of 20 participants
Adult Outbound Packages start from IDR 85,000 to IDR 125,000 for a minimum of 20 participants
Prewedding Packages at this Prewedding Place in Bandung at a price of IDR 500,000
Forward Package Rp 50.000
Jungle Tracking Tour Package Rp 50.000
Tree House Rp 50.000
Stay at Graphic Cikole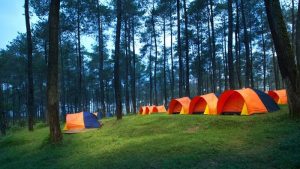 For those of you who want to stay there, of course this can be done, because this tourist location is basically an inn. To stay at Wisata Grafika Cikole, visitors can also choose what location or place they will stay. Of course, the facilities offered are adjusted to the price offered. Here are some lodgings in Graphic Cikole Lembang.
Hotel Lodging
The first type of lodging is a hotel room. In this area there are about 8 hotel rooms with a capacity of 2 people per room. The facilities offered are also very complete, namely TV with local channels, breakfast, mineral water, private bathroom, and also a hot shower. The price offered is IDR 850,000 per night.
Cottage Lodging
There is also a type of cottage lodging. This inn is located in a pine forest with a very interesting view. Even by staying there, you will feel like you are in a very classic countryside. Suitable as a Honeymoon Place in charming West Java. The facilities offered include private bathrooms, hot showers, local TV channels, breakfast, mineral water, and also firewood. The price offered is IDR 920,000 per night.
Camping Lodging
There is also a family camping area. Suitable for those of you who prefer to stay in a way that is closer to nature. The price offered is IDR 460,000 with a dome tent with a capacity of 4 people. The price includes camping equipment and also grilled corn facilities.
Those are some explanations about the Cikole Lembang Bandung Graphic Tourism object that can be respected. If you are interested in doing activities in this place, don't forget to find out the information needed in advance. Hopefully this information is useful and happy holidays.