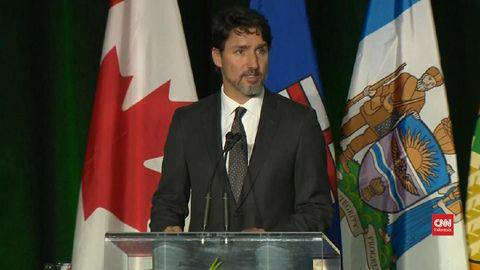 Prime Minister Canada Justin Trudeau announced new sanctions against 10 people Russia deemed "involved" in the invasion of Ukraine.
"This includes former and senior current government officials, oligarchs and supporters of the Russian leadership," Trudeau said at a joint news conference with British Prime Minister Boris Johnson and Dutch Prime Minister Mark Rutte. AFPMonday (7/3).
Trudeau said those sanctioned were from a list compiled by imprisoned Russian opposition leader Alexei Navalny. However, he did not specify the names in question.
"The sanctions increase the pressure on the Russian leadership, including on (President Vladimir) Putin's inner circle," he told reporters.
"This is of course in addition to all the other sanctions we have announced, including our recent announcement of imposing massive tariffs on Russian and Belarusian imports," he said.
Last week, the Canadian government revoked special trade status for Russia and Belarus due to the Moscow invasion, resulting in a 35 percent tariff.
Previously, the US and western countries imposed sanctions on wealthy Russians, both living in Russia and scattered in western countries.
These rich people are, Alexander Vedyakhin, Andrey Puchkov, Yuriy Soloviev, and Igor Sechin.
Vedyakhin is the First Deputy Chairman of the Executive Board of Sberbank, Russia's state-owned bank. He is not only known for being rich. But it also managed to bring Sberbank to become a bank with a market capitalization of more than US$112.87 billion, rivaling HSBC as the largest bank in Europe.
Andrey Puchkov and Yuriy Soloviev are both senior executives of VTB Bank, Russia's state-owned bank. Puchkov is the First Deputy Chairman of the VTB Executive Board. He has a long career at VTB and is known for his expertise, namely economic law.
Meanwhile, Igor Sechin is the CEO of Rosneft, a Russian state-owned oil and gas company. In 2015, he was named the 47th most influential person by Forbes. The 61-year-old is a Russian oligarch and is said to be a close ally of Russian President Vladimir Putin.