Eastern Indonesia deserves to be an attractive tourist destination. There are many unique things from Eastern Indonesia which have natural beauty and are relatively untouched by humans. Including Belitung. In Belitung, there is an island whose name is very well known and is worth a visit when traveling there.
Lengkuas Island, is an island in the Bangka Belitung Islands which has its own charm for traveling. This island, which has a lighthouse and beautiful natural scenery, is worth a visit while on vacation. There are already many tourists both domestic and foreign who vacation there. This island can also become a tourist icon of Bangka Belitung which is quite popular. If you want to vacation on this island, some of the following information might help your trip.
Read also:
The specialty of Galangal Island
This island is one of tens of thousands of small islands in Indonesia which of course has a beautiful panoramic beauty. There is an old lighthouse that has existed since the Dutch colonial era and was built in 1882. The lighthouse is still functioning today and is still used as a sign for ships and boats that will leave or arrive in Belitung.
The location of this island is to the north of Tanjung Kelayang Beach, in Sijuk District, Belitung Regency. There are many unique granite stones and clear sea water. The white sand beach is also the main attraction of the island. The island is small and can be surrounded by boat in just 20 minutes. There are many boats that can be rented to get there, namely boats from Tanjung Binga and also Tanjung Kelayang.
On this island, tourists are free to play water, sand, and also enjoy the underwater beauty by snorkeling and diving. Around the island there are many good diving spots to see the underwater beauty. Beautiful corals and fish will accompany the tourists' snorkeling and diving activities.
That said, this island was originally only inhabited by a few residents. The residents who inhabit this area are only limited to residents who are tasked with maintaining the lighthouse. However, after the popularity of the film Laskar Pelangi which made Bangka Belitung the main setting, this island has become more famous and is now often used as a reference for tourists when visiting Belitung.
Read also:
Lighthouse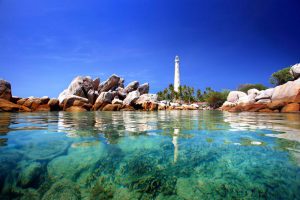 The lighthouse on this island has a height of more than 50 meters with a clean and magnificent white color typical of Dutch colonial buildings. If tourists want to see the scenery around this island, tourists can also go up to the lighthouse.
This lighthouse has 18 floors and can be visited by local and international tourists. In addition, tourists can also learn a little about the history of the area.
However, to climb to the top of the lighthouse, extra energy is needed because there are only stairs. But all the fatigue will pay off with even after managed to enjoy the beautiful panorama from the top of the lighthouse from all directions.
Accessibility
To reach the island of galangal, tourists do not need a complicated route. Accessibility there is quite easy. Some of the routes to choose from include:
From Tanjung Kelayang village
If tourists travel from this first route, tourists can explore several islands that also have cool tropical coastal views. These islands include Sand Island, Bird Island, and Pig Island.
From Cape Binga
If tourists travel from Tanjung Binga, tourists can enjoy beautiful views of Litung Island and also Semaju Island.
Read also:
Tourist Facilities
This beautiful island with white sand and amazing underwater world has become a good tourist attraction with good management as well. The facilities on this island can accommodate tourist activities both local tourists and international tourists. There are hotels on this island that can be used as a place to stay. There is also an inn that can be used as an alternative to spend the night there. Variants of prices also vary, depending on the needs of tourists.
In addition, there are public facilities such as toilets and bathrooms that are clean and comfortable. There is also an angel pool, which is a natural pool and is made of granite typical of Belitung. The pool is filled with sea water from the beach. Besides the angel pool, there are also the best fishing spots in Belitung. Tourists who like fishing can fish there by renting a boat owned by the island tourism manager. Anglers usually get mayong and red snapper which taste really good.
Vacation Tips
This island is a small island which of course has natural risks when it comes to weather and climate change. If you want to vacation on this island, you should visit in the months March to December. In that month, the dry season has arrived and the weather in the Belitung islands will be more stable. In addition, the natural scenery and the sky during the dry season are also more amazing.
Read also:
Small Island Around Galangal
Several small islands around Lengkuas also have amazing beauty and can be visited when on vacation to Lengkuas Island. The islands can be visited by renting a boat, or a stopover on the way to Lengkuas. The islands include the following.
Sand Island
Pulau Pasir is not actually an island. This island is just a charred. Gosong is a pile of sand.
The interesting thing about this Sand Island is the pile of sand that forms the island. So this Sand Island can only appear when the sea water recedes.
When the tide is high, the entire surface of this Sand Island will sink under the sea and cannot be visited. Sand Island is also not so wide. The area is only about half a football field. However, the phenomenon of Sand Island will certainly make tourists curious.
Bird Island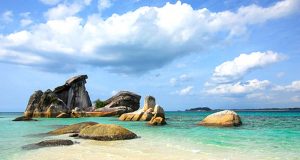 This island is also a popular island for sightseeing in Belitung. On this island which is only about 2 hectares wide, there is a beach which is a giant granite rock.
The shape of the granite resembles the shape of a bird, so the name of this island is Pulau Burung. There is also a snorkeling spot on Bird Island.
If the sea water is receding, orange clown fish and other shallow water fish can even be seen only from the shore without the need for snorkeling or diving. Of course this island has a very natural impression.
Pig Island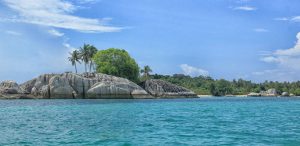 Pig Island is also known as Kepayang Island. On this island, tourists can explore the natural beauty with soft white sand, the beauty of clear sea water, and the typical head tree of tropical islands.
On this island there is also a giant granite rock that sticks out on the white beach. Tourists can also enjoy the underwater beauty by snorkeling.
This island is called Pig Island because there used to be a lot of pig farms on the island. Although now the pig is no longer there.
Thus the explanation about Lengkuas Island which can be used as an interesting tourist destination in Belitung. Happy holidays and hopefully useful.