Madura Island, which is located in East Java Province, is famous for its karapan sapi tradition and its variety of mouth-watering culinary delights. Call it Madura chicken satay, duck rice, songkem duck, soto Madura, Madura petis salad and many more delicious culinary series that you will find there. However, let's take a moment to look at the other side of Madura Island tourism besides its culinary tourism. Yes, Madura apparently has another tourist charm that is no less popular and attracts a lot of tourist interest to come here. Tourism is none other than religious tourism. Although religious tourism is not as popular as other types of tourism, the benefits of religious tourism are very useful for life and extraordinary inner experiences.
The Purified Batu Ampar Market
The Madurese are known for their obedience to religious leaders and for their strong Islamic customs, which has made this 5,168 square kilometer island known as a santri area. In Madura there are also many graves of kyai and guardians as well as sacred places and religious nuances. This makes Madura often become a favorite as a religious tourism object that is well-known among local residents and tourists.
The island community, which is famous for its salt production, respects and makes the figures of the kyai who have lived in the past as role models. Often Madurese people think that the graves of the kyai are sacred places to pray to Allah SWT. Over time, foreign tourists also came to make these places as one of the main destinations of pilgrimage and religious tourism in Madura. (Read: Religious Tourism Places in Aceh).
In Madura, there are several popular religious tours such as religious tourism in Aceh such as Asta Tinggi and Pasarean Syaikhonal Holil. However, there is one more religious tourist spot that should not be missed when visiting Madura. Pasarean Batu Ampar religious tourism is actually not located exactly on Madura Island but in Pangbatok Village, Proppo District, Pamekasan Regency. This area is about 1 hour by road from the center of the capital city of Madura, namely Sampang. Pasaren Batu Ampar itself is a tomb complex for kyai and clerics who are considered sacred and sacred by the local community. This place is always crowded with visitors every day, especially at special moments such as the Prophet's Birthday and Eid al-Fitr and Eid al-Adha.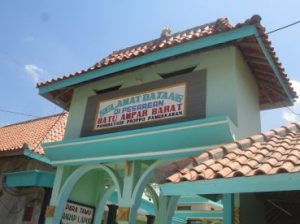 The Batu Ampar market is very sacred by the Madurese and Pamekasan people and is considered equivalent to the tombs of the Wali Songo. The term Batu Ampar itself comes from the Madurese language, namely "Bato" which means stone and "Ampar" which means scattered but orderly as well as spread rugs. In this tomb complex there are 6 graves of aulia or guardian of Allah which in Madurese language is called persuasion. They are the graves of Sheikh Abdul Manan (Bujuk Kosambi), Sheikh Basyaniyah (Bujuk Tumpeng), Sheikh Abu Syamsudin (Bujuk Lattong), Sheikh Husen, Sheikh Moh. Romli and Sheikh Damanhuri. Karomah from this place is believed to bring blessings to the pilgrims who have had the opportunity to pray in this place. There is a religious story about the origin of this place which will be discussed in the following article review.
Read: Tourist Attractions in Madiun and Surroundings
The Origin of the Batu Ampar Market
There is a story about the origin of the existence of the sacred tomb of Batu Ampar which is believed by local residents. This story has been developed for a long time and passed down by the elders and descendants of the original inhabitants of this region. The following story can be a valuable lesson as well as increase your knowledge about this religious tourism object. The following is a story taken from the Batu Ampar genealogy book:
In a village in the Bangkalan area, Madura, there lived a cleric named Sayyid Husein. He is famous and has many students because of the height of knowledge, noble character and karomah he has thanks to his closeness to the Khaliq. He is highly respected by the local people, but there are a few people who hate and envy him for his honorable position.
One day, a group of envious people came and wanted to destroy Sayyid Husein's position. They fabricated false news that Sayyid Husein and his students planned a rebellion and planned to overthrow the power of the King of Bangkalan. This news reached the ears of the King and he became restless. Without thinking, the king sent a warlord and a number of troops to kill the innocent Sayyid Husein.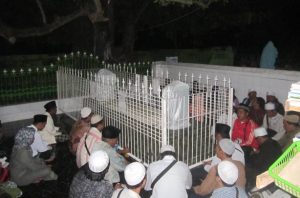 Sayyid Husein, who was resting at his residence, was surrounded and brutally killed without having time to explain by the royal soldiers. He died instantly and by the local community was buried in the village. After a few days since Sayyid Husein died, the King also received real information that Sayyid Husein had never done anything like the rumors circulating. The king deeply regretted his decision which was not based on solid evidence. He was confused about how to make up for his mistakes. Finally, the King gave the title to Sayyid Husein as Bujuk Banyu Sangkah (Buyut Banyu Sangkah). (Read: Tourist Attractions in Madura that You Must Visit)
Sayyid Husein's two sons also left the village. One of his sons, Abdul Manan, went into exile in a dense forest in the Pamekasan area, located in the hills of Batu Ampar. He drew closer to Allah by meditating under a kosambi tree for 41 years, before finally being found by a girl who was looking for firewood. Long story short, Abdul Manan was brought by the daughter's father to their house and married to the girl. Strange things happened on the 41st day of their marriage, Abdul Manan's wife who suffered from a skin disease suddenly recovered from her illness and her skin became pure white which made her face beautiful. Their marriage was blessed with two sons. Years later after preaching, Abdul Manan died and was buried in Batu Ampar. He received the title Persuade Kosambi. Since then, his descendants were buried there.
To this day, many people visit to make pilgrimages to the Batu Ampar tomb. Both local people and from outside the region are busy making pilgrimages here, especially during the month of Ramadan and the Prophet's Birthday. According to the stories of the elders, when pilgrims come with good intentions, they will get inner peace that makes them feel at home praying for a long time in that place. In addition to its holiness which exudes its own aura, the atmosphere of the tomb is also very cool and shady. It is believed, if we can finish the holy verses of the Koran while visiting here, our lives will reap blessings and all prayers and requests to Allah will be more easily granted. This is what makes this place always crowded by many people.
Read: The Most Charming Tourist Places in Jember
Directions for Location and Transportation to Pasaren Batu Ampar
The location of the sacred Batu Ampar tomb in Pangbatok Village, Proppo District, Pamekasan Regency is about 15 kilometers from the center of Pamekasan City or 1 hour overland drive from Sampang City, Madura. Access to public transportation to get there is not much choice. Especially if it is getting late, it is certain that there will be no longer operating public transportation.
So it's better if you want to take a religious tour here, bring a private vehicle, rent a rental car from Pamekasan City or Sampang City or you can also use motorcycle taxis as an alternative public transportation. It depends on you and your group, which one is more comfortable, whether you bring a private vehicle or use the available public transportation, although there are not many choices.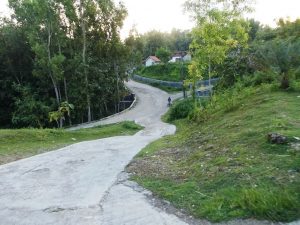 If you decide to rent a rental car, you can choose various types of cars with a price range between 500-600 thousand rupiah per day for 12 hours including driver and fuel. You can also choose the type of car you want depending on your wishes and the size of your group. If you try to ride a motorcycle taxi, then make sure you bid at a rational price because there is no special price set.
It all depends on you with your own considerations and decisions. While on the way to this place, visitors will pass through smooth paved roads with a width of about three meters. Along the left and right of the road, there are many sellers of various souvenirs and souvenirs typical of Madura, such as batik and rengginang lorjuk. At the Batu Ampar religious tourist spot, visitors will be greeted by the cool, light weight grave location surrounded by hills. There are several comfortable and adequate public facilities such as prayer rooms, lodging, public bathrooms and parking lots.
Read: Tourist Attractions in Magetan, East Java
Tips When Visiting Pasaren Batu Ampar
Just like when visiting tourist attractions, you have to prepare everything properly according to the tourist destination you are going to. Since Batu Ampar is classified as a type of religious tourism, it's a good idea to listen to the following tips when visiting Batu Ampar.
Make sure when visiting you wear polite and closed clothes. You can wear dark trousers and tops and a headscarf for female visitors. It is recommended to also wear closed footwear.
Even though there are food vendors in Batu Ampar, it's best for your convenience to still bring your own food supplies to enjoy on the trip and after making a pilgrimage to this place. In addition to saving your budget, you can also maintain good body condition and nutritional adequacy when making pilgrimages. Make sure you throw in the proper trash all food waste that you have finished.
The best time to visit Batu Ampar is in the morning when not many visitors come and the air is still fresh. In addition, you can enjoy beautiful natural scenery along the way with a longer time.
Maintain decency and demeanor while in the area of ​​this sacred tomb. Respect the local wisdom that prevails in this area and don't hesitate to ask the local people about the usual customs if you need further information. They will be happy to share the information with you.
Leave nothing but footprints. Keep this place clean and make sure you don't make any dirt.
There are several sellers of souvenirs and souvenirs that you can visit to buy souvenirs before going home.
If you want to take pictures, ask the cemetery keeper about the places that are allowed to take pictures and obey all the rules explained by them.
This is a review of all things Pasaren Batu Ampar, starting from the history of its origin, location and transportation that can be used to get there, to tips and suggestions that can be observed before heading there. Religious tourism is one type of tourism that has not been done by many people.
Vacations at the same time doing religious tourism will make you closer to the Creator while at the same time being more grateful for everything you have. In addition, you will also gain new knowledge about the religious tourism objects you visit. Do not forget to invite family and friends when visiting this place so that the feel of togetherness and solemnity can be felt more.