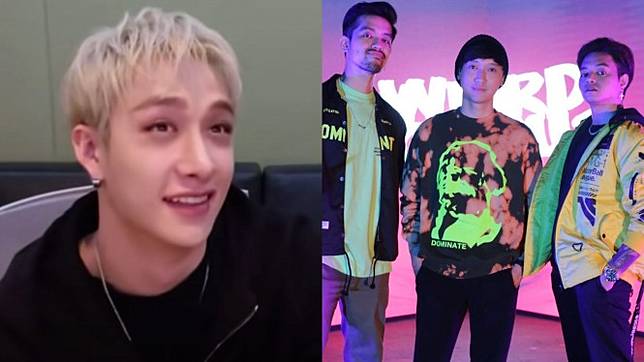 ZIGI – Stray Kids' Bang Chan successfully made STAY (the fandom name for Stray Kids) hysterical after playing the song Lathi by Weird Genius (ft. Sara Fajira) on VLIVE Chan's Room episode 147 live on Sunday, March 6, 2022.
The reason is, Bang Chan also received a recommendation for the song Lathi from STAY from Indonesia when he made a video call fansign some time ago. Curious about Stray Kids' Bang Chan reaction? Let's see the article below!
Also Read: Stray Kids' Bang Chan Reveals The Reason Why Idols Decide On Lip Sync
Bang Chan Stray Kids Listen to Songs Lathi – Weird Genius (ft. Sara Fajira)
Photo : VLIVE Bang Chan Stray Kids at Chan's Room episode 147
For information, Bang Chan Stray Kids regularly broadcasts live on the VLIVE platform with the title Chan's Room since 2019.
In Chan's Room, usually Bang Chan is accompanied by guest stars from other Stray Kids members or JYP Entertainment artists. The content plays songs recommended by STAY.
Since Bang Chan is both a producer and a composer, there will be a segment where he comments on the songs playing at Chan's Room.
Then in Chan's Room episode 147 which was broadcast on Sunday, March 6, 2022 on VLIVE, Bang Chan played the song Lathi belongs to Weird Genius. For information, Weird Genius is an EDM music group from Indonesia consisting of Reza Arap, Eka Gustiwana, and Gerald Liu.
Bang Chan Stray Kids Amazed by Song Lathi
Photo : VLIVE Bang Chan Stray Kids while listening to Lathi – Weird Genius
When playing a song lathi, Stray Kids' Bang Chan couldn't hide his enthusiasm. He enjoyed every strain of the beat, while nodding his head to scream pleasure.
Usually, Bang Chan only plays some of STAY's recommended songs in Chan's Room. But because really impressed with the song Lathihe repeated it twice.
"Wow why drop (song) can be like that," said Bang Chan with a laugh.
Then Bang Chan conveyed his 'regret' for hearing the song for the first time Lathi. Even though this song was released in March 2020.
"So the song we just listened to was called Lathi from Weird Genius featuring Sara Fajira. Wow, why haven't I heard this song before?! The beat drop is crazy," he said.
Bang Chan then flashed back on his experience of attending a music festival. This 1997-born idol really likes EDM genre songs.
"But this reminds me of one thing. When I was living in Australia, I really liked listening to EDM and trap songs. I also remember going to a festival that had this kind of vibe in the past," he continued.
Gerald Liu Weird Genius's Response to Stray Kids' Bang Chan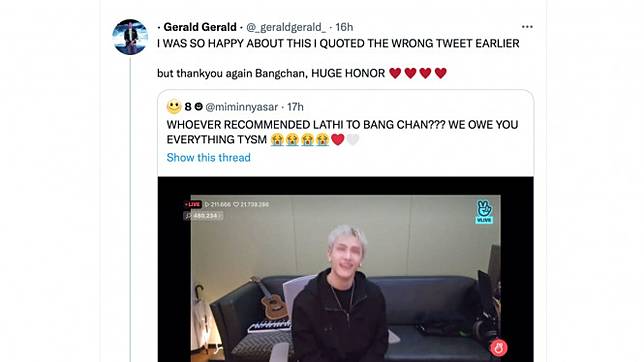 Photo : Twitter Reaction of Gerald Liu Weird Genius
Then the video cut by Bang Chan Stray Kids listening to the songLathi viral on Twitter since Sunday, March 6, 2022. This has even been known by Gerald Liu, a member of Weird Genius.
"I'm very happy about this, But thank you very much Bang Chan song, what a great honor," wrote Gerald Liu on his personal Twitter account by retweeting a video of Bang Chan listening to the song Lathi.
Then Gerald Liu already knew the existence of Stray Kids. Even he likes the song My Pace belongs to the 8-member boyband.
After being investigated, it turns out that Bang Chan got a song recommendationLathi from a STAY from Indonesia and the owner of a Twitter account @CBFL9900. At that time, the fan asked Bang Chan to play the song on Chan's Room broadcast.
So this is not the first time for Bang Chan Stray Kids to listen to Indonesian songs. Before the songLathi – Weird Genius, he once played Tulus' songs, Feby Putri. Ultimate, to Kaleb J on Chan's Room live broadcast.
Also Read: Future Ghost Lyrics – Weird Genius dan Violette Wautier