Baluran is actually the name of a national park in Banyuwangi – Situbondo. Baluran Tourism is also one of the tourist attractions in East Java which has begun to be crowded with tourists in recent years. Banyuwangi itself also has Alas Purwo National Park which is on the southeast side of East Java. Meanwhile, Baluran National Park is located between Banyuwangi and Situbondo. If you want to visit Baluran, here is some information you may need.
Features of Baluran National Park
Baluran National Park has an area of ​​about 25,000 hectares. From that figure, the Baluran savanna itself has an area of ​​about 10,000 hectares. That means, the Baluran savanna occupies almost half of the national park itself. This national park is also a type of nature conservation and also a protected forest. But tourists can come there to see the beauty that exists. In addition to tourism, a lot of research is also done in this place.
Baluran National Park is known as Africa van Java. This is because in Baluran tourism there is indeed a vast savanna which is indirectly similar to the savanna in Africa. This savanna is also filled with various kinds of animals that are not caged and roam freely. This increasingly makes Baluran similar to savanna conditions in Africa. Animals that roam this area include peacocks, monkeys, deer, bulls, buffalo, long-tailed birds, and many more.
The beauty of Baluran is not only seen from its green and wide savanna and animal life, but also from the view of Mount Baluran which can be seen from a close distance. If the weather is clear, then Mount Baluran will look perfect from the flat plains to the top. This location is very good for a photo spot. Especially with the existence of separate and not clustered savanna trees.
Location and Access to Baluran National Park
As described above, Baluran National Park is on the border between Situbondo and Banyuwangi. More precisely, it is located in Wonorejo Village, Banyuputih, Situbondo Regency. Many tourists visit Baluran after or before heading to Ijen Crater Tour. The position itself is easy to find because it can be accessed from the main road connecting Banyuwangi and Situbondo.
To go to Baluran tourism, tourists can choose to travel from Banyuwangi or from Situbondo. All vehicles can be used, starting from 2-wheeled and 4-wheeled vehicles. However, after entering the outer gate of Baluran National Park, the road will not be as smooth as the highway that connects Situbondo and Banyuwangi. Therefore, it takes vigilance and patience so that the trip can remain enjoyable.
Attractions in Baluran National Park
Baluran Tourism itself has several tourist objects. However, these 4 attractions are the most famous and always targeted by tourists, namely:
Bekol Savanna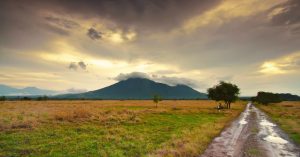 As explained above, the savanna in the Baluran area is indeed very wide. The name of this savanna is Bekol Savanna. Tourists really like this place because there they can enjoy the atmosphere like in Africa.
There you can find views of Mount Baluran and also the animals that roam freely. Therefore, please be careful if you have food, because the long-tailed monkeys there like to steal food.
For those of you who are afraid of monkeys, it is better to bring objects such as sticks, umbrellas, and the like to scare the monkeys. But don't hit him. Just be afraid.
Bama Beach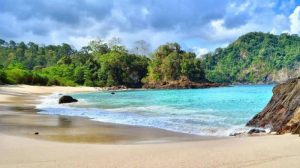 The next tourist attraction that is always visited by tourists who stop by Baluran National Park is Bama Beach. This beach can be accessed one way with Savana Bekol.
However, as explained earlier, road access is still not smooth, so the vehicle speed cannot be too fast. Along the way to Bama Beach, tourists can enjoy the view of the Bekol Savana and the animals that exist.
Bama Beach itself is one of the most well-maintained marine tourism in Indonesia. But there are also a lot of monkeys, so tourists need to be careful with their luggage.
Seasonal Forest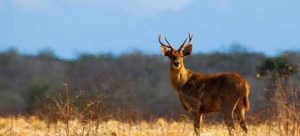 In this national park there is also a seasonal forest, which is a forest whose atmosphere will change as the seasons change. During the rainy season, this forest will look green and shady.
On the other hand, during the dry season, this forest will turn yellowish and brown. But this is precisely the main attraction of the seasonal forest in Baluran National Park.
Seasonal forest savanna is also quite extensive, and the animals that are there are mostly deer. This landscape will also remind the vast and wild African atmosphere.
Evergreen Forest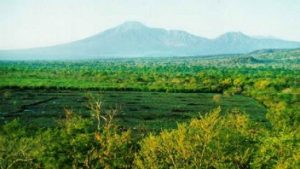 Unlike the seasonal forest, this Evergreen forest will always look green and cool. Suitable for those of you who want to enjoy an airy atmosphere with soft grass.
The green atmosphere in this tourist spot in Banyuwangi is because the soil layer in this area is always wetted by water, because it is close to the river flow. The green color will spoil the eye.
Therefore, this evergreen forest will always be green and not dry easily like the seasonal forest described above. However, there are not many trees in this Evergreen Forest, because this type of forest is still a savanna forest.
Baluran National Park Ticket Prices
For tourists who want to visit Baluran, here is a list of entrance ticket prices.
Domestic: IDR 15,000 (Monday – Saturday) and IDR 17,500 (Sunday)
International: IDR 150,000 (Monday – Saturday) and IDR 225,000 (Sunday)
Motorcycle parking rates: IDR 5,000 (Monday – Saturday) and IDR 7,500 (Sunday)
Car parking rates: IDR 10,000 (Monday – Saturday) and IDR 12,500 (Sunday)
If you want to visit there, prepare a budget and the right money so that the tour can run smoothly without obstacles.
Lodging in Baluran National Park
If tourists want to stay at Baluran tourism, there are several alternative ways to stay that can be chosen, including:
1. Baluran National Park Guesthouse
In Baluran National Park there is a guesthouse that can be rented for tourists who want to stay there. If you want to stay overnight, just ask the national park manager and they will provide directions and procedures for staying at the guesthouse.
2. Homestay
Another alternative is to stay at an inn or homestay. The location is near the entrance of the national park. That is near the entrance to the National Tourism Village. There are several inns that can be rented from local residents.
3. Camping / Camping
Another way is to camp around the national park. The location for camping can be asked at the national park manager. However, usually the manager will provide recommendations around the front gate of the national park or near the officer guard post.
Thus the explanation of Baluran Tourism: location, ticket prices, and attractions that you need to know before visiting there. If you are interested, then you should also visit Plengkung Beach, Banyuwangi, which is highly recommended for surfing. Hope it is useful.