Bali Bird Park is one of the tourist attractions in Bali with the concept of a special zoo for birds and poultry. Bali Bird Park can be an alternative for children's tourism in Bali as well as an interesting animal education tour to visit. If you usually only visit the beach or Bali's natural attractions, there is nothing wrong with visiting this zoo in Indonesia. The Bali Bird Park entrance ticket is also quite affordable with the facilities in it. For more details, here are some explanations about the Bali Bird Park.
Features of Bali Bird Park
Bali Bird Park is one of the best Child Tourism Places in Bali to see the most complete collection of birds in Bali. Tourists who come there can see firsthand birds from all over Indonesia, even from some parts of the world such as Africa and America. With an area that reaches 2 hectares, Bali Bird Park has more than 1,000 animals from 250 different species. In addition there is also a collection of tropical plants that reach 2,000 types of plants.
Tourists who come there can reach 200 to 400 people per day. Unfortunately, this tourist attraction is not very popular with local or domestic tourists. Most who come there are foreign tourists, especially from Russia. This may be influenced by the Bali Bird Park entrance ticket which is quite expensive for domestic tourists. Even though the facilities of the Tourist Attractions at Bali Bird Park are complete and indeed worth visiting.
Bali Bird Park Facilities
Because it is an international class and modern tourist attraction, it is appropriate that Bali Bird Park has complete facilities to fulfill all the activities of visitors who come, both domestic and international tourists. The exciting activities that can be done at Bali Bird Park include:
See local and international bird collections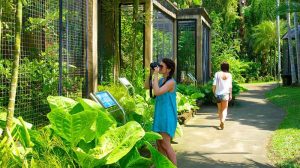 Tourists who come to Bali Bird Park can enjoy various types of birds of various species. For birds from Indonesia itself, the collection is diverse, ranging from Papuan birds, Javanese eagles, Bali starlings, and many more. In addition, for birds from abroad are also no less complete. Here are some types of birds in Bali Bird Park that can be seen directly by tourists:
Indonesian Birds: Bali Starling, Javan Eagle, Bido-snake Eagle, Cassowary, Golden Junai, Crimson Wing Parakeet
South American Birds: Skarlet Macaw and Hyacinth Macaw
African bird: Gray parrot
Those are some types of birds that can be seen by tourists and include popular birds or birds that are almost extinct. The bird habitat in the Bali Bird Park is always conditioned to resemble the bird's original habitat, so that the birds are less stressed and more adaptable.
Basic instinct
Basic instinct is one of the attractions at Bali Bird Park. Tourists who come can see the attraction of birds of prey for hunting. These predators include owls, eagles, and falcons.
Guys Corner
This activity allows tourists who come to be able to interact directly with the birds in the Bali Bird park. Tourists can also take pictures with the desired birds. One of the Tips for Vacationing with Toddlers is to visit tourist attractions that can sharpen their brains so they can develop. And that can be obtained if you take your toddler to a tourist location with facilities like the Bali Bird Park.
Feed the Lory, Papua Rain Forest feeding, Feed the Pelican
The three activities above are bird feeding activities that can be witnessed directly by tourists. Even tourists can also take part in feeding the birds in question.
Meet the Birdstar
These three activities have the same meaning, namely tourists can come to see rare types of animals that are almost extinct. For example black parrot or king cockatoo.
The Komodo Experience
Apparently not only birds and poultry that can be seen at the Bali Bird Park, but there are also reptile species that can be seen, such as Komodo dragons, pythons, lizards, and several other Southeast Asian reptiles.
Watching the breeding of birds
Because it is a type of animal education tour, the manager also provides facilities for tourists to be able to see the breeding cycle of birds, from eggs to hatching.
Those are some exciting activities that can be done at Bali Bird Park. In addition to these activities, there are also several supporting facilities that are accommodated for visiting tourists. The supporting facilities for the smooth running of tourism activities there include:
Restaurant or place to eat
Gift shop
Incubator area (painting on bird eggs)
4D theater
Tour guide (for a group of at least 20 people)
Location and Entrance Ticket
Bali Bird Park is a tourist attraction located on Jalan Serma Cok Ngurah Gambir Singapadu, Batubulan, Gianyar, Bali. The location of Bali Bird Park is quite easy to reach. From the Kuta Beach area which is one of the most beautiful beaches in Bali, the trip to Bali Bird Park is only about 1 hour. From downtown Denpasar, Bali Bird Park is also only about 12 kilometers away.
The Bali Bird Park entrance ticket is IDR 150,000 for adults and IDR 75,000 for children. For children under 2 years, there is no entry fee or free. If you want to visit Bali Bird Park, come from 09.00 and you can enjoy this attraction until 17.30 WITA. Bali Bird Park is open every day, except on Nyepi day.
If the tourists who come are groups of tourists (minimum group of 20 people), then the manager can provide free tour guide recommendations for the group. But of course there must be confirmation or prior booking to ensure this facility.
Those are some explanations about the Bali Bird Park entrance ticket and the complete facilities that tourists can get. If you visit Bali with your family and children, this attraction is one of the recommended attractions. I hope this information is helpful.