Balekambang Beach is a beach located in Malang where this beach is on the rise as a tourist destination in Malang which is a favorite for local and foreign tourists. The beauty and charm of Balekambang Beach which is different from most other beaches along the coast of East Java has earned it the nickname "Tanah Lot of East Java". This is of course due to the topography and landscape of this beach which is said to be similar to the famous Tanah Lot Beach on the island of Bali.
Balekambang Beach Charm
Balekambang Beach is located in Sumber Jambe Hamlet, Srigonco Village, Bantur District, Malang. From the city center of Malang, this beach can be reached as far as 60 kilometers to the south. Access to this beach is sufficient. The road has been paved smoothly although tourists must still be careful with some sharp inclines and turns. Along the way, tourists will be spoiled with rows of green trees that make the air very cool and fresh.
While on the beach, tourists will be treated to a vast expanse of ocean with clear blue water, waves that are not too big and a typical panorama of rocky beaches. Balekambang Beach is a typical beach that is clean and neatly arranged.
The calm atmosphere and cool air typical of the beach can be a panacea for tourists to unwind and calm themselves from the bustle of the city. Across the beach, tourists can also see a panoramic view of several islands such as Anoman Island, Ismoyo Island and Wisanggeni Island which are all connected by bridges. (Read: Interesting Tourist Attractions in East Java)
Balekambang Beach History
Before it was known as it is now, Balekambang Beach was still surrounded by dense trees and forests so that it was rare for people or even local people to enter there. The origin of why this beach has been able to develop so well now stems from the following story.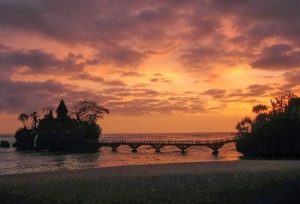 Since 1978, Balekambang Beach has actually been known by local residents. In that year, a village official in Srigonco Village began to open an access road so that people from outside the village could see and reach the beach easily. It was only five years later that Balekambang Beach was inaugurated by the then Regent of Malang, Mr. Eddy Slamet.
After being officially opened as a tourist destination in East Java, the name Balekambang Beach is getting more and more famous. Year after year the beauty of this beach continues to attract the interest of visitors to come and witness the beauty of this beach. Along with the economic growth of the local village, this beach is also equipped with various facilities that support the convenience of tourists when they come to visit. No wonder Balekambang Beach is currently one of the most popular tourist destinations in Malang and East Java. (Read: Three Colors Beach, Malang)
It is said that the first person to clear the forest surrounding the Balekambang Beach area was Syaikh Abdul Jalil, a cleric from Yogyakarta. When he died, he was buried in an area near Balekambang Beach which is located approximately 1 kilometer away. During the month of Muharram/Suro, his grave is visited by many Muslims who come from various regions. His services are remembered by the surrounding community so that his tomb is purified and becomes one of the religious tours in Malang.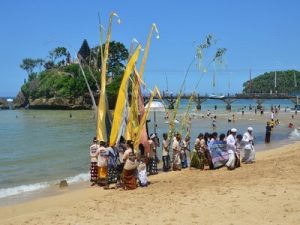 Uniquely, during Nyepi, Balekambang Beach will be visited by more tourists than on normal days. This is because Hindus who live around the Malang area perform a ceremonial procession at the Amarta Jati Temple which is located on Ismoyo Island, an island located across from this beach.
Tourists can watch this ceremonial procession because between the beach and the island are connected by a bridge. Tourists can watch this ceremony up close while maintaining the norms of politeness and respect for the community and religious adherents who are carrying out the ceremony. Tourists can enjoy the ceremonial procession while learning new knowledge about the culture and customs of traditional people in Indonesia.
Myths About Balekambang Beach
Balekambang Beach belongs to the southern coast cluster, meaning that the location of this beach which is in the southern region of Java Island makes it fall into that group. Like other southern beaches on the island of Java, Balekambang Beach is also rich in mythical stories and people's beliefs that are closely related to mystical things. (Read: Tourist Attractions in Batu that You Must Visit)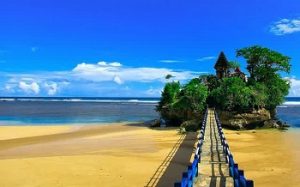 One of the most developed myths on this beach is about the end of romantic relationships for young couples who are not legally married if they come to visit together. Another myth is that it is said that the sea water of Balekambang Beach can make people stay young.
So don't be surprised if tourists will find people soaking in sea water or just rubbing water on their faces. Of course this is all just a myth, meaning that the truth of the stories above comes back to each other's beliefs and does not need to be seriously questioned.
Transportation to Balekambang Beach
For tourists who want to go to Balekambang Beach, there is no need to worry about transportation. There are so many choices of transportation modes to choose from to get to this beach. Access roads that are already good and paved allow tourists to comfortably go using private vehicles, buses, public transportation and even renting public transportation from the city of Malang.
However, tourists are advised to remain vigilant and careful because the topography of the road leading to this beach will go through several sharp turns and bends as well as several climbs. The following is a further explanation regarding the transportation options that can be taken along with the route to the Balekambang Beach tourist attraction:
Public Transportation (Bus, city transportation, motorcycle taxi)
If tourists want to really feel the essence of adventure, taking public transportation to Balekambang Beach is worth a try. The route is from Arjosari Terminal, Malang, take city transportation to Gadang Terminal. Then, continue by taking the city transportation to Bantur.
Arriving in Bantur, get off at Gondanglegi or Pagelaran District, from there tourists can use a motorcycle taxi service to continue the journey to Balekambang Beach because there is no public transportation that goes directly to the beach.
Private vehicle
If you want to go on a trip to Balekambang Beach with a large group of family or friends, it's a good idea for tourists to bring a private vehicle for convenience during the trip. From the city center of Malang, tourists can choose one of the following two routes:
From Malang, take the direction towards Gadang and Kendalpayak to go to the Villages of Gondanglegi, Pagelaran, Bantur, and Srigonco before reaching Balekambang Beach.
If you choose this route, tourists can pass through Gondanglegi Village, Bantur Performance, and Srigonco to reach Balekambang Beach.
When on the way to this tourist attraction area, tourists will be spoiled by the expanse of tropical forests and teak forests that are getting closer when they start entering the Bantur area. The road to the beach is already smooth paved, but there are some points where the road is a bit narrow with sharp turns here and there. This makes tourists have to be more vigilant when taking private vehicles to get to this beach. Along the road to Balekambang Beach there are many road signs scattered about, so tourists don't need to be afraid of getting lost when heading to this beach.
Read: Banyuwangi Tourist Attractions – Beaches, Waterfalls, Bays and Culinary
Balekambang Beach Entrance Ticket
To be able to enjoy the beautiful beach atmosphere with fresh air, tourists are only charged an entrance fee of IDR 10,000 to IDR 15,000 per person depending on holidays or holidays. This cost is certainly very affordable and arguably cheap for a tourist attraction in Malang that offers all the potential for beauty.
Tourism Activities on Balekambang Beach
Being one of the mainstay tourist attractions in Malang, Balekambang Beach offers a wide selection of activities that tourists can do while on the beach as follows:
Playing with sea water on the beach as long as the waves are not too big and the sign prohibiting playing on the beach is not installed by the beach manager.
Seeing the beauty of various kinds of sea corals and when the water is receding, tourists can even see various kinds of small ornamental fish and other marine biota swimming in groups.
During certain moments such as the Prophet's Birthday or the month of Suro, tourists can witness local residents who are still steadfast in carrying out traditional traditions by holding Suroan ceremonies and Jalanida Puja ceremonies. Especially during the month of Suro, Balekambang Beach is crowded with tourists both from inside and outside Malang to just bathe in the sea or do other things.
Enjoy the sunset. The charm of Balekambang Beach will increase many times when the sun slowly begins to enter the pool. The view of the beautiful sunset with a golden orange tinge is even more spectacular against the background of the mocking silhouettes of the surrounding islands.
Playing flying fox on outbound rides that can be tested by paying Rp. 20,000,-
Enjoy a delicious seafood menu while chatting with family or friends. Tourists can stop for a moment at Dampit Market which is in the direction of the trip to Balekambang Beach to buy a variety of fresh seafood such as fish, squid or shrimp and then burn it on the beach. If you are lazy to prepare your own food, there are also restaurants and food stalls on the beach that offer a variety of delicious seafood dishes.
Read: Preparing for a Vacation to the Beach
Facilities Available at Balekambang Beach
On this beach, tourists will be pampered with comfort and convenience in the form of various facilities as follows:
Hotels and Lodging
Around Balekambang Beach, there are many inns and hotels that can be rented with rates ranging from IDR 150,000 to IDR 250,000 per night. The fun thing is, tourists can book hotels online in advance by taking advantage of online sites such as Agoda and PegiPegi. Besides being able to get attractive discounts, booking hotels in advance will also prevent tourists from running out of rooms, especially during the holiday season or weekends.
Public toilet
On this beach there are many public toilets which are quite clean and can be used to rinse and clean yourself after playing with sea water and sand.
Restaurant
Along the coast, you can find many food stalls and restaurants that sell a variety of foods, ranging from delicious and fresh seafood to other menu choices.
Parking lot
This tourist attraction has a large parking area, so don't worry if you come here with a private vehicle.
Gift shop
If you want to buy keepsakes or souvenirs, tourists can shop at souvenir stalls around the beach at relatively affordable prices.
Worship place
For tourists who are Muslim, the Balekambang Beach area is also equipped with a prayer room that can be used to perform prayers.
Other Facilities
Balekambang Beach is also equipped with a campground, information office, pavilion and simple bungalows.
Tips for Traveling to Balekambang Beach
If you want to go on a trip to Balekambang Beach, it's a good idea for tourists to read the following tips first in preparation for a vacation at the beach:
Come early in the morning to be able to witness the beautiful sunrise view and avoid the scorching heat of the day.
Bring a head covering such as an umbrella or hat to protect yourself from the hot sun.
Avoid swimming in the sea because in certain seasons, the waves on this beach are high and the wind is strong so it is very dangerous to swim.
Fully charge your camera and gadget batteries to take pictures because there are many beautiful spots around the beach to take pictures.
Thus a review of Balekambang Beach along with its origins, myths, means of transportation, choices of tourist activities and travel tips. Happy holidays and have a nice visit.