Surabaya began to develop in terms of tourism. It can be seen from several new tourist objects that are starting to appear. This will certainly attract tourists to Surabaya, so that Surabaya can become a tourist destination in East Java besides Malang, Batu, and Banyuwangi. One of the new attractions there is Atlantis Land Kenpark Surabaya, which just opened at the end of 2017.
History of Atlantis Land Kenpark
As we all know that Surabaya has one of the well-known tourist beaches, namely Kenjeran Beach Tourism. This beach does have great potential for tourism since the first. But over time this beach began to be abandoned by tourists. This is further strengthened by the negative image of this coastal area, starting from the dirty place, dark streets, and the presence of illegal buildings.
Therefore, the Surabaya city government began to think about planning a revitalization or renovation in the area. After various attempts to find investors from private parties, this beach was finally restored and named Pantai Kenjeran Baru or Pantai Ria Kenjeran.
However, after the opening of Ria Kenjeran Beach, it is still not optimal in achieving its initial goal. So that improvements will continue to be made, and Kenjeran Park or abbreviated as Kenpark was born. Improvements and additional facilities continue to be carried out in the Kenpark area. And finally, the plan to build a theme park around Kenjeran was realized. So now people will know Atlantis Land Kenpark Surabaya as one of the main tourist attractions in Kenjeran Park.
The uniqueness of Atlantis Land Kenpark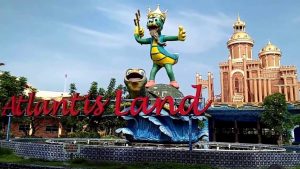 One thing that is the attraction of this New Tour in Surabaya is its area which reaches 150 hectares. This makes Atlantis Land one of the largest theme parks in Indonesia, even in Asia. The construction of various rides there was handled by architects from Australia. The initial concept was inspired by Universal Studios, so Atlantis Land will not be inferior to a number of other world-famous theme parks, such as Disneyland, Legoland, or Magic Kingdom.
As with theme parks in general, of course there are various types of interesting rides to try at Atlantis Land Kenpark Surabaya. The rides there are complete and also suitable for children. Some are suitable for children such as Ice Kingdom, Mystery Land, or Kids Playground. Meanwhile, rides that can stimulate visitors' adrenaline include Viking, Blizzard, Swing Drop, or Dark Coaster. The number of rides there are approximately 30 types and of course visitors can enjoy them to release stress.
In addition to game rides, there are also interesting educational rides for visitors. There is also an entertainment stage facility with an attractive Dancing Water Fountain. However, the development of these vehicles is carried out in stages. So, the possibility of this vehicle is not yet complete. However, you can already enter there because this attraction was opened to the public on December 23, 2017. The advantage of coming there now is the ticket price, which will definitely be cheaper than the ticket price at a later date when the construction process is complete.
The beauty of Kenjeran Beach
Besides having games and educational rides, visitors can also enjoy natural attractions in the form of beaches at Kenpark and are suitable for photo spots in Surabaya. So it can be said that this place is very complete to provide facilities for you. The view of Kenjeran beach is very beautiful, especially from there you can also see the view of the Suramadu Bridge even if only from a distance.
Although not as natural as Kuta Beach in Bali or other marine tourism, Kenjeran beach can still give you a quite refreshing atmosphere. The blue sea with views of the boats that are there will also make you quite interested in getting on the boat and going around. The boats can indeed be rented by visitors for a moment of refreshing around the Madura Strait.
There are also several parks in Kenpark. The gardens can be used as interesting photo spots. A simple playground is also there for the kids. Horseback riding will be charged separately for one round for children who want to ride it. In addition, the beauty of Kenjeran Beach at sunset is very romantic so it is suitable for a Honeymoon Place in Surabaya.
Route To Atlantis Land Kenpark
To reach Atlantis Land Kenpark Surabaya is certainly not difficult, considering Kenjeran beach itself has triumphed in the past as a tourist attraction. You will also find it easier to get there because the location is quite close to the Suramadu Bridge. The location is on Sukolilo Street, Sukolilo Baru Village, Bulak District, Surabaya City. If using a private vehicle, just head towards the Suramadu Bridge and follow the road signs on the street.
However, if you want to go to this tourist spot in Surabaya by using public transportation, you can take a taxi. If you want to take a bus, then from the airport you can take the Damri bus heading to Purbaya Bungurasih Terminal. From the terminal, take a city bus bound for Joyoboyo. You can get off at Joyoboyo terminal and take public transportation Joyoboyo – Kenjeran. You can get off at the Kenjeran terminal and just walk about 500 meters from the terminal. If you don't want to walk, you can also take a pedicab.
Price of admission
For visitors who want to enjoy the tour there, the price of admission to Kenpark is only IDR 5,000. However, the entrance ticket price is only the entrance price and does not include the price of the waterpark there. For the waterpark, the entrance ticket is IDR 10,000 on weekdays and IDR 15,000 on weekends. Meanwhile, to enter Atlantis Land Kenpark Surabaya itself, the entry ticket price is IDR 100,000 for children and IDR 125,000 for adults.
You will also get a meal voucher of IDR 25,000 and can enter every spot in the Kenpark area. There are also outbound tour packages that are suitable for children. The fee is IDR 25,000 per person with facilities for 10 kinds of outbound games.
Those are some explanations about the new Atlantis Land Kenpark Surabaya attraction, which just opened at the end of 2017. Hopefully useful for you.