Closing the event titled "Peek Performance" which was held on March 8, 2022, Apple announced the presence of Mac Studio. This is the most powerful computer ever. The reason is, Apple feeds Mac Studio with a choice of M1 Max and M1 Ultra processors, its newest flagship processor.
Mac Studio is 9.5 cm high and 19.7 cm wide and deep. This makes it very portable for a desktop computer. It weighs 2.7 Kg or 3.6 Kg, depending on the processor choice. It's possible that the Mac Studio equipped with the M1 Ultra has the added weight of some sort of heat-blowing hardware.
Apple manufactures the Mac Studio out of a single piece of aluminum and installs a thermal system that uses a fan on top of the machine. This aims to suck cold air from the vents at the bottom, so that it can pass through the entire system and in the end does not cause excessive heat.
Talking about embedded port support, Mac Studio has a variety of port options on the back. There are four Thunderbolt 4 USB-C ports with a throughput of 40 Gbps each, 10 Gbit Ethernet, two USB-A ports, one HDMI, 3.5mm audio jack, and a power connector.
Meanwhile, on the front, the Mac Studio equipped with the M1 Max has two 10 Gbps USB-C ports and an SDXC UHS-II card slot. Meanwhile, a Mac Studio with an M1 Ultra processor has two Thunderbolt 4 USB-C instead. Not to forget, Apple has also pinned an integrated speaker.
Interestingly, Apple says that users can connect up to five displays to Mac Studio – four displays up to 6K at 60Hz via Thunderbolt USB-C and one 4K display at up to 60Hz via full-size HDMI. Of course, this is a special attraction for Apple Mac Studio.
Mac Studio comes with a choice of M1 Max or M1 Ultra processors. The M1 Max has a 10-core CPU, 24-core GPU, and a 16-core Neural Engine. Meanwhile, the M1 Ultra as already reported that this processor has double the ability of the M1 Max, to 20, 48, and 32 respectively.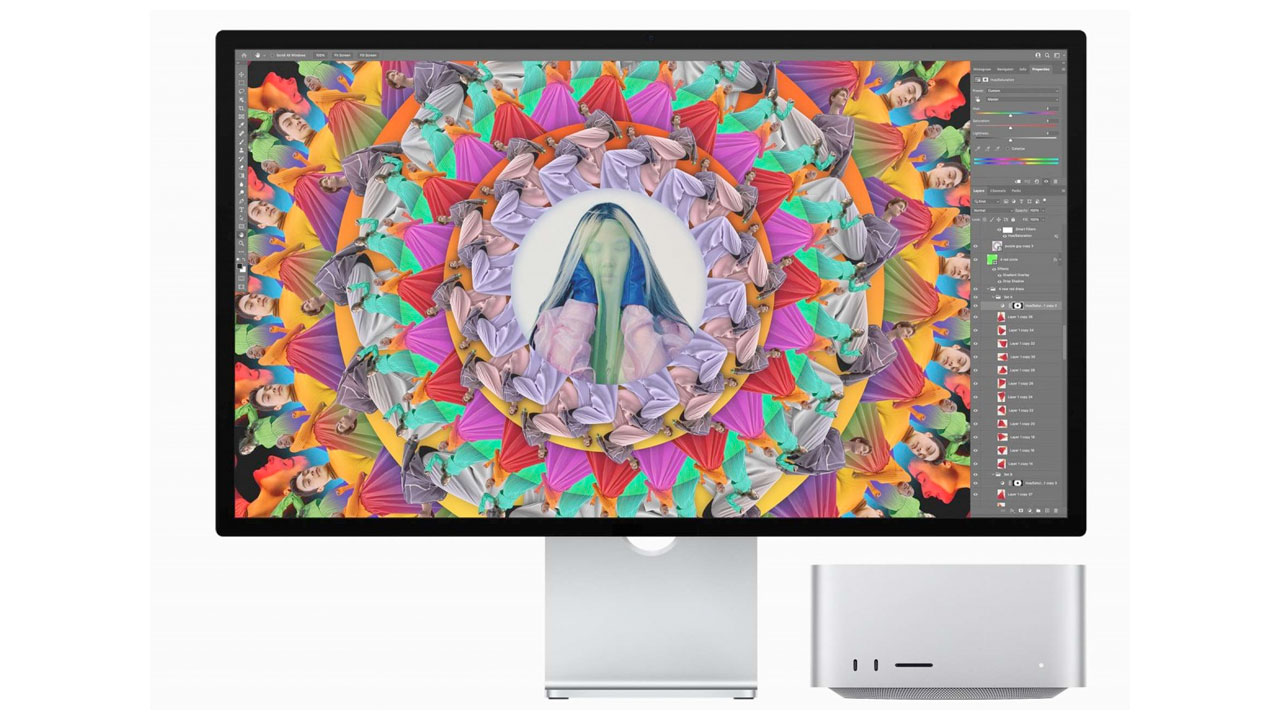 Mac Studio powered by the M1 Ultra processor has double the 64GB of integrated memory and 1TB of SSD storage. Meanwhile, what is fed to the M1 Max only has 32 GB of RAM and 512 GB of storage. One thing you should know, it is the initial option.
The Mac Studio M1 Max can be configured with a 32-core GPU, while the installed M1 Ultra can be configured with up to a 64-core GPU. Each chipset can be paired with 64GB or even 128GB of integrated memory and a choice of 7.4GB/s 1TB, 2TB, 4TB or 8TB SSD storage.
Apple has opened a Mac Studio offering in the form of pre-orders, and will ship to consumers on March 18, 2022. Initial configuration with the M1 Max processor, this portable desktop retails for US $ 1,999 or equivalent to Rp. 28.7 million. While the initial configuration with the M1 Ultra sells for US $ 3,999 or equivalent to Rp. 57.5 million.