Lawang is an area in Malang Raya and is still included in Malang Regency. Lawang is located between Surabaya and Malang. This area has several tourist attractions in the vicinity. In addition, because it is on the main route of Malang and Surabaya, of course Lawang is easy to reach for people from the south of East Java or from the north of East Java.
Currently in Lawang, Malang Regency, there is also a 3D Photo Spot in Indonesia that is unique and can be visited as a tourist attraction. Suitable for the new tourism concept which is now starting to attract tourists to fill their respective social media. Its name is Lawang Illusion 3D Selfie Point Tourism which is a three-dimensional photography tourism area. Here are some explanations about this one tourist attraction.
Unique 3D Illusion Selfie Point
Like other three-dimensional photo spots in Indonesia, the illusionary 3D Selfie Point located in Lawang, Malang Regency is also an interesting three-dimensional photo vehicle to visit. Besides Tridi Village and Jodipan Colorful Village, which are also tourist attractions near Malang Station, now Malang Raya has another best place to take pictures with a three-dimensional background.
The attraction of the Lawang illusion 3D Selfie Point is that there are many interesting photo spots. There are at least about 60 indoor or indoor photo spots with different themes. Very interesting isn't it? Visitors can enjoy rides and photo concepts in various ways because the 3D paintings there are also diverse. Therefore, if you want to visit there, try to invite friends and family to enjoy the excitement.
Another interesting thing about this Lawang illusion 3D Selfie Point is that it has a broad and beautiful impression. Where the air in Lawang is quite cool so that visitors can explore this tourist area more comfortably. The cool temperature in Lawang is due to its location which is still on the slopes of Mount Arjuna.
Location and Price of the 3D Illusion Selfie Point Entrance Ticket
The location of the Lawang illusion 3D Selfie Point itself is in Ketindan Village, Lawang District, Malang Regency. This location is quite easy to reach both from Malang and from Surabaya. The location is also one of the tours near Singosari Station that can be visited. If you are driving from Malang, head to the Wonosari area and find Ketindan Village. This village is in front of the Al-Mustaqim Islamic Boarding School. If you feel lost, try asking local people in the area.
For the ticket price itself at the time of opening is free. But now it is reported that visitors will be charged an entrance fee of IDR 40,000 per person. The entrance ticket price is quite cheap and quite affordable when compared to other 3D photo spots in Indonesia.
3D Illusionary Selfie Point Facilities and Rides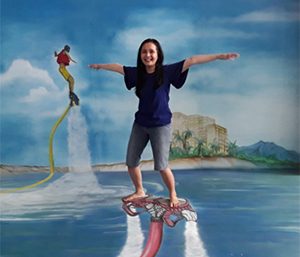 Don't think that this photo spot only has a variety of interesting photo spots to be used as photo backgrounds. Because it turns out that the rides and facilities at Selfie Point 3D Illusion Lawang are quite complete for family attractions and attractions for young children. In other words, this attraction is suitable for all people of all ages. Here are some of the facilities and recreational rides available at Selfie Point 3D illusion.
As explained above, the main facility or vehicle for this illusionary 3D Selfie Point is indeed a photo spot. There are approximately 60 photo spots that are modernly designed and suitable to complement the needs of tourists who really like unique and interesting photography.
Not only are there many photo spots that are unique and interesting, in this tourist attraction there are also baths or swimming pools that can be used to unwind. Those of you who like to swim in tourist attractions, can try swimming there to enjoy the holiday atmosphere or unwind and relax.
As the name suggests, in this Photo Spot tour in Malang there is also a playground or play zone that can be used by tourists to do various types of games.
There are also mini trail n track rides that visitors can rent to enjoy the holiday atmosphere in this Illusory 3D Selfie Point tourist area.
Not only there is a swimming pool for bathing and various rides for games, there is also an attractive fishing pond which is suitable for visitors who like fishing.
Other facilities that can accommodate the activities of visitors are restaurants or places to eat. The food served there is very delicious and can give you the opportunity for a culinary tour when lunch arrives.
Additional facilities for visitors who are tired of taking pictures are a gazebo that can be used as a place to rest and unwind before you go around again to take some more photos.
This tourist attraction is quite complete in terms of facilities because in addition to the facilities mentioned above, there is also a large parking area, toilets, and a place of worship in the form of a prayer room which can be used as a place of prayer.
Those are some interesting facilities from the illusionary 3D Selfie Point that can be used when traveling there. Bring your family and friends to enjoy the attractions and fun that is there. You can visit every day except Monday because Monday is closed. The opening hours themselves are from 08.00 to 17.00 WIB. At Selfie Point 3D illusion Lawang there is also a guide who can help direct the style and help take photos for visitors.
Those are some explanations about the Lawang illusion 3D Selfie Point that you need to know. If you happen to be around Lawang, try to visit there. You can also visit the Wonosari Tea Plantation which is close to Lawang. Hope it is useful.