The Island of the Gods is one of the typical cultural tours in Bali with a variety of arts, gifts, and unique objects to be used as souvenirs. No wonder many tourists want to shop before returning to their respective cities. And one of the interesting things about tourism in Bali is if you manage to bid the lowest price. Bargaining prices can usually be done in traditional markets. For those of you who like to shop and like to bargain prices, here are some traditional markets in Bali that you can visit.
1. Sukawati Art Market
Who doesn't know Sukawati Art Market? Almost all tourists who like shopping must know and even often come to this place. Sukawati Market is also often used as a recommendation for traditional shopping places in Bali as well as Cheap and Free Tourist Places in Bali.
There are many things that are sold in this market, ranging from art objects, clothes, hats, bracelets, and so on. This market also stores a variety of Balinese snacks that are ready to be used as souvenirs.
The price offered is not cheap. But that's where the skill of bargaining becomes exciting between the seller and the buyer.
Location: Rata Sukawati Street, Gianyar Regency
Opening hours: 08.00 to 17.00 WITA
2. Kumbasari Market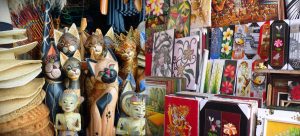 Kumbasari Market is one of the largest traditional markets in Bali. This market consists of 2 floors of a building and all of them are filled with traders as well as buyers.
There are a lot of merchandise for sale. If you want to buy souvenirs in this market, you can too. Even the prices of art objects that are usually used as souvenirs are cheaper than other markets.
In addition, tourists who want to buy food or groceries can also buy them here. Especially backpackers who want to cook for themselves to save money.
Location: Jalan Gajah Mada, West Denpasar, Denpasar, Bali
Opening hours: 09.00 to 19.00 WITA
3. Ubud Art Market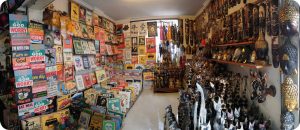 If the Sukawati market is the first traditional tourist market, then the Ubud Art Market is the second largest traditional market for tourists. In this market there are many art objects that are sold as souvenirs.
There are types of bags, clothes, paintings, statues, and several types of woven. In addition there are also market snacks that can be purchased. This market is a market that is more often visited by tourists when visiting Ubud.
If you want to buy souvenirs here, then after visiting several tourist attractions in Ubud, it's a good idea to stop by here.
Location: Jalan Raya Ubud, Ubud, Bali
Opening hours: 08.00 to 16.00 WITA
4. Kuta Art Market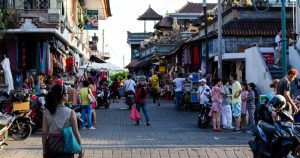 There is another shopping tour in Bali that can attract tourists, namely the Kuta Art Market. Usually while waiting for the sun to set at the Most Beautiful Beach in Bali Kuta, tourists will go around the Kuta art market area for shopping or just sightseeing.
Although around Kuta Beach there are many shops selling expensive items, Kuta's traditional market still attracts the attention of tourists.
There are many things that can be bought there as souvenirs. Such as clothes, statues, carving arts, and other interesting arts. To shop there, the following information is needed.
Location: Bakung Sari Street, Kuta, Bali
Opening hours: 08.00 to 22.00 WITA
5. Guwang Art Market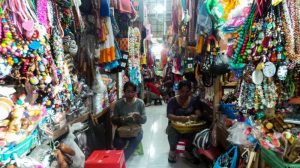 Guwang Art Market is one of the traditional markets in Bali which is located close to Sukawati Market. However, because Guwang's name is not as well-known as Sukawati, the Guwang Art Market has fewer visitors.
In addition, this market is also relatively new when compared to Sukawati. The purpose of the development is to accommodate tourists from Sukawati Market, especially during busy holidays.
Guwang Art Market can be an alternative shopping near Sukawati, especially if Sukawati Market is busy.
Location: Guwang, Sukawati, Gianyar Regency
Opening hours: 08.00 to 18.00 WITA
6. Badung Market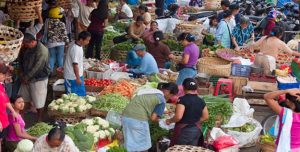 This Badung Market can also be visited by tourists who want to shop in Bali. This market is more suitable for those of you who want to shop for clothes and art objects at low prices.
In addition, local Balinese people also often shop here for their daily needs. So it can be ascertained that the prices here are cheaper than the art market which is intended for tourists.
The quality of goods in Badung Market is also higher. But even so the price is affordable for souvenirs.
Location: Sulawesi Street, Dangin Puri Kangin, North Denpasar, Denpasar, Bali
Opening hours: 06.00 to 24.00 WITA
7. Sindu Market
Sindu Market has the original name Padar Friendly and Fresh. This market is also often used by local people to shop for their daily needs. However, the objects sold here are more of food ingredients and are not suitable for tourists who want to look for souvenirs.
One of the tips for cheap holidays to Bali is looking for cheap food or cooking your own food. If you are a backpacker, then this place is one of the most popular grocery shopping locations.
This market is a very clean market and the arrangement of each seller's stall is also neatly arranged.
Location: Sindu Market Street, Sanur, South Denpasar, Denpasar, Bali
Opening hours: 06.00 to 22.00 WITA
8. Mertanadi Art Market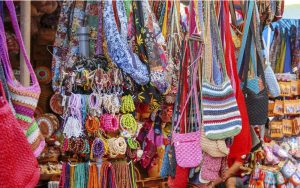 If you visit Legian Beach, then this one traditional market can be visited by tourists. This market is indeed an art market that sells various Balinese souvenirs and can be used as souvenirs.
From Legian Beach, tourists only need to walk for about 5 minutes. The items for sale are clothes, key chains, paintings, and other art objects.
Just like the Sukawati Art Market, the sellers charge high prices. Therefore, the buyer must bid at the lowest price in order to get the price according to his wishes.
Location: Jalan Melasti No.86, Legian, Kuta, Badung Regency, Bali
9. Semarapura Art Market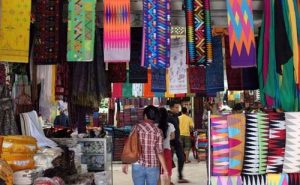 This art market is located in the Klungkung area of ​​Bali and is one of the markets frequented by tourists. This market is indeed a tourist market that sells a lot of souvenirs for tourists.
If you visit tourist attractions in Klungkung Bali, then this market can be an alternative for shopping for souvenirs. Tourists who come here mostly like the Balinese songket woven fabric.
However, the prices for the items sold here are a bit more expensive because most of the items are produced by local residents.
Location: Jalan Puputan No. 7, Semarapura Kangin Village, Klungkung, Bali
Those are some traditional markets in Bali that can be visited to buy souvenirs and other necessities while traveling on the Island of the Gods. Hopefully it can provide useful information.