When visiting Cilegon City, we certainly think we will not find anything there. The city, known as the City of Steel, belongs to the province of Banten (on the edge of the Sunda Strait) or the northwestern tip of Java. Cilegon, which is also an industrial area, is the largest producer of steel in Southeast Asia. Is there only steel in Cilegon? It turns out that in addition to its advanced industry, this city also has famous tourist destinations that are worth visiting and are suitable tourist attractions for young people.
Here are some parts of the tourist attractions in Cilegon:
Big Peacock Island
The island, which is located right in front of the Merak-Bakauheni Harbor, has an area of ​​about 20 hectares. Merak Besar Island has several functions, including a protected forest, buffering waves towards Merak Harbor, protecting the Merak Integrated Terminal and its ferry port. Big Peacock Island is still natural and there are no inhabitants. This island also has a wealth of sea and flora and fauna, as well as rocks. When we come here we can also find corals from the Mount Krakatau Tsunami which erupted in 1883 ago. From the center of Cilegon, it takes us about 15 minutes to get to Merak Besar Island.
Little Peacock Island
The location of Small Merak Island is close to Merak Harbor (about 1 km). We can reach this island easily by motor boat. This island is included in the Great Merak Island group and has an area of ​​​​approximately 4.62 hectares. This island has a function as a barrier to sea waves, preventing it from entering the Merak Harbor.
Krenceng Reservoir
The next Cilegon tourist spot is the Krenceng Reservoir. This place when the month of Ramadan arrives, it will be used as a place to hang out. Reservoir which is relatively wide, when we see it will give the impression of calm and peace. What we can see as far as our eyes can see is a circular reservoir with clear water. This reservoir is not only crowded with local residents, but also people from outside Cilegon, many who come to see the beauty of the Krenceng Reservoir. Krenceng Reservoir will be crowded starting at 16.00. We will be greeted with a cool breeze when we arrive at the reservoir site. In addition, there are many food vendors and various objects that can be found along this tourist spot, including sellers of ice and dumplings, cucumber suri, stickers, to VCD sellers, all of them are available. Although many visitors come every day, the cleanliness of this tourist site is maintained properly. The function of the reservoir is not only as a place of recreation, but also as a reservoir for the water of the Rawa Dano River. Address : Krenceng Village, Cilegon.
Mayofield Mall
This shopping center which was established in 2007 is the largest in Cilegon. Mayofield has 3 floors and the concept of a one stop shopping mall or all family needs are provided in one place. In this mall we can find Hokben, Pizza Hut, Matahari, and so on.
Mount Batur
The next Cilegon tourist location is Mount Batur. If we travel from downtown Cilegon the distance is about 8 km, with a travel time of about 10 minutes. This place is one of the agro tourism destinations with orientation on special interest tourism, including hanging kites, camping, hiking, studying flora and fauna and so on. Address: Pulomerak District.
Mount Batu Lawang
In this place you can find a stretch of granite mountains with a variety of stunning rock forms. And when you are at the tourist location of Mount Batu Lawang, you will clearly see the west coast of Cilegon City. Address : Gerem area, Merak.
Anyer Beach
This beach, which is a favorite tourist destination in Banten, has a wide stretch of white sand with calm waves. Because the location is quite close to Cilegon City, Anyer Beach is often classified as a tourist destination in Cilegon City. This place is always crowded with tourists or travelers. Some of the activities that we can do while on vacation here include swimming, banana boating, playing in the sand, snorkeling, diving, jetskiing, to enjoying the beautiful beaches. Not only that, there is a camping area around Anyer Beach. Actually Anyer Beach consists of several beaches with different names, but because of their location on the same coastline, people assume that all of them are the Anyer Beach area.
Seven Coconut Beach
This sloping beach has a charming and shady beauty because of its position behind the slopes of Mount Batur. When we arrive at Kelapa Tujuh Beach, we will see many street vendors along the coast. Address : Merak, Cilegon (approximately 9 km from the Jakarta-Merak toll gate).
Krakatau Country Club
This is a tourist center which is located in the middle of Cilegon City. The management is a subsidiary of Krakatau Steel. Facilities that we can find at the Krakatau Country Club location include golf courses, hotels, karaoke places, swimming pools, spas and saunas, to tennis courts.
Cilegon City Culinary Tour
In addition to the presence of tourist attractions that have their own beauty and uniqueness, the city of Cilegon also has culinary tours that are no less delicious than culinary tours in other places and it is very mandatory for you to visit several culinary attractions in the city of Cilegon.
Here are some culinary tours of the city of Cilegon that you must visit:
1. Saung Edi
This one place to eat is behind Edi Toserba. We can order a variety of delicious menus, including lead rice, tutug oncom rice, and grilled rice, with a variety of fruit juices as drinks. It's true that the taste of Nasi Tutug Oncom is a bit different from Tasikmalaya's Nasi Tutug Oncom, but it's still delicious. Oh, yes, if we visit here, we can't get together or hang out for long because Saung Edi will close at exactly 21.00.
2. Asmawi Duck Satay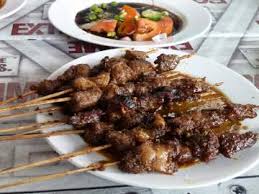 In the small town of Cilegon, it turns out that there are delicious culinary delights too, you know. The names are Warung Sate and Sop Asmawi. The mainstay of the menu is duck satay. Yes, the taste of the satay in this place is really delicious. When the satay is served, we can still see the chili seeds sticking to the meat of the satay. The taste of the meat is similar to mutton, but more chewy, soft, and thin. When we take our first bite, we will feel the spicy sensation of the duck satay plus the savory taste of the spices that seep into the meat. This duck satay can only be served after 4 pm, because the process of soaking the meat into the spices takes a long time so that the spices are perfectly absorbed and the taste of the duck satay is maintained.
Another menu that is no less delicious and can be tried when visiting this culinary location is a variety of soups. The choices range from oxtail soup to duck soup. The savory soup with colorful vegetables such as cabbage and carrots, makes us more appetizing to eat, very suitable as a friend to eat duck satay. In order not to be too full, order each menu, one portion for two people is enough. Here, too, we can order soup only, you know. Address : Jalan Raya Cilegon-Merak (near Lily Kasoem optic).
3. Café Oregano
This cafe carries a different concept from most cafes in big cities. While other cafes are in the form of buildings, Oregano has the concept of a garden cafe. Standing on an area of ​​5000 square meters, surrounded by yellow frangipani trees, sapodilla netherlands, palms, and so on. Plus there is a fish pond in the middle with a size of 4 × 8 meters. Being in Oregano, we feel like we're on a trip. The unique name of the cafe is taken from the name of one of the famous spices as a spice in the world of cooking.
Some of the menus available at Oregano include European menus in the form of spaghetti bolognese, T-bone steak, beef lasagna, and others. The archipelago menu is also available, including fried rice and chicken satay. For those of you who just want to relax, you can order a cake menu and a variety of fruit juices. Some of the cakes available are tiramisu snickers pie, blackberries forest, cheesecake, and so on. Address : Jalan Bayangkara No.17, Serang.
4. Palm Hut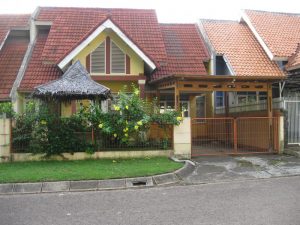 Pondok Palem is a hawker center on a hillside and is located in Palem Hill Housing Cilegon. Pondok Palem is also known as Palem Hill Food Arcede. This is the only place to eat in Cilegon Hills. Whether visiting in the day or night, both are equally enjoyable. During the day we can see the green of the small city of Cilegon, with views of the roofs of houses, industrial areas, the largest mosque in Cilegon, the Nurul Ikhlas Mosque, and the blue Sunda Strait. And at night, from Pondok Palem we can see the sparkling city lights, ships passing by in the Sunda Strait, and so on.
The facilities here include natural nuanced kiosks that serve Indonesian cuisine with a wide location, a hall for live music, free parking, toilets, prayer rooms, wifi, and so on. This place opened in May 2008 and is always crowded with visitors from within and outside the city.
5. Cibeber Duck Satay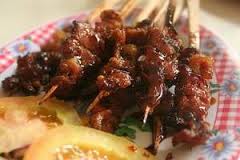 Duck satay is a very popular Cilegon food. One of the popular ones is Sate Duck Cibeber. With strong spices make the taste even more delicious.
6. Rabeg Cilegon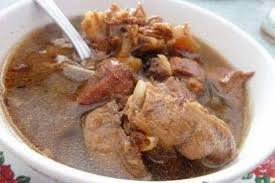 Rabeg is a sultan's dish during the reign of Sultan Hasanuddin. This food is made from meat that is processed with various kinds of spices. This delicious culinary has a savory and sweet taste. With a brown gravy similar to stews but slightly thinner. Plus some spices that make the taste even stronger, such as cinnamon and pepper. Complementing the solid culinary taste. This food is usually served when there are special events such as weddings, circumcisions, or weddings.
7. Gipang Cake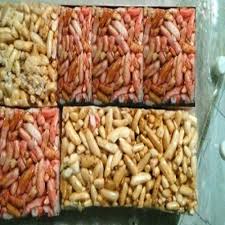 In almost all gift centers we can find these souvenirs. This food made from glutinous rice is still being hunted by many visitors as souvenirs. How to make it by steaming glutinous rice and then dried in the sun until dry and fried. Cook sugar, tamarind, add vanilla. When it thickens, just add the sticky rice and mix well. Pour into plastic, press until smooth, then cut into pieces. In addition, there are several Cilegon specialties that are worth trying, including gegetas, tape cigading, awug-awug, to urab lambu kasang.
8. Bekakak Kranggot Chicken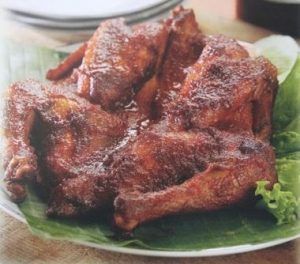 Foods that have a slightly spicy and sweet taste are usually served when there are special events, such as circumcisions, celebrations, weddings, and others. The chicken used is native chicken.
Also read articles on other unique tourist attractions: