Bojonegoro, known as the City of Oil, is a part of East Java Province. This city has a tourist area that is no less exciting and fun to visit. Let's explore the tours in Bojonegoro one by one!
Fire Heaven
The first tourist spot in Bojonegoro is heaven of fire. This tourist spot is the most famous in the Bojonegoro area. Kayangan Api is a natural source of fire that never goes out and is the biggest fire source in Southeast Asia. Along the way to the Kayangan Api tourism object, we will be treated to views of the green teak forest which is quite lush.
When we arrive at the tourist site, we will be greeted by a gate with neatly lined poles. Well, to see the source of the eternal fire, we can look into the center of the pillar. There will appear a circle of hot stone, emitting eternal fire. Currently the location of Kayangan Api is a sacred place and is trusted by local residents as the place where Mbah Kriyo Kusumo (Mpu Supa) or Mbah Pandhe from the Majapahit Kingdom resides. He is an heirloom maker.
On the west side of Kayangan Api there is a mud puddle with sulfur content. This strengthens the public's belief that Mpu Supa is still carrying out activities to this day. This eternal fire from the Heaven of Fire can only be taken for certain ceremonies. Like the jumenengan ceremony performed by Sri Sultan Hamengku Buwono X. And taking the fire requires a special ritual and cannot be done arbitrarily. Address : Sendangharjo Village, Ngasem District (a village with a forest area larger than the village area, which is about 42.29% forest area).
Wana Tirta Dander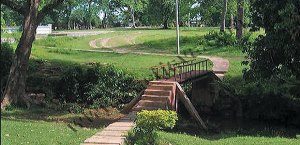 This tourist attraction will be more crowded on Sundays. Some of the spots in the Dander area are golf courses and swimming pools. Not only that, when visiting Wana Tirta Dander, we can see a plane made by the Dutch that crashed in this tourist attraction.
Dander is not only visited by local residents, but also from outside Bojonegoro. If you feel hungry, you don't need to worry because at the location of this tourist attraction, there are many vendors selling food and drinks. Another attraction of the Dander area is the enchanting natural beauty, comfortable atmosphere, suitable as a place for refreshing and family tourism.
Address : Dander Village, south of Bojonegoro.
Grandfather Dalem's Tomb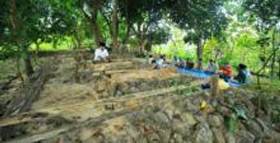 The next tourist spot in Bojonegoro is the tomb of the great-grandfather of the palace. Buyut Dalem or also known as Prince Raden Aryo Dalem was the Duke of Bojonegoro who served from 1614 to 1619. This tomb is well maintained and next to the main tomb, there is also the tomb of Srihuning who is Raden Aryo Dalem's idol nicknamed Mustika Tuban.
Every Wednesday Wage in September there is always an earth alms ritual. The ritual begins on Wednesday Pahing with mayu reeds. The intention is to replace the roof of the cupola of the tomb made of reeds along with the sand in the tomb as well.
Pacal Dam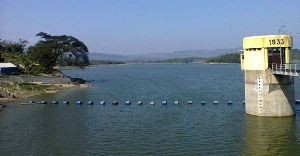 Pacal Reservoir or Pacal Dam is a dam which was built during the Dutch era, namely in 1933. The magnet of this tourist attraction is located in the beautiful nature around the dam surrounded by green hills, teak forests, and abundant water.
The location is 35 km south of Bojonegoro City. The dam, which reaches a depth of 25 meters and an area of ​​3,878 km, looks so sturdy and majestic. The facilities available in the tourist area of ​​​​Pacal Reservoir include fishing ponds, lodging, stalls and restaurants, and rowing boats. Inviting the family to travel here is the right choice. It should be noted that the ritual of Larung Sengkolo and Jamasan Waranggono Tayub is routinely carried out at this tourist location, namely every October.
Address: Pacal Village, Bojonegoro.
Hok Swie Bio Temple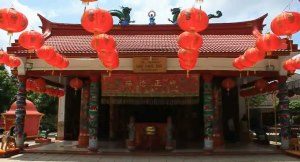 Religious tourism that is no less popular with other tours in Bojonegoro is the Hok Swie Bio Temple. The Tri Darma worship building with the dominant red color of the building, as well as an ornament in the form of a dragon's head, is the most visited during the Chinese New Year.
This temple, which is always kept clean, is visited by many tourists, even those from outside Bojonegoro to pray. There are also several places to rest/lodging for tourists or visitors who want to stay longer. Apart from its unique shape, this pagoda also has stone ornaments along the walls of the pagoda with the shape of a blue dragon head.
Kedung Maor Waterfall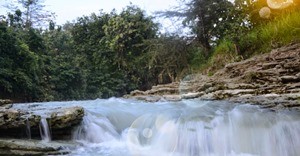 One of the waterfall tours in the Bojonegoro area is Kedung Maor Waterfall. This waterfall is suitable for spending weekends and holidays. The place is unspoiled, surrounded by teak forests, and clear river water.
This tourist attraction will be crowded with local tourists, especially during holidays or the month of Ramadan. The estuary of Kedung Maor Waterfall is a small lake that has stalactites and stalagmites around it, and the lake water here can turn greenish, you know. Cool, right? (Also read: waterfalls in Indonesia that must be visited)
Address : Kedung Sumber Village, Temayang District, Bojonegoro Regency (approximately 40 km from Bojonegoro City).
Semar Stone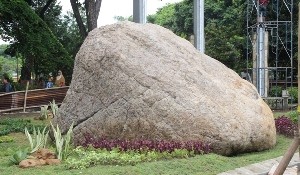 This giant stone is planted right in front of the Pendopo of Bojonegoro Regency. Stone weighing up to 80 tons, some even say that up to 200 tons is always crowded with tourists. The length of the stone is about 4 meters, the width of the stone is 4 meters, the height is 3 meters.
Many visitors take advantage of this location as a place for selfies with a special giant rock background. The stone which was brought from the forest of Bendotan Hamlet, Krodonan, Gondang, will actually be used as an inscription for the square which symbolizes the determination to continue working.
It is said that the story is that Batu Semar still has a spiritual bond with Grandmother Gendro Sari (the ruler of Mount Pandan) who is not far from the location of Batu Semar before being brought in. Now the Bojonegoro Square Park looks beautiful with shady trees and is more complete because of the Semar Stone.
Ngringinrejo Starfruit Agro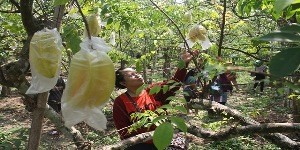 In this tourist location, we will find a large starfruit garden. Along the way to the starfruit garden, you will see the natural beauty of the countryside, starfruit sellers, and village food stalls.
In addition, if you are already in the star fruit garden and you feel tired or hot walking around the garden, take a break in the cool gazebo because there are many star fruit trees around the age of 25 years. One of the interesting activities that can be done while traveling here is picking star fruit directly from the tree. How fun! And perfect for traveling with family.
Address : West Bojonegoro km 15.
Motion Dam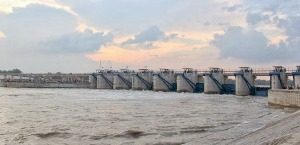 Furthermore, for tourist attractions in Bojonegoro there is a motion dam. Gerak Dam has various functions, including irrigation, flood control, providing water for households and industry, and is planned to be opened as a tourist location.
In addition, this dam also has the function of keeping the Bengawan Solo river ecosystem from being damaged, as a storage or water reserve when the dry season arrives. Although this motion dam is a facility for the community later, it has quite a beautiful view, especially in the afternoon. There is nothing wrong with seeing the sunset in this place, because the color of the sky and the changing clouds is quite beautiful, so this makes this place often visited by the local community.
Bojonegoro Culinary Tour
Mrs. Mar's Chicken Soto
Soto with a savory taste with coconut milk is very fresh and delicious. There are special spices that are mixed so that the taste is different from other soto. One portion is priced at IDR 10,000. Address : Jalan Teuku Umar and Jalan Mastrip Bojonegoro.
Bakwan Mr. Gundule
The next popular dish in Bojonegoro City is Bakwan Gundule which is usually served with inlaid tofu plus delicious spices. A portion is pegged at Rp 6,000, -. Address : Jalan Setia Budi Bojonegoro.
Pecel Mekarsari
Foods with vegetables that are boiled in spicy peanut sauce are actually available in all corners of the archipelago. However, for those of you who like this one food, in Bojonegoro you can also find delicious pecel. His name is Pecel Mekarsari. Address : Jalan HOS Cokroaminoto No.25.
Wedang Tape
When traveling around Bojonegoro at night, of course you will be ambushed by cold air. Well, to warm the body, you can drink wedang tape. Yes, this drink can make the body warmer and it tastes good. A portion of wedang tape costs Rp. 7,000,-. Address : Jalan KH Mansyur.
Rica-rica Duck Bojonegoro Square
For those of you lovers of spicy cuisine with a kicking taste, you must try this duck rica-rica. Address: Bojonegoro City Square.
Javanilla Grilled Ribs
If you want to taste delicious culinary delights while hanging out or having fun chatting with friends, at Café Javanilla this can all be done. One of the menu that kicks is the grilled ribs. Delicious seasoning with tender ribs, just delicious.
Lontong Opor Yang Tayik
Do you want to eat soft rice cake combined with opor, a thick coconut milk soup with savory spices to shake your tongue? Come and taste the Lontong Opor Yang Tayik and prove its delicacy. The portion is IDR 10,000,-. Address : Jalan Agung Suparto.
Archipelago Duck Stall
This is a restaurant with a typical Indonesian menu. Address : Jalan Teuku Umar.
Pempek Wongkito 19
The place whose mainstay menu is of course is pempek, a typical Palembang food. Address : Jalan Kartini.
Tamosa Restaurant
A place to eat with the address on Jalan Pemuda.
Pondok Tempe Penyet Bu Trisno
The mainstay menu at this restaurant is of course tempe penyet. Address : Jalan Dr. Cipto No.2.
Yudi Solo Chicken Noodle
One of the most delicious chicken noodle shops in Bojonegoro. Address : Jalan Teuku Umar (Prapatan Pajek).
Fat Princess Shop
The main menu of this shop is fried rice with a delicious taste. Address : Jalan Teuku Umar.
other related articles: