Hakone is a city in Japan located in Kanagawa Prefecture and is famous for its hot springs. This place was originally only a tourist spot for Japanese citizens, but as the times progressed, many Japanese people chose to travel outside their country. Now, Hakone even attracts many foreign tourists. Exactly what is so special about Hakone? What attractions are offered? Check out the explanation of some tourist attractions in Hakone:
1. Owakudani
Owakudani is located in the area of ​​the former eruption of Mount Hakone which occurred about 3000 years ago. Now in this place you can find sulfur, rivers, craters, to hot springs or what is also known as onsen. There are two types of onsen, unclothed and clothed. Don't worry, for the onsen without clothes, the place is closed, really.
In addition there are onsen which contains small fish, so if you put your feet in it, the skin of your feet will be eaten by small fish, onsen with green tea which is really green in color, red onsen whose water is from grapes. After returning from here, you can buy souvenirs which are widely sold in souvenir shops around Owakudani. This place is one of the best locations to view Mount Fuji.
2. Lake Ashinoko
The next Hakone tourist spot is Lake Ashinoko or also known as Lake Ashi. From here too, the view of Mount Fuji is clear. Activities that can be done here include exploring Lake Ashi by using the Hakone Sight Seeing Boat, which is in the form of an ancient pirate ship. The ship's destination is towards Hakonemachi and Moto Hakone.
Traveling approximately 30 minutes to Hakonemachi, then you can see the beauty of Lake Ashi. Please note that Lake Ashi was formed due to a large explosion 2 times from Mount Hakone then formed a crater filled with water and became a beautiful lake.
3. Hakone Museum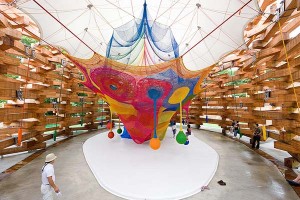 This museum is not like other museums which are dark and in a closed room. But this museum is a museum in the open with a variety of facilities in this museum that will make you feel at home visiting here.
Among them are children's play areas, bronze statues, geometry place, maze gardens, and castle of nets, you can find in this location that will make you comfortable when visiting this tourist spot, because the play area has its own charm that will make you feel comfortable. You want to always visit this tourist spot with your extended family.
4. PATTERN Museum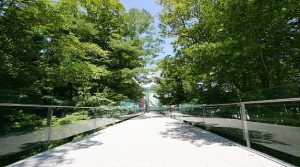 The next tour is the POLA Museum. This is a museum founded in 2002 by cosmetic company POLA. The purpose of the museum is to display the valuable collection owned by the museum owner, Suzuki Tsuneshi.
PATTERN this museum is never empty with visitors who come to see the valuable collections that are in this museum because it is rare to find tourist attractions that are indeed valuable collections like this PATTERN museum.,.
5. Hakone Museum of Art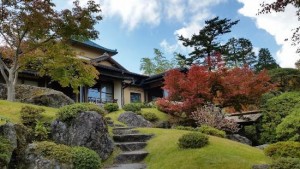 This museum displays various collections of ceramics from the Edo period between 1600 and 1868. Its founder was Okada Mokichi in 1952.
In this museum there are also 2 beautiful gardens called Sekirakuen Park and also Moss Park with beautiful views, the many flowers and trees that will become the atmosphere of the Hakone museum of art. This museum of art is visited by many tourists who are visiting Hakone.
6. Hakone Glass no Mori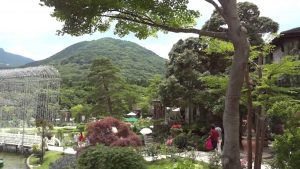 This location filled with Italian-style houses, shops and museums is decorated with a large pool and several glass statues outside. The museum is also in this one location and is a complete tourist spot that is the target of tourists visiting this tourist spot.
In the museum you can learn how to make glass sculptures from traditional to modern methods. A café with an open terrace is also available and features canzoni performances or Italian songs that will make you more comfortable when visiting this tourist spot.
7. Hakone Castle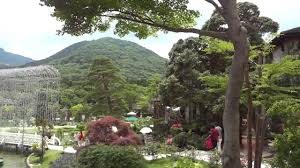 The palace, which is surrounded by beautiful gardens, is located in the southern part of Lake Ashi and is now a favorite tourist attraction for tourists. Whereas in the past, this place was a vacation spot for the royal family when summer arrived.
So that this Hakone palace is visited by many tourists because of the beauty of this tourist spot, with the presence of trees, flowers that will make the surroundings of this tourist spot beautiful and very liked by visitors.
8. Gotemba Premium Outlet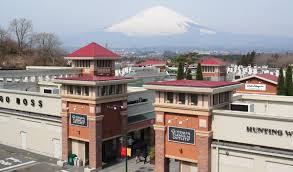 One of the most famous shopping places in Japan. The mall which has 200 shops is equipped with food court facilities and there is a ferris wheel, it is like a Ferris wheel with a height of 50 meters.
This mall sells branded goods such as shoes and bags which are cheaper when compared to other retail stores in Japan so that a lot of tourists come to this mall because the prices are much cheaper making tourists really like this mall to buy necessities such as bags, shoes, clothes and other branded items that he really likes.
9. Gora Park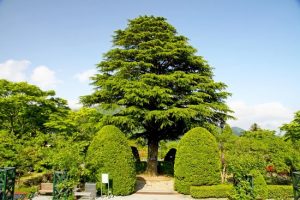 A garden with cool air that has a rose garden and a large fountain. From here you will see the beauty of Hakone, besides that we can also see a fairly large fountain.
For those of you, don't miss this gora park, because it will make you happy and comfortable when you have visited this park with flowers, shady trees and fountains that will make you like this place even more, especially for those of you who really like photos. selfie, there are lots of places for selfies that will capture your most beautiful moments in this gora park.
Hakone and Tokyo Cuisine
Here are some culinary tours that are hunted by tourists visiting Hakone with a variety of culinary tours that will make you won't regret this culinary tour in Hakone:
Kuro-Tamango Black Egg – Black Egg? This is indeed a unique food in Hakone. These eggs are usually boiled in sulfuric water and if you eat 1 egg it is believed to extend the life of 7 years. The rules for eating eggs, you can't eat up to 3 eggs because it's not healthy. It's okay if you only consume 2.5 grains. You can find these eggs around the Owakudani area.
Tokyo Bananas – This food is certainly not foreign and has been widely found in Indonesia. But of course it's different if you eat the original Tokyo Banana from Japan, right? Yes, this cake is shaped like a banana with banana cream in it and has a variety of flavors ranging from original, strawberry, chocolate, to caramel. Tokyo bananas are usually brought as souvenirs from tourists who have just visited Japan.
Sashimi – This one food is a mandatory menu that you must try while on vacation to Japan. If you want to enjoy fresh sashimi, please eat sashimi in the Tsukiji Fish Market area, OK?
Ramen – This one food is a noodle menu that comes from China. The Japanese call it soba, because in Japanese soba means noodle. Well, a variety of broths that accompany you to eat ramen include shio (salt) broth, soya (soy sauce), tonkotsu (pork), to miso (fermented bean paste).
Edomae Sushi – The next food you can taste while on vacation to Japan is edomae zushi. This is a famous sushi menu during the Edo period which was between 1603-1868. The taste of this sushi is sweeter and saltier when compared to other sushi. Sushi itself is a food whose composition consists of rice, nori, and seafood, and is one of the popular Japanese foods to foreign countries.
Monjayaki – Next is monjayaki or more popularly known as monja. Food made from wheat flour mixed with vegetables, meat, or seafood, then cooked on an iron plate. It's similar to okonomiyaki, but monjayaki has more water in it than okonomiyaki.
Also read articles on other unique tourist attractions: