The Island of the Gods has too many tourism objects that can thrill the hearts of its tourists because Bali is an island that has the number 1 natural beauty in Indonesia. Not only interesting, tourists will be able to add cultural insight. However, there are still some shortcomings that tourists can find. These are a number of advantages and disadvantages of tourism in Bali which is a tourist spot in Bali.
Sanur Beach
Advantages
Sanur Beach is known and considered a world's pride tourist attraction.
The facilities at this tourist spot are very adequate so that it adds to the comfort of the tourists.
The view of Sanur beach is better and beautiful when seen in the morning.
The location of this beach is strategic because it is not far from other tourist sites and the access is very easy from the tourist center.
Not only domestic tourists who fall in love with this beach, but also foreign tourists.
Quite a lot of foreign tourists who choose to stay in this beach area.
This beach is very popular for its sunrise which looks so clear and beautiful.
This beach has white sand that can be used as rheumatism medicine.
Deficiency
Because it has been touched by many tourists, the cleanliness of this beach environment is starting to be poorly maintained. This is coupled with the absence of special care from the manager.
The facilities are adequate, but unfortunately not well-maintained.
Kuta beach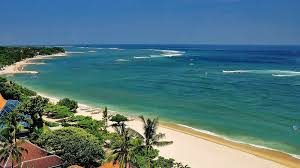 Advantages
Kuta Beach is always famous for its beautiful white sand so that it gives the impression that this tourist spot is clean and pleasant.
The big waves are a favorite thing for surfers.
There is surfing training for the tenants who are novice surfers before finally gliding on the surfboard.
The location of this beach from public facilities is not far. Ngurah Rai International Airport is only about 10 minutes away, from Denpasar and Sanur Beach it only takes less than an hour.
Become a favorite beach for foreign tourists who like sunbathing and bathing.
There are many lodgings in the form of villas, inns, and hotels.
Evening entertainment can be found easily here and is a suitable tourist spot for young people.
Deficiency
During the rainy season, when it is heavy, the rivers in Bali overflow so that the garbage plus human waste found in the river reaches the sea. The dirt ends up on this beach.
Lovina Beach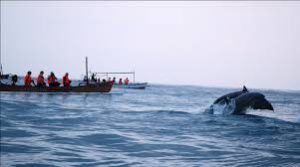 Advantages
Lovina Beach Tourism presents dolphin attractions that can be witnessed by tourists who come to this beach as much as they want.
There is a small boat rental that can accommodate 4-5 people which is quite affordable to get around this beach.
Swimming and diving will be very safe and allowed for all ages because the waves are so friendly.
There are places to rent diving equipment and snorkeling.
Tourists can fish on this beach.
Because it is quiet and calm, it is suitable for tourists who want to vacation on a beach that is not too crowded.
The location is fairly strategic because it is not far from the city center.
There are many inns, cafes, restaurants, gift shops, and tourism information services.
Deficiency
Different from the sand in Kuta and Sanur, Lovina Beach has black sand.
Sangeh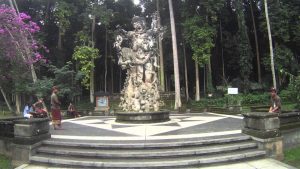 Advantages
The location of this forest is very neatly arranged.
Besides being able to witness the monkeys roaming directly, this forest view is so incredibly charming.
The tourist location is strategic because from the capital of Bali, tourists only need to take half an hour by driving a car.
Parking area is very adequate.
Many food stalls are found on the way to this tourist spot.
There are a number of stalls or gift shops that can be visited.
Deficiency
The curiosity of the monkeys is big enough that they like to take things belonging to tourists that might be of interest to them.
Tanjung Benoa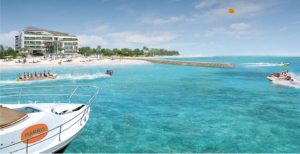 Advantages
This natural tourist attraction has very beautiful coral reefs.
The beach sand is white, slightly brown, but looks clean.
The facilities for games and water sports are complete, such as: jet ski, parasailing, flying fish, snorkeling and banana boatas well as many other options.
Cleanliness in Tanjung Benoa is very well maintained.
It's easy to find a restaurant or food stall in the beach area.
Deficiency
The corals in Tanjung Benoa are too jutting into the beach.
The price of rental rides is quite expensive because the duration offered is not appropriate or even shorter than what is offered.
Lack of parking space.
Garuda Wisnu Kencana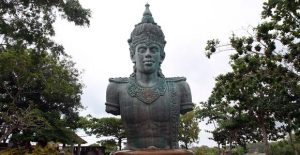 Advantages
Tourists can see the art that is beautifully displayed in this place.
The room provided for watching can accommodate up to 7 thousand spectators.
The panorama is so beautiful at Indraloka Garden.
Visitors can enjoy the spectacle of Balinese Kecak dance every afternoon without paying an entrance ticket at half past 7 pm to half 8 pm WITA.
There is a gift shop where tourists can get GWK merchandise and Balinese souvenirs, and even tourists will be able to buy Balinese aromatherapy and spa products.
Deficiency
Too much vacant land that makes the distance from one place to another too far.
Tanah Lot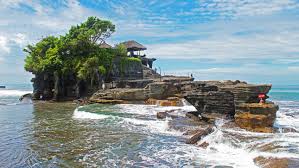 Advantages
The specialty of this tourist location is that it is located in the "middle" of the sea and is a tourist spot for honeymooners.
The scenery that can be obtained here is spectacular and the air is cool.
The facilities are quite adequate.
Tourists can find sacred snakes that can be touched by paying sincerely.
Deficiency
The available toilets are not kept clean, so don't be surprised if there are unpleasant odors when using them.
A lot of garbage left by visitors, especially in the area where the sacred snake is located.
Bedugul Lake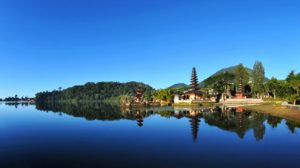 Advantages
Lake Bedugul has lake water that is dark green in color.
The air around this area is quite cool because it is located in the highlands so it is soothing.
The scenery around the lake is so enchanting.
There are quite a lot of water game facilities available.
The rental price for the rides is relatively affordable.
Around the lake can be found many fruit traders and souvenir vendors.
The condition of the lake area is really still orderly, neat and clean.
There are motorized boats that can be rented by tourists to circle the lake.
Deficiency
The goods sold around this area are quite expensive.
Besakih Temple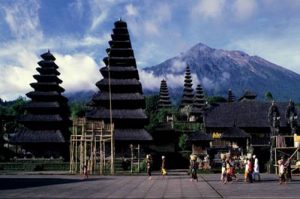 Advantages
Besakih Temple is the largest temple that tourists can find in Indonesia.
Tourists can see the beautiful sunset when visiting in the afternoon.
The temple building looks so majestic and very well maintained with a large gate and very many steps.
Considered a sacred place, Besakih Temple is also known as the mother of all temples on the Island of the Gods.
There is a place to borrow sarongs in this area because tourists can only enter Besakih Temple if they are wearing a sarong.
This complex provides a very adequate parking location for various types of vehicles.
Restaurants, gift shops and lodging can be found easily in the area around Besakih Temple.
Deficiency
The flower sellers in this area are less friendly.
Jimbaran Beach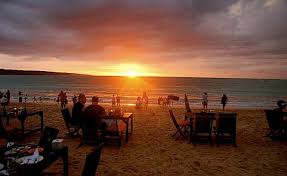 Advantages
The waves that are not so big will ensure the safety of the tourists when doing swimming or diving activities.
Jimbaran Beach is more beautiful with the availability of white umbrellas around this area.
There is a fish market that tourists can buy and cook on the spot, as well as eat it.
The sunsets are very impressive.
There are many restaurants outdoor seafood.
Deficiency
Too many sellers are seducing visitors to buy their wares so it seems a bit annoying.
Food prices in nearby restaurants are quite expensive.