Traveling to Kawah Putih, seeing the stunning beauty of the crater is certainly an unforgettable experience. In addition to visiting these attractions, don't forget to also visit tourist attractions that are close to Kawah Putih, yes. This tourist place in the Bandung area has various places that must be visited by tourists, especially tourists outside Bandung. The number of tourist attractions in Bandung makes Bandung have a dominant variety of places with cool air when compared to other tours, especially those that are close to the capital city, Jakarta.
Here is the list.
Situ Patenggang
Situ Patenggang or Situ Patengan is a lake tour that is surrounded by tea gardens. Enjoying the panoramic beauty of Situ Patenggang by boat plus the cool air, makes you feel at home for long here. In the middle of the lake, there is a large rock called the stone of love. It is said that if we write someone's name, then he will be our companion.
The cost of renting a boat here is between Rp. 150,000-Rp. 250,000 depending on the size of the boat and its capacity. This tourist spot is very fitting to visit with your beloved family. Well, to enter the tourist area we have to pay a ticket for IDR 15,000 per person. With a mini bus entrance fee of Rp. 11,000, – and a bus of Rp. 22,000, -.
The exact location of Situ Patenggang is in Ciwidey, about 47 km south of Bandung.
Ranca Upas

Ranca Upas is located in Ciwidey, Bandung. The area is about 215 hectares and is under the management of Perhutani Bandung. If we travel from Kawah Putih, the distance is approximately 6 km.
Ranca Upas is divided into several parts, including deer captivity, campgrounds, play areas, and protected forests. Other facilities that we can enjoy when visiting here are ATVs, hot springs, fishing spots, and others.
For those who want to enter Ranca Upas, we have to pay a ticket for IDR 10,000, not including the vehicle. If you bring a motorbike, it costs Rp. 2000, – and a car Rp. 5000, -. Ranca Upas is one of the family's favorite tours in Bandung. This place will be more crowded on holidays or weekends.
For those who want to camp, don't worry because Ranca Upas provides complete camping equipment that we can rent. If you are hungry, here are also available food stalls with a variety of menus that are quite right on the tongue. While camping, we can also see deer, it's fun.
Strawberry Farm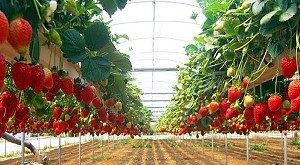 The main product from the Ciwidey area is strawberries. At a strawberry plantation located in Alam Endah Village, Ciwidey, we can enjoy the beauty and coolness of the air by walking along the vast strawberry plantation.
We can also taste the strawberries by picking them ourselves and also get knowledge about how to grow a good strawberry.
The right time to visit the Strawberry Plantation of Alam Endah Ciwidey Village is during the dry season, because in that season the best strawberries will be obtained
Malabar Tea Plantation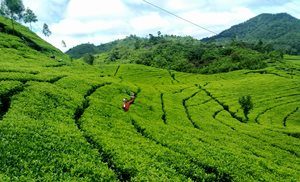 Those of you who like nature tourism with cool air and stunning green views, just come to the Malabar Tea Plantation.
This plantation is located on Mount Malabar. Walking around the tea garden while sipping the clean air makes the lungs relieved and the body relaxed.
This plantation is not an ordinary tea plantation. Here we can find many ancient buildings standing. One of them is a guest house which during the colonial period functioned as housing for plantation administrators.
Cimanggu Hot Spring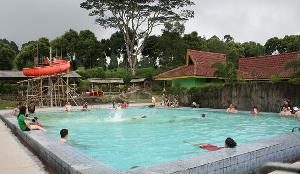 Cimanggu Hot Springs is located at an altitude of 1100 meters above sea level. This hot spring has a stunning natural beauty and is very suitable as an alternative tour after a visit to Kawah Putih. From the hot springs, we can see the expanse of green tea gardens.
In addition to a pool for adults, there is also a children's pool complete with changing rooms. If we want to travel here, from Bandung we cover a distance of about 45 km via the Ciwidey Pengalengan route.
Situ Cileunca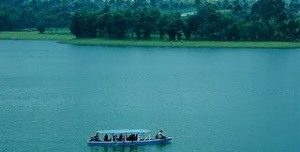 Situ Cileunca is a kind of artificial lake which is also used by the local community as a power plant. This tourist attraction is located in Pengalengan and has an area of ​​1400 hectares.
In addition, water from this artificial lake is also channeled into the Palayangan River, you know. Where the river is usually used for rafting activities. The scenery at Situ Cileunca is no less interesting than other sites in Bandung. The calm atmosphere makes this tourist spot the target of visitors to calm down.
Ciwalini Hot Spring

Ciwidey, which is rich in hot springs, has one tourist spot in the form of a hot spring that is no less famous than Cimanggu. Its name is Ciwalini Hot Springs or Walini. The water from this bath comes from natural hot water which is of course clear and clean.
There is also a pool for children in addition to an adult pool. Another facility is a heated swimming pool. Walini Hot Springs is surrounded by green tea plantations. So here we can not only pamper our bodies with a touch of warm water that relaxes our muscles, we can also pamper our eyes with the green tea leaves around us.
The cool air adds to the completeness of the Walini Hot Spring. To get here, we have to walk to the tea garden, because the bath is in the middle of the tea garden. It is located close to Situ Patenggang.
Rancabali Plantation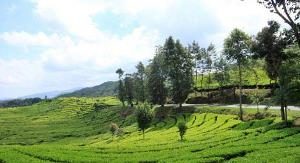 Another destination around Kawah Putih that is a pity to miss is the Rancabali plantation. This is also a tea plantation that stretches wide. Panorama of beauty can be felt when walking around the Rancabali Plantation. Interestingly, here are also available tour packages.
Eitts … don't worry about the price. Rancabali tour packages are cheap, really. Enough with a fee of IDR 5,000 per person or if you want to use the services of a tour guide, you can add IDR 30,000. Rancaballi not only offers a charming beauty of tea plantations, but also visits to tea factories.
There we gain knowledge about how to grow tea, nurseries, clearing land, maintaining tea plants, pruning, picking tea, until the processing process until it becomes tea that is ready to be enjoyed. We can take public transportation or use a private vehicle to arrive at Rancabali.
Those are some of the attractions around Kawah Putih. By knowing other tourist attractions that are close to the location of Kawah Putih, we have other alternative tourist destinations. Not only seeing the crater, but also spoiling the eyes with green plantations, tasting fresh strawberries, camping, seeing deer running here and there, even fishing and boating. Everything becomes one complete package for your vacation.