Ciwidey is one of the sub-districts in the Bandung area which has many natural tourist attractions. The cool air because it is at an altitude makes many tourists interested in going to tourist attractions in the area. (Also read: tourist attractions in Bandung)
Here are some tourist attractions in Ciwidey:
White crater
Kawah Putih is one of the most famous tourist attractions in Ciwidey. We often see the pictures on television and used for filming purposes. White Crater Ciwidey is a crater lake originating from the eruption of Mount Patuha. The eruption of Mount Patuha occurred in the 10th century.
At that time people thought that the location was haunted so that no one dared to go through it. Until in 1837, an expert named Dr. Franz Wilhelm Junghuhn went to the top of Mount Patuha and saw a white lake that smelled of sulfur.
Called the White Crater because the land around it is white while the lake water itself often changes color. The local government began to develop this area into a tourist spot since 1987. Since then many tourists have come to this place to enjoy the natural scenery there. Visitors are only charged a ticket for 18,000. The tourists can visit every day from 7 am to 5 pm. Not a few later that became Kawah Putih as a place for pre-wedding photos because of the beautiful scenery.
Visitors from outside Bandung can take the Kopo Toll Exit then to Sayati and then to Soreang. In Soreang continue to Ciwidey and from there will arrive at Kawah Putih. Visitors can also use public transportation to get there.
Situ Patenggang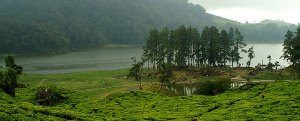 Situ Patenggang is a lake tourist spot in Ciwidey. The visitors can enjoy the beautiful scenery and the expanse of tea gardens around Situ Patenggang. The name Situ Patenggang, which is located at an altitude of 1600 mpl, cannot be separated from the legend of the local community. The legend tells the story of Ki Santang and Dewi Rengganis. They loved each other but were separated and finally met at the Stone of Love.
Dewi Rengganis asked Ki Santang to build a lake and a boat so they could sail together. The boat then turns into a heart-shaped island or Asmara Island. The story is also still embedded in Situ Patenggang such as the myth that says that people who surround the Island of Asmara then their love story can be eternal like Ki Santang and Dewi Rengganis.
Situ Patenggang itself is located in South Bandung, about 35 km from the city of Bandung. Visitors can get to the place by using public transportation followed by village transportation. The entry ticket is quite cheap, which is Rp. 18.000 and the end of the week Rp. 20,500 per person. For those who bring a vehicle, there is a separate fee according to the type of vehicle. There, visitors can enjoy various existing facilities such as toilets, places of worship, and places to stay.
Ciwalini Hot Spring

Ciwalini hot springs are located in the Walini tea plantation area, Ciwidey. In that place we are presented with two hot water swimming pools. One pool is a public pool and the other is a pool with more complete facilities. J
If you want to enter a cleaner and more well-maintained pool, you can pay an additional ticket. Hot water in Ciwalini comes from Mount Patuha. In addition to soaking in the hot water swimming pool, visitors can do a tea walk or take a walk in the tea plantations. There is a welcome drink for Walini tea produced by PT. Nusantara VII Plantation. Visitors can also enjoy various facilities that are quite exciting, such as ATVs, go-karts, flying fox, trampolines, and motocross.
Ciwidey Strawberry Garden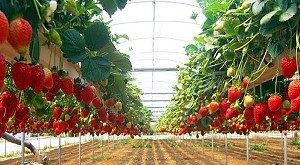 Tourist attractions in Ciwidey this one is quite famous in various places, namely Ciwidey Strawberry Gardens. Strawberry gardens in Ciwidey are located in several places, including around Kawah Putih, around Situ Patenggang, around Rancabali, around Pasir Jambu, and others. Visitors who come to Ciwidey Strawberry Tourism Garden do not need to pay an entrance ticket, but will pay for the number of strawberries picked.
The price of strawberries in the garden ranges from Rp. 35,000 – Rp. 50,000 per kilogram. Visitors can invite children to go to this strawberry garden to introduce them to strawberry plants and how to pick them.
(Also read: tourist attractions close to the white crater)
Cimanggu Nature Park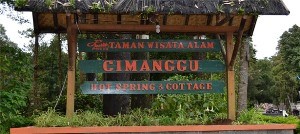 Cimanggu's natural attractions are actually included in the Rancabali area but are still a series of tourist attractions in Ciwidey. The area with temperatures between 17-22 degrees Celsius is easily accessible by private vehicles or public transportation such as buses. For those who bring a vehicle, there is no need to worry because there is ample parking available.
Cimanggu Tourism Park or Green Hill Park has a protected forest in the form of a tropical rain forest with various types of wild plants and animals. Plants that are commonly found in this place are eucalyptus, baros, kihujan, saninten, rasamala, pairs of pines, and others. While wild animals that can be found include partridges, mouse deer, panthers, deer, crows, turtles, and others.
Not only can take a walk to see the scenery of the forest, visitors can enjoy the various attractions available in that place. Tourist attractions that are there include the Cimanggu hot pool and play areas and outbound. Visitors can play flying fox, kayak, hi-rop, ATV, rafting, or ride a horse with a professional guide. For those who want to stay overnight, they can camp or use the facilities of a family villa. The entrance ticket to this area is Rp. 20,000.
Ranca Upas Campground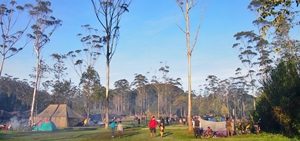 At the Ranca Upas campsite, there is a deer farm managed by Perhutani. Here provides several campsites that cover an area of ​​​​215 hectares. Other facilities available are Tegal Kawani (outbound), restaurants, fishing spots, and ATVs. The manager also provides tent facilities that can be rented.
Visitors can also use the bathroom with hot and cold water facilities. For those who want to enjoy nature but not by camping, they can rent a villa which is also available there. The available villa has 3 bedrooms, fireplace, kitchen, bathroom, and hot water. The cost to rent the villa is Rp. 800,000 per night. Visitors who want to go to the Ranca Upas campground can use a private vehicle or bus followed by an angkot.
(Also read: tourist attractions with beautiful views in Bandung)
Rancabali Tea Plantation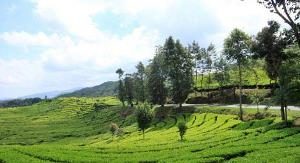 The next tourist spot in Ciwidey is the rancapali tea plantation. Rancabali tea plantations can be found when we are going to Situ Patenggang. There is a beautiful expanse of tea plantations to behold. Coupled with several small waterfalls on the edge of the tea plantation.
Rancabali tea plantation is located at an altitude of 1,628 meters above sea level with a fairly cool temperature. There, tea and quinine are processed and supported by Orthodox processing factories and the CTC. The beauty of the Rancabali tea plantation makes this place a place for pre-wedding photos. We can also visit a tea factory near the plantation. We can see and learn about the tea processing process at the factory.
Ciwidey Valley Resort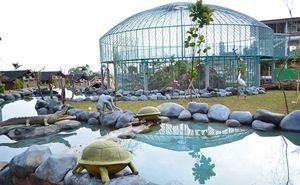 Ciwidey Valley Resort is a fairly new tourist spot in Ciwidey. It is located in Barustumtul Ciwidey KM 17, Rancabali sub-district. The facilities available at this tourist spot include lodging, glamping (glamorous camping) Legok Kondang, hot springs, restaurants, and a free pick-up car (ontang-anting).
The accommodation provided is in the form of cottages with two types, namely family and standard. The standard type can accommodate 2-4 people while the family type can accommodate 4-6 people. For standard type cottages, there are 20 cottages, while for family type, there are 3 cottages. The rooms provided are equipped with various facilities such as air conditioning, flat TV, wifi, and others.
But for those who want to camp can use glamping facilities. The camps offered here are modern campgrounds that prioritize comfort even though they are in nature. Visitors can enjoy foam mattresses, TV, internet wifi, hot water, and various types of tents. The cost of renting a tent starts from 1 million rupiah to 3 million rupiah. To enter the Ciwidey Valley Resort area, you only need to pay an entrance ticket of Rp. 10,000 and will be given a free soft drink, while the swimming pool ticket is Rp. 40,000.
other related articles: