Cikarang is one of the industrial areas in Indonesia. In this city, there are many industrial areas such as Hyundai, EJIP, Delta Silicon, MM2100 and Jababeka. Not only as an industrial area in this city, there are also many factories such as Unilever, Astra Honda etc. This causes many immigrants who come to this city to work and finally settle in this city.
The number of factories and offices in this area requires their workers to work from Monday to Saturday to do the same routine. The hectic activities that we face every day not only make our bodies feel tired, but also make our brains feel tired.
The pressure of work that comes every day and other factors such as an ordinary environment will also add to the boredom and fatigue that we face. We can imagine, if this continues to happen it will result in ongoing stress and a decrease in the quality of our work so we need a way to release the pressure we face.
One way to relieve fatigue and boredom is to take a vacation to a tourist place or a new place. This will help refresh the brain in thinking and get new inspiration and even get new friends or crushes. Now there are many tourist attractions that we can visit, ranging from family attractions, education, shopping tours, and nature tours for those of you who are adventurous. However, sometimes our plans for a vacation are hindered by the distance we travel, even though we don't have much time off on the weekends so we need tourist attractions that we can travel the distance efficiently.
Although Cikarang is a city that has a high level of industrial activity, many people think it is hot and polluted, but actually this city has many tourist attractions. Cikarang tourist attractions we can visit easily on weekends without the frills of traffic jams. So the brain is fresh and time is not wasted.
Cikarang tourist attractions
also read: Tourist Attractions in Cibodas
1. Wateboom Lippo Cikarang
Waterboom Lippo Cikarang is not far from the Cikarang toll road. the tourist attractions are unique, cool and interesting. Carrying the theme of exotic Balinese nature, Lippo's waterboom can be categorized as a world-class waterboom.
You can visit this place with your family or friends to enjoy various kinds of rides such as outbound, water rides such as stream pools and cheerful pools. In this place the rides are divided between adult and children slides.
So you don't have to worry about the place being dangerous. For those of you who want a spa, in this place there is also a fish therapy spa. So you don't have to go far right? After having fun playing, don't worry about starving, because this place also provides a food cart that provides various types of food. This place is open every day from Monday to Saturday with an entrance fee for weekdays of only IDR 50,000 and for weekends IDR 95,000. affordable isn't it?
2. Indonesian Crocodile Park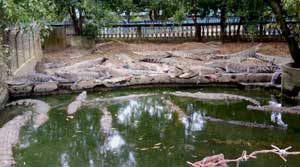 Parents who want to introduce the natural environment and love animals more can come to the Indonesian Crocodile Park. This place is located on Jalan Raya Serang-Cibarusah, South Cikarang.
The entry fee is very cheap, only Rp. 20,000 per person, so it is very affordable. The Indonesian Crocodile Park has various types of crocodiles such as the Irian crocodile, Sumatran crocodile, albino and many more, which are around 500 individuals.
Wow, a lot isn't it? Besides being able to introduce children to animals, we can also see crocodile attractions which are quite stressful, but attractions are not opened every day, at least on holidays, sometimes even only 2 times a month.
also read: Tourist Attractions in Cianjur
3. Cikarang Organic Djamoe Village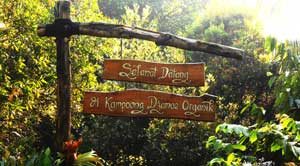 We haven't moved from South Cikarang yet, to be precise, on Jalan Ciujung, door II of the EIB area. Person. This place belongs to Marta Tilaar, who is well-known to many. If earlier we discussed animals, now we discuss plants.
Djamoe Organic Village is an educational tourist spot that you can enjoy with your family and even friends. Here we can teach children about herbal plants or herbal medicines which we rarely see in the middle of the city.
In addition to learning about herbal medicines, this place also has an artificial lake and organic rice fields with a cool atmosphere with lots of shady green trees.
4. Saung Ranggon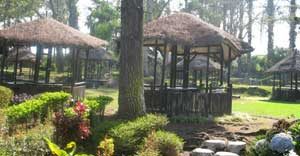 Cikarang Tourist Attractions The green nuance hasn't run out yet, because there is still Saung Ranggon in Cikedokan village, West Cikarang. In this place we can relax in the shade while enjoying the cool green scenery. This saung is said to have been built in the 16th century by the prince of Jakarta.
Maybe this place is not known by many people but in 1821 this place was discovered by Raden Abas. Wow, so you can all learn about history.
also read: Tourist Attractions in Cirebon
5. Lippo Cikarang Citywalk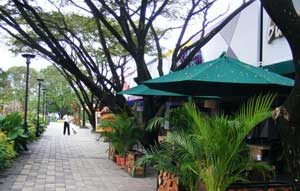 After discussing green and cool things, it's time for us to move to something more modern but still fun, namely Lippo Cikarang Citywalk. This place is located on Jalan MH Thamrin not far from Lippo Cikarang Mall.
This place is a new entertainment and lifestyle shopping mall. The place is spacious, neat, cool, and a large parking area makes this place one of the places you visit on weekends with your family.
Not only shopping, in this place there are also lots of snacks and restaurants. For those of you who like culinary tours, this place also provides a farmers market or culinary tourism center.
6. Healthy Garden
Enjoying the afternoon with family or friends while taking pictures is fun. But if it's only at home, it doesn't seem to provide new inspiration.
Taman Sehat is one of the places that can provide a new atmosphere. The location is in front of the Wibawa Mukti Stadium, Sangatjaya Village, East Cikarang District. This place is still relatively new, because the construction stage has not yet been completed one hundred percent.
However, the enthusiasm of the people with beautiful, cool city parks, affordable travel times makes this place crowded with visitors. Not only relaxing, we can also enjoy beautiful flower dome views like in Singapore which has a flower dome Garden by bay. So you don't have to go all the way to Singapore to enjoy the flower dome and take selfies, Cikarang also has it.
7. City of Deltamas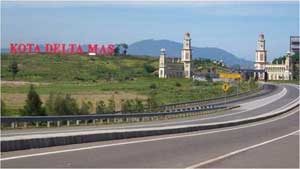 The name is indeed a city but the feel feels like a village. That's the feeling you might feel if you are in Kota Deltamas. Straight roads, many shady trees and hills and roads that are not jammed make this place pleasing to the eye.
We can also enjoy the view on the hill and enjoy the beauty of the artificial lake in the City of Delatmas. No need to worry and worry because there is only an view.
In this place, we can still stop by a place to eat that is used as a culinary tour. Read : Tourist Attractions in East Kalimantan
8. Sport Club Taman Santosa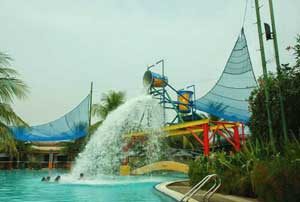 If you want to release your fatigue by exercising, don't worry because it's a far place. Cikarang also has a Santosa Cikarang Sport Club, precisely at Sentosa Housing, Jalan Sentosa Utara, Cikarang Selatan.
This place is a sports center that has various sports venues such as a futsal field, swimming pool, fitness center and aerobics and many more for those of you who want to restore body fitness.
This place is not only for adults, but this place also has a special area for children.
Well, that's some Cikarang tourist attractions which can be used as a weekend tour. It turns out that there are still tourist attractions in the industrial area, right?
Read also: