Semarang is the capital city of Central Java that deserves to be visited as a tourist destination. Although Semarang is the capital city, the natural beauty and urban planning of Semarang are quite attractive for tourist destinations. Moreover, Semarang is located in a coastal area where it will be very easy to find a beach for a short break. If you are planning to go to Semarang and want to enjoy the sunset, the following sunset spots in Semarang may be of interest to you.
1. The Great Mosque of Central Java
One of the best locations to enjoy the sunset in Semarang is a visit to the Great Mosque of Central Java. This mosque was built in 2001 but was only completed in its entirety in 2006. This 10 hectare mosque is very charming.
Its main attraction is its shape which resembles the Prophet's Mosque in the Middle East. You can visit there at any time to worship. Including while waiting for the Maghrib prayer. Because the twilight atmosphere there is charming enough to be captured with a camera.
This mosque can accommodate 6,000 worshipers on the inside and can accommodate 10,000 worshipers on the outside or its foyer. So that if it is being used for worship, there will be very many worshipers present, such as during Eid prayers. This mosque is also suitable for Night Photo Spots in Semarang.
2. Brown Canyon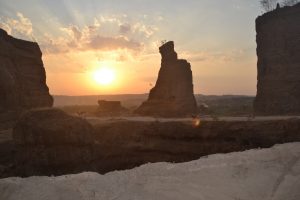 Switch to natural attractions that are suitable for sunset spots in Semarang. You can visit Brown Canyon in the Rowosari Meteseh Tembalang area. Although the place is quite far from the center of Semarang, visiting there when the sun is about to set is an alternative that is worth trying.
Actually this object is not a tourist place. But only a hill left over from material mining. But this place became very beautiful and similar to the Green Canyon in America. That's why this place was called Brown Canyon and soon became a popular Hunfot Place in Semarang.
The atmosphere of the sunset in this area will definitely be very beautiful. The orange sunset will blend with the brown excavated mines. The silhouette of the hills that were excavated from this mine will look exotic when the sun is about to set.
3. Marina Beach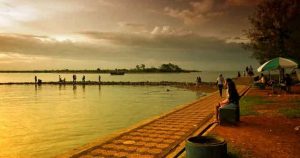 Marina Beach is one of the tourist beaches that is quite popular in Semarang and is often visited by tourists who happen to be in Semarang. This beach has its own beauty and is equipped with complete facilities.
The location is also easy to reach. In fact, its position is also not far from other tourist attractions such as Puri Maerokoco so that visitors can also visit other tourist objects while they are there.
The entrance ticket is very cheap but displays quite exotic natural beauty, especially at dusk, it will attract a lot of attention from tourists. Moreover, around the beach there are many trees that can shade the view and can be used as a location for a short break when you finish your day's activities.
4. Cipta Beach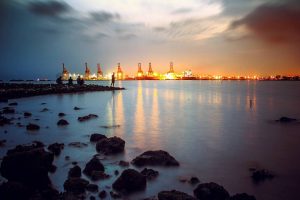 Besides Marina Beach, Cipta Beach is also interesting to be used as a sunset spot in Semarang. This beach is adjacent to Baruna beach which is also no less popular with Marina Beach. However, access to these two beaches is still not good.
Cipta Beach can be accessed from the container terminal in Tanjung Mas. Because of this, this beach is often dubbed the Peti Kemas Beach. There, visitors can enjoy the sunset while watching the container ships pass by.
The twilight atmosphere there will be very charming, especially when the sun is already orange. No wonder there are many photographers and visitors waiting for such an atmosphere to capture this exotic moment.
5. Baruna Beach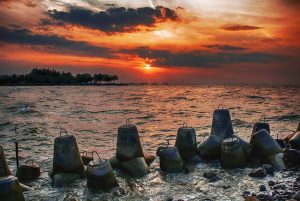 As described above, Baruna Beach is one of the beaches adjacent to Cipta Beach or Peti Kemas Beach. Baruna Beach is often visited by visitors or photographers who want to capture the moment.
One of the times that visitors often use to capture the moment is when the sun will set and also when the sun will rise. The interesting thing from there is the presence of concrete breaking waves on the beach.
Although it is quite difficult to reach it, visitors will really enjoy the atmosphere on this beach. If you want to visit there, it's better to use a two-wheeled vehicle to make it easier to reach.
6. Maron Beach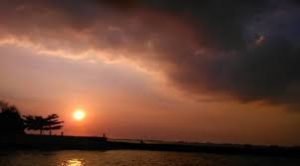 Looking for a unique sunset spot in Semarang? Maybe Maron Beach can answer that desire because on this beach you can enjoy the sunset accompanied by passing planes that take off or will land at Ahmad Yani Airport Semarang.
Maron Beach is a beach close to the airport. However, access to it is quite difficult because the road is still a dirt road and is uneven. We recommend using a two-wheeled vehicle when you want to visit there.
But of course the natural beauty that exists on Maron Beach will not disappoint because this beach has bluer water than Marina Beach. In addition, with the view of the sunset, everything will feel more beautiful.
7. Swamp Dizziness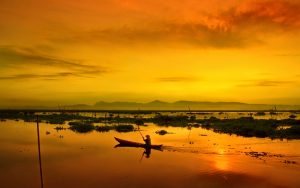 Move to Semarang Regency where there is a very beautiful lake to explore, especially when the sun is about to set. Rawa Pening is a tourist lake that has calm and clear water.
This Rawa Pening tour is located on the slopes of Mount Telomoyo, Ungaran, as well as Merbabu, so the scenery will be extraordinarily beautiful. As a lake that has clear water, this lake is used as a location for fishing for the residents around it so that there will be many fishing boats around the lake.
Its area is about 2,670 hectares. At dusk, the orange sun will reflect on the surface of the lake. In addition, the silhouettes of the hills and the surrounding boats will also be reflected and make this place very exotic.
8. Goa Rong
Goa Rong View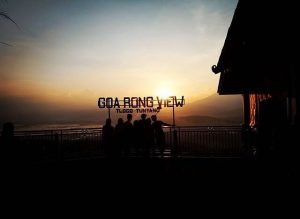 in Semarang is one of the tourist objects around Rawa Pening. Goa Rong is a hill which is also often referred to as Bukit Rong and is located in Tuntang, Semarang Regency.
This natural tourist attraction is the right location for the sunset in Semarang from a height. Because of its position at an altitude of 690 meters above sea level. So that the view obtained will be wider and more spacious.
Even from the top of Rong Hill, visitors can enjoy Rawa Pening from a height, complete with the stunning backdrop of Mount Andong, Merbabu, and Telomoyo. There is also a cafe that can be visited to enjoy the sunset in Semarang.
Those are some of the most beautiful sunset spots in Indonesia in Semarang that are interesting to visit. You can choose according to your respective travel tastes. Hope it is useful.