Malang and its surroundings are a place that is often visited by people from outside the area for tours. Besides being famous for its beach tourism, Malang is also more complete because it is near the tourist city of Batu. Malang and Batu become an inseparable unit. Tourists who visit Malang, will definitely stop by the city of Batu. Vice versa. Both of these cities have a complete natural panorama. One of them is the presence of pine forests scattered in several areas. For those of you who want to travel to pine forests, here is a list of pine forests in Malang and its surroundings, including the tourist city of Batu.
1. Semeru Pine Forest
Semeru Pine Forest is one of the pine forests in Malang, more precisely in Malang Regency. This pine forest has a cool air temperature because it is at the foot of Mount Semeru.
Although it was only opened as a tourist spot in early 2017, this pine forest is already crowded with tourists. The attraction is the pine forest which is still very natural with complete facilities.
The interesting thing about this pine forest is that there are many photo spots that attract attention. There are umbrellas, hammocks, and other facilities that can be used as beautiful photo spots. Most tourists who come are local tourists with family or friends. This pine forest can also be recommended for children's attractions in Malang.
Location: Sumberputih, Wajak, Malang Regency
HTM: IDR 5,000 for vehicle parking
2. Ledok Ombo Poncokusumo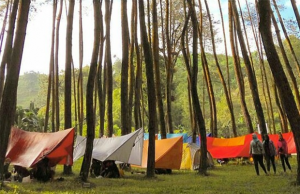 Still in Malang Regency, more precisely in the Poncokusumo area, there is also a pine forest which is quieter than the Semeru Pine Forest. Poncokusumo itself is also one of the routes that can be passed if you want to go to Bromo or Semeru. One of the Bromo Travel Tips is to visit several tourist objects on the way, such as Ledok Ombo itself.
The pine forest in Poncokusumo is called Ledok Ombo. The interesting thing about Ledok Ombo is the pine forest that is still very natural, with some simple tree houses for taking pictures. In addition, this pine forest is directly adjacent to the river.
This cool river with cold water can be used as a place to unwind for a moment. Ledok Ombo is usually used as a camping site and not a tourist spot. So not many people come there. However, if you want to camp around Malang, this location can be a recommended alternative.
Location: Poncokusumo Village, Poncokusumo District, Malang Regency
HTM: IDR 5,000
3. Bed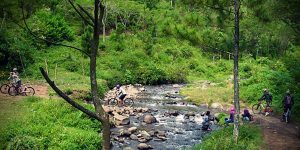 Bedding is similar to Ledok Ombo, which is a pine forest directly adjacent to the river. The river in Bedengan is also very cool and the water is cold. The location of this bed is on the border of Malang with the tourist city of Batu, more precisely in the Dau area.
Bedding has a larger area of ​​pine forest than Ledok Ombo. In addition, the Bed area is also more crowded by visitors. Bedding is also quite often used as a natural tourist attraction with family by people in Malang and its surroundings.
The pine forest in Bedengan is also commonly used as a camping ground. There are many events and communities that make Bedengan a suitable location for them. If you want to hold an event with a nature concept, then this bed can also be a recommended location.
Location: Jl. Raya Selokerto, Selorejo, Dau, Malang Regency
HTM: IDR 25,000 for camping in Beds
4. Coban Talun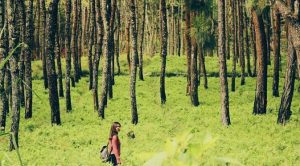 Coban Talun is the name of a waterfall and is one of the Waterfall Tours in Malang and its surroundings. The location of Coban Talun is in Batu Tourism City. The Coban Talun area has a very large area of ​​pine forest. The pine forest in Coban Talun is also used by local residents to take the sap.
In the past, Coban Talun was only an ordinary waterfall tourist attraction. But now this area has begun to be developed as a tourist attraction with more complete facilities. Even today, tourists can also stay at Coban Talun.
This waterfall can be reached by trekking or walking through the pine forest and trails. The waterfall flows directly into a river that has cool water. Coban Talun can be reached with a very cheap entrance ticket and is quite close to the center of Batu city.
Location: Wonoreko Hamlet, Tulungrejo Village, Bumiaji, Batu Tourism City
HTM: IDR 7,500
5. Bendosari Pujon Pine Park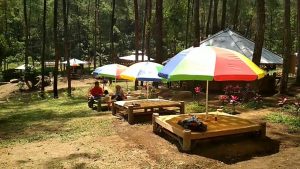 The next pine forest in Malang is the Bendosari Pujon Pine Park. The location is in Malang Regency, more precisely in Pujon and is still in the Coban Rondo tourist area.
This location is suitable as a place to unwind for a moment. The pine forest there stretches up to several hectares. Tourists can take pictures as much as they want while enjoying the cool atmosphere.
In addition, there are also outbound game spots to stimulate adrenaline. There is a flying fox, a V bridge, and also a mini trail. There is also a hammock for tourists who want to hang in this pine garden. Even though it is new, in fact quite a lot of tourists have come there.
Location: Cukal Hamlet, Bendosari Village, Pujon District, Malang Regency
HTM: IDR 5,000
6. Budug Asu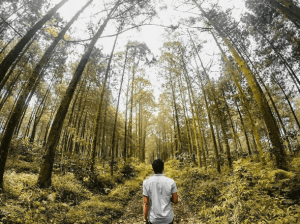 Apart from the pine forest spots described above, there is another pine forest in Malang and its surroundings, namely Budug Asu. The location is on the slopes of Mount Arjuno, so the scenery there must be very beautiful.
Budug Asu is actually a hilltop of one of the hill ranges on Mount Arjuno. The altitude reaches 2,000 meters above sea level, so tourists need to do trekking first. Or if you want, tourists can ride motorbikes on the trails where access is still difficult.
On the way to the top, the pine forest on the right and left will provide a very natural panorama. In addition, at the top of Budug Asu itself there will be a green view of one of the savannas in Indonesia which is interesting to capture.
Location: Slope of Mount Arjuno
HTM: IDR 5,000 with a parking fee of IDR 3,000. For tourists with a motor cross, the ticket is Rp. 10,000. For tourists by jeep, the ticket is IDR 25,000
7. Sumberawan Temple
Sumberawan Temple is one of the temples in Malang Regency that can be accessed by tourists. This temple is not too big and majestic, but it has very clear springs.
This temple is in the shade of a pine forest. To go to the temple, tourists must comb the edges of rice fields and fields about 500 meters from the main road. After that, you can find a simple temple in the shade of a pine forest.
Although it has long been discovered, this temple is not crowded enough by tourists. However, recently the location of the pine forest there has been further developed with the presence of a hammock park that is more attractive to tourists.
Location: Toyomarto Village, Singosari District, Malang Regency
HTM: IDR 5,000 with a shipping fee of IDR 2,000
8. Pine Cave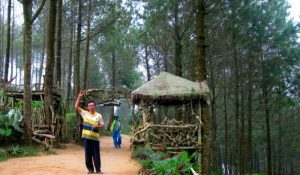 Goa Pinus is located near the Mount Banyak Paragliding tourist attraction, the city of Batu Tourism and is one of the newly opened tourist attractions in Batu. Goa Pinus itself is a pine forest that is not too wide, but has begun to be developed into a new tourist attraction.
Why is it called Goa Pinus? Because there is a cave mouth under a pine forest. Although the mouth of the cave is small, it is said that the cave has historical value during the Japanese occupation of Indonesia.
Currently Goa Pinus continues to grow to be more beautiful. There are even several photo spots that can make tourists feel at home for long. There are also interesting tribal houses to be immortalized.
Location: Gunungsari, Bumiaji, Batu City
HTM: IDR 5,000
Those are some lists of pine forests in Malang and its surroundings that can be visited when traveling to this apple city. Visit the pine forest that you think is best. Hopefully this article is useful. Happy Holidays.