Everyone in this world must have a favorite type of place or a special place. A special place for someone will usually be sought when someone is feeling sad. That's because the favorite place will calm his mood. A special place can be a medicine when you are sad, depressed, angry, upset, or when you want to find inspiration, seek entertainment, find peace, refresh your mind, and so on. A special place is a favorite place that can never go wrong when visited with various moods. And a special place is a place that allows us to still feel comfortable even though we go with anyone, be it family, friends, friends, co-workers, superiors, subordinates, or anyone and a tourist spot for a honeymoon.
Indonesia is an archipelagic country, where the intensity of sea water can be said to be very large, even more than the land. This indicates that in almost every region in Indonesia, at least each province will have its own coastal area. Starting from the islands of Java, Sumatra, Kalimantan, Sulawesi, Papua, Nusa Tenggara, Bali, to other islands such as Maluku, Batam, Riau Islands, Nias, to Bangka Belitung, all of these areas must have their own coastal areas. . Due to the large number of coastal areas and wide seas, Indonesia is a maritime country, which means that a country that has a very wide sea territory and has a lot of marine wealth or natural resources stored in it.
Bangka Belitung Province
One of the areas in Indonesia that has a fairly wide sea area is the Province of Bangka Belitung. Bangka Belitung Province is a province consisting of two main islands, namely Bangka Island and Belitung Island, as well as small islands located around it, including Lepar Island, Pongok Island, Mendanau Island, and Nasik Strait Island. There are many islands around Bangka Belitung. There are about 470 islands that have names, of which only 50 are inhabited. Bangka Belitung Province is located in the eastern part of Sumatra Island and is close to South Sumatra Province. The geographical location of the Bangka Belitung province is bordered by the Natuna Sea in the north, the east by the Karimata Strait, in the south by the Java Sea, and in the west by the Bangka strait. The Bangka Belitung Province has an area of ​​18725.14 square kilometers, with a land area of ​​16424.14 square kilometers and a water area of ​​65301 square kilometers. So when compared, the area of ​​the waters covers 79.9% of the total area of ​​this province.
Bangka Belitung Province is known as a producer of tin. Previously, this province was still in the South Sumatra region. However, in 2000, Bangka Belitung was established as a separate province along with Banten and Gorontalo. Bangka Belitung Province has a capital, namely Pangkal Pinang. Bangka Belitung Province is inhabited by a population of around 1,223,296 people. The people who inhabit the province of Bangka Belitung come from various ethnic groups. Among them are Malay, Javanese, Chinese, Bugis, Madurese, and so on. So that the religion adopted and also the language used in daily life in this province is very diverse.
Besides being known as a producer of tin, Bangka Belitung Province is also known as an area that has many beautiful beaches. So it is not surprising that many tourists, both local, domestic, and foreign tourists visit Bangka Belitung to enjoy the beauty of its beaches.
Some of the beaches in Bangka Belitung that you can make alternative places to visit include:
Parai Tenggiri Beach
This beach is located in a radius of 40 kilometers from the capital city of Bangka Belitung Province, namely Pangkalpinang. This beach is said to be a prima donna because it is the most beautiful beach. This beach has the character of soft waves and a sloping surface. In addition, stretches of granite are also scattered in this coastal area, both large and small. The beautiful panorama will be more felt if you climb the granite rocks in this coastal area. The sensation of enjoying the stunning beauty of the South China Sea. In addition to the beautiful scenery, on this beach there are also various rides or water games provided, such as banana boats, parasailing, snorkeling facilities, to fishing facilities in the form of fishing boats complete with equipment are also provided on this beach.
Mouse Beach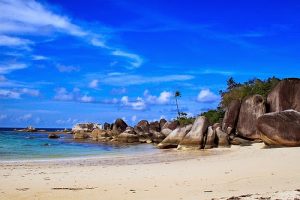 The second beach in Bangka Belitung Province after Parai Tenggiri beach is Tikus Beach. Tikus Beach is a beach that is still natural and protected from human hands. The beautiful and exotic panorama of this beach is manifested by steep hills and expanses of granite rocks and blue sea water.
At the top of the hill there is a temple of worship that stands majestically in a round shape. And this is the icon of this Mouse Beach. Besides pleasing to the eye, the beach can also be used as a place to play. It is also not surprising that many people in Bangka Belitung Province are fishermen or work in the waters or marine.
Piercing Beach
Piersuk Beach is the hidden beauty of various beaches in Bangka Belitung Province. This beach is located in the northern part of Bangka. If you come here, then you will find granite rocks that are piled up and seem to form a niche on this beach. In addition, the many green trees also beautify the scenery on this beach. And the existence of four islands that line up beautifully adds to the beautiful panorama of this beach.
Piersuk beach is one of the popular tourist destinations among the public, which has calm waves. Because of the calm waves, many people spend their time on this beach swimming and playing in the sea. Fishing boat rentals are also available on this beach. One boat with a capacity of about 10 people is rented at a price of 150,000 to 250,000 rupiah. The island that is a favorite to visit is the island of Lampu. This is because this island plays a role as a lighthouse. Here tourists spend a lot of their time swimming in the sea. There are two bathrooms provided in this area for rinsing after swimming.
Paddy Sand Beach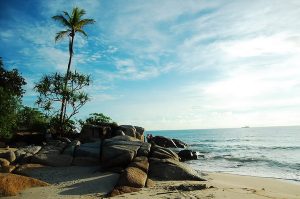 Pasir Padi Beach is the closest monitor to the city of Pangkalpinang, which is only about 7 kilometers. This beach is also the most famous beach in Bangka. So it is not surprising that many tourists visit this beach.
Named Pasir Padi because this beach has white sand and the texture of the sand is grainy like rice. Around this beach, many complete facilities have been provided, such as five-star hotels, restaurants, and food stalls. Besides pleasing to the eye, the beach can also be used as a place to play. More precisely, it is playing in the water, such as swimming, diving (dyfing), snorkeling, or just playing in the waves.
Tanjung Kelayang Beach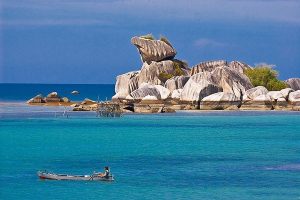 Tanjung Kelayang Beach is one of the tourist destinations which is located at a radius of about 27 kilometers from the center of Tanjungpandan city in Belitung. This beach is a tourist destination for domestic and international tourists. At certain times hundreds of yachts from various countries will stop at this beach in the Sail Indonesia event.
The specialty of this beach is that there are stunning granite rocks with one of the rock formations resembling a bird's head, and the sand is pure white. This is also what makes this beach famous since the first. A gentle beach breeze will make us feel cool, make us feel fresh, and make us feel calm and comfortable.
Tanjung Pesona Beach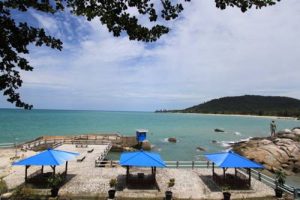 This beach is one of the favorite tourist attractions of the people of Bangka. To go to this beach only takes about 15 minutes from Sungailiat city, or 45 minutes from Pangkalpinang City. This beach is located in Rambak Village, Sungailiat.
This beach also offers a variety of exciting rides and water sports, such as canoeing, banana boating, and jetskiing. You can also play sand and also fish. If you want to fish, you just need to rent a speedboat and head to the middle of the ocean. The beach with its very wide size will spoil our eyes, will make us always stunned about how big the world is.
Tanjung Tinggi Beach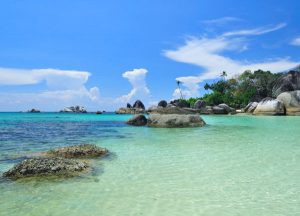 Tanjung Tinggi Beach is a popular area among the people of Belitung. This beach is located 30 kilometers from the center of Tanjungpandan. This beach has also been used for shooting the film Laskar Pelangi. Various beach sports are available here. In addition, facilities such as restaurants to resorts are also available here.
The scorching heat of the beach will make us feel warm. Soft beach sand will make our feet feel comfortable. The views of the shoreline are stunning, sometimes there are corals, there are rocks, there are small and large fish, and there are other enchanting sea creatures. All of these are facilities that will be obtained when we visit the beach.
nyak beach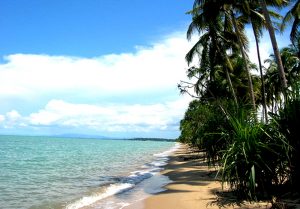 This Penyak Beach is the beach with the longest line, reaching 3 kilometers. This beach has a characteristic sloping surface and falls right on the side of the highway that connects Pangkalpinang with Koba. Because of its location on the edge of this highway, this beach becomes a stopover place for people who are traveling. But unfortunately this beach is slow to get attention from the government so that its development is fairly slow. Regarding favorite places or special places, there are some or even many people who like natural scenery as a special place. One of them is the view of the beach.
Also read articles on other unique tourist attractions: