Central Java with a variety of natural beauty it offers again tempts tourists to visit again. One of the cities that must be visited is Wonogiri. Most of the tourist attractions in Wonogiri tend to have a very thick natural feel. Many natural attractions that we find in this location. Starting from the charming beaches to various kinds of waterfall tours which are also amazing.
Wonogiri itself is one of the districts in Central Java which is directly adjacent to Jogja. there are many tourist attractions that we can visit in this city. Like
1. Nampu Beach
one more beach resort that must be included in the list of tourist attractions in Central Java. This beach is arguably the prima donna in the world of tourism in Wonogiri. This beach itself is in the Parangupito area. To reach this location is not difficult.
Access to reach this beach location itself is very good. In addition, local residents are also familiar with the beauty of this beach. so if it's your first time to Wonogiri and want to visit this beach but are afraid of getting lost, you can ask the locals.
To reach this place itself we can use a variety of vehicles. We can use private vehicles or public transportation, such as buses. during holidays, the number of tourists who are in this location is also getting more and more crowded. Don't forget to bring a change of clothes if you want to swim at this beach.
2. Banyutowo Beach
one more beach tourism located in the Wonogiri area or more precisely in the village of Gudangharjo, Paranggupito District. This beach tourism is still managed by local residents. the local government itself has not paid much attention to the development of beach tourism on this one. Although the development of this one tour is very rapid and is already well known to the Wonogiri area itself.
This beach itself has a beauty that is quite unique. This beach is surrounded by cliffs that are quite steep. However, that is not the uniqueness of this beach.
This beach is not a salt water beach, but a fresh water beach or you could also say a brackish water beach. This is because this beach itself is the estuary of an underground river located in the karst hills of the Wonogiri area. The uniqueness of this beach and its natural beauty make this beach one of the most beautiful beaches in Indonesia.
3. Gajah Mungkur Reservoir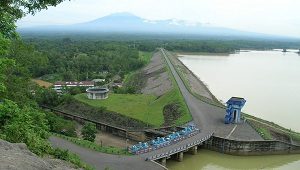 One more tourist spot in Wonogiri that you shouldn't miss. Gajah Mungkur Reservoir Tourism, this place itself has long been a major tourist destination in the Wonogiri area.
Visitors to this location are not only limited to local tourists, but there are also tourists from outside the Wonogiri area who want to enjoy the beauty of this tourist location. This reservoir itself still functions as a source of irrigation for the residents of Wonogiri, besides this reservoir itself is also a hydropower plant on the island of Java.
Reservoirs or dams that become tourist attractions are not only in this place. Sidorejo Dam, which is now a tourist destination in Boyolali, also experienced this. Tourists who visit this reservoir themselves can enjoy various processed fish that are cultivated in this reservoir.
4. Watu Jadah Waterfall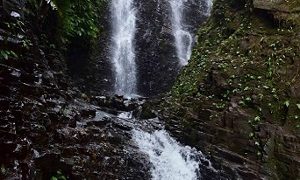 Another waterfall tourist spot in Indonesia that should not be missed. The waterfall, which is located in Girimulyo village, Jatipurno district, is a virgin waterfall. Not many know the existence of this 50 meter high waterfall.
Wonogiri local residents themselves are not too familiar with this one tourist location. The location of this waterfall is arguably quite hidden so that the atmosphere around the location is still very beautiful and still very original.
This waterfall itself consists of 3 waterfall formations that are very stunning and very beautiful. The name Jadah itself comes from the rock slabs in the waterfall. slabs of rock piled up as if to give the impression of a jadah that was piled into one.
5. Hanging Skateboard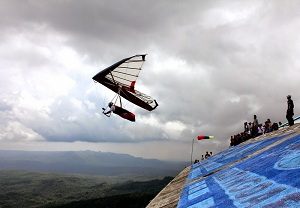 Want to try a tour that challenges our adrenaline? Wonogiri offers a tourist spot that will certainly stimulate our adrenaline to the limit. The hang gliding tour in Sendang village itself is very popular with those who like challenging sports.
This one tour will offer the beauty of Wonogiri that we can enjoy from above, so we are more satisfied to enjoy it. The main beauty offered by this place is enjoying the Gajah Mungkur Reservoir from above.
if just coming and visiting Gajah Mungkur Reservoir has made you feel satisfied and happy, then we should try to see it while flying by paragliding. This skateboard itself has two different height levels. The first level is 200 meters and the second level is 400 meters.
6. Indonesian Puppet Museum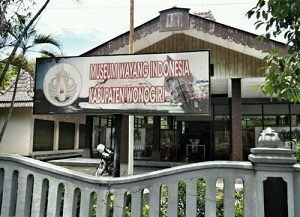 An educational tourism location in Wonogiri. A Wayang Kulit Museum which stores various types of puppets not only from Central Java, but also from all over Indonesia.
The museum itself is located in Wuryantoro District. The collection of puppets in this museum itself is quite complete. We can see various forms of wayang ranging from Balinese wayang, Lombok wayang, puppet show, and many other things related to wayang.
The museum itself was first inaugurated in 2004, by the president at the time, Mrs. Megawati Soekarnoputri. The museum itself is open Monday-Friday. The management of this museum itself is under the auspices of the Ministry of Education.
7. Sendang Asri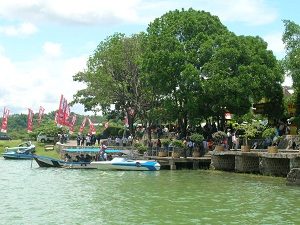 One of the family tourist sites in the Wonogiri area. this location is in the village of Sendang which is adjacent to the Gajah Mungkur Reservoir. This location itself has always been a target for tourists who want to vacation to spend time with family.
This place is indeed designed to be a tourist place that provides comfort and satisfaction for those who come and visit with family
The facilities offered by this location are quite diverse. In this location, we can enjoy the beauty of the edge of the Mungkur Elephant Reservoir while swimming leisurely with the family. or we can also enjoy the culinary tours they serve at this location. A place that combines beautiful natural charm with a charming family tourism concept. this place should not be lost from the list of tours that we must visit in Wonogiri.
Well, those were some references to tourist attractions in Wonogiri that you can visit for a vacation, hopefully it's useful