Indonesia is a country that has many tourist attractions related to nature. Each tourist spot always presents its own impression and uniqueness. One of the places that offers natural beauty is Lombok. We all know that Lombok is a city that has a lot of natural beauty. one of the parts it has is in North Lombok Nature Tourism. North Lombok also has many tourist attractions which are certainly no less interesting when compared to other tourist attractions in Lombok.
This place has many locations and choices regarding nature tourism. We can choose from the beach to the mountains. For those who want to visit North Lombok, then there are several natural attractions that you can visit such as
1 Sendang Gile Waterfall
This waterfall is a tourist location that is quite famous among tourists. This waterfall is famous because of its strategic location at the foot of Mount Rinjani. as one of the tourist attractions of waterfalls in Lombok, this waterfall is arguably very famous.
So don't be surprised if visitors who come to this location almost never experience a decline. This waterfall itself has a height of 40 meters, with a very cool atmosphere. The atmosphere in this place is still thick with its very charming natural charm.
This waterfall itself is in the village of Senaru which is still included in the Mount Rinjani National Park. If we depart from Senaru village it will take us about 20 minutes. however, if we depart from Mataram then the time we need is approximately 2 hours drive.
2. Kerta Gangga Waterfall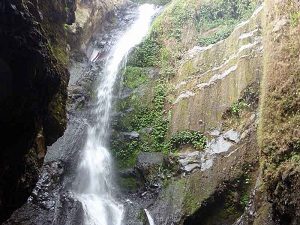 This waterfall tour, which is located in the hamlet of Kerta, Genggelang village, Gangga sub-district, is already famous for its beauty. In this waterfall tourist area, there are 3 waterfalls and 2 levels of waterfalls. so it can be said that this waterfall itself is like a stepped waterfall. The waterfall steps themselves add to the beauty of this place.
in addition to the charming view of the waterfall. this place also offers a very beautiful natural scenery. we can enjoy the expanse of rice fields and some beautiful forests. This is because the location of this waterfall itself can be said to be quite high, so we can enjoy the natural beauty around the waterfall.
3. Tiu Kelep Waterfall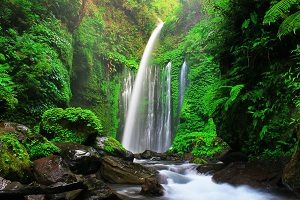 One more Nature Tourism in North Lombok in the form of a waterfall. This waterfall is located in Senaru village, Bayan district. this one place has a waterfall with a height of 30 meters.
and the water is very clear with a very biting cold sensation. This location itself is very close to the Sendang Gile Waterfall. as one of the tourist attractions in Lombok, this waterfall is one of the prima donnas.
this location has 1 main waterfall which is very heavy and the water is very clear. as well as several small waterfalls whose water flows over the cliff walls. and fog that sometimes we can still see even during the day. besides that this place also has a lot of visitor facilities that make tourists feel comfortable to linger here.
4. Tiu Pupus Waterfall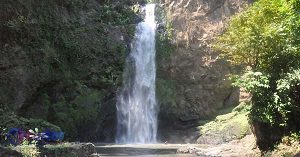 This waterfall is located in the hamlet of Kerurak, Deda Genggelang or only half an hour drive from Ganges Waterfall. This waterfall has a height of 50 meters, with clear water.
besides that, in this one waterfall there is a puddle of water as deep as 20 meters. The puddle is right under the waterfall, so those who want to swim should be careful. For those who like challenges, maybe this place can be an interesting challenge.
5. Lake Segara Anak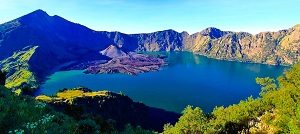 This place is located in the caldera of Mount Rinjani. so to reach this one location it takes a hefty extra energy. This lake itself was formed due to the eruption of Mount Rinjani.
The former eruption was then filled with water and became a very beautiful lake. the water from this lake itself flows into several places which produce a lot of beautiful waterfalls at the foot of this mountain.
This lake itself is arguably the second prima donna in North Lombok. the atmosphere in this area is really very comfortable and delicious. besides that we can also do some activities on this lake. One thing we can do is fishing. This place itself is famous for having a lot of tilapia fish that we can fish and burn on the spot, while enjoying the natural beauty of this lake.
6. Mount Rinjani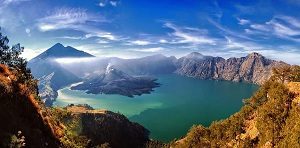 The main prima donna of nature tourism in North Lombok is Mount Rinjani. Many tourists who come to this location want to feel the challenge of climbing this one mountain. In addition, they also want to enjoy the beauty of Mount Rinjani. As one of the most beautiful mountains in Indonesia, the charm of Mount Rinjani has spread widely.
Tourists who come and visit the mountain which has a height of approximately 3,726 meters above sea level are not only from within the country. Many tourists from foreign countries also come and climb one of the highest mountains in Indonesia.
The beauty of Mount Rinjani is unquestionable. This beauty is also used by some people in the business world. We can find several inns in Sembalun that take advantage of the beauty of Mount Rinjani as a background for their lodging. Many come and stay at this place because they are attracted by the beautiful panorama of Mount Rinjani which is already famous.
7. Gili Trawangan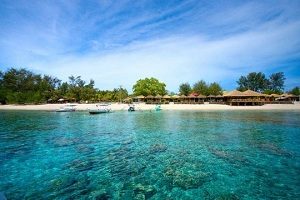 Who does not know this one beach. As one of the most beautiful beaches in Indonesia, the name Gili Trawangan is not a foreign name. This beach is already famous to foreign countries. This beach has many facilities that can spoil us as tourists when visiting this location.
besides that this place also offers lots of diving spots for those who like these activities. The underwater scenery on Gili Trawangan is no less beautiful when compared to other diving spots in Indonesia.
One more thing that makes this beach the best place is sunset time. Enjoying the Sunset on Gili Trawangan is a very extraordinary thing. The beauty of the charm of the sunset on this beach makes it one of the most beautiful sunsets in Indonesia. In addition to sunset we can also enjoy a lot of small islands that we can explore.
So, those were some references to Nature Tourism in North Lombok that you can visit, hopefully it will be useful.