Since its introduction more than a decade ago, the S Pen has continued to evolve and evolve. Present in the latest line of tablets, the Samsung Galaxy Tab S8 Series 5G, technological innovations in the S Pen now provide an even more natural writing and drawing experience thanks to low latency.
On the Galaxy Tab S8+, the latency on the S Pen is up to 2.8ms. This makes the stylus which is indeed a "friend" of the Galaxy Tab S8 Series 5G even more comfortable to use. As if writing on paper, including when doing work from anywhere which has now become a new habit.
"The S Pen on the Galaxy Tab S8+ will enrich the user experience and make work activities more smart and productive, from doing daily routine work to designing a large project in the office," said Annisa Maulina, Product Marketing Manager Mobile Experience, Samsung Electronics Indonesia. .
Combined with Multi-Active Window capabilities, Samsung Dex, a strong 10,090 mAh battery and a capable Snapdragon 8 Gen 1 chipset, running various projects, from ideas, brainstorming, to execution will be easier.
Here are some tips for working smart with the S Pen on the Galaxy Tab S8+:
#1 Save immediately any ideas that come up
A successful project always starts with an interesting and well-crafted idea. Unfortunately, we can't control when and where these ideas can arise. So that your next brilliant project candidate doesn't get lost, immediately save any ideas that come up on the Galaxy Tab S8+, even when the tablet screen is still off.
Use the S Pen to instantly take notes on the Galaxy Tab S8+'s 12.4-inch wide screen without activating the screen first with the Screen off memo feature. Just grab the S Pen, press the button, and start writing right on the screen. These notes will be automatically saved to Samsung Notes and can be processed again later.
#2 If you don't have an idea, create a supportive mood first
What if that idea doesn't come and go? The lack of new ideas or ideas can indeed be frustrating, but finding new ideas or ideas will also be difficult if your mind is filled with various things. You need space to calm down and build the mood.
You can take time to think about ideas or ideas without being influenced by a number of other problems. Everyone has their own way, for example, provide time to relax accompanied by music. Play favorite playlists with Samsung Galaxy Tab S8+.
Thanks to the Air Action feature, you can control or change tracks by simply pressing a button on the S Pen, while doing other things. If you need a change of heart, take the compact Galaxy Tab S8+ to your favorite café and continue your search for ideas with your favorite drink.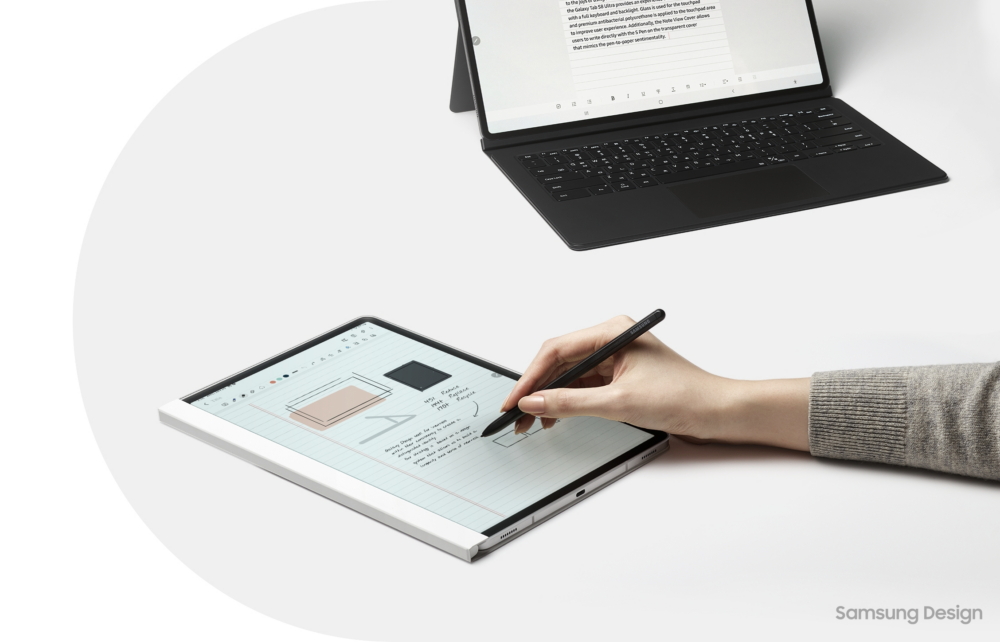 #3 Sharpen ideas
Sharpen the ideas or ideas that have been saved with a mind map, additional comments or explanations, or if necessary also add references. On the Galaxy Tab S8+ you can add references in Samsung Notes in the form of images, audio, PDF files, or links to websites.
After the outline of this project is complete, with the Smart Select feature, important parts can be selected with the S Pen and created a shortcut to the Home screen for faster access later. You can also turn this section into an image file that you can directly share with the team via e-mail or Whatsapp group.
#4 Brainstorming
After the ideas are shared, it is time to move on to project planning. This is where discussion and brainstorming with the team becomes very important. You can use the Galaxy Tab S8+ to hold Zoom meetings, or try using the improved Google Duo on this tablet for an intense live sharing experience.
You and your team can exchange references in the form of text, photos or videos from the Gallery, scribble ideas in Samsung Notes, to watch Youtube video references together or even discuss routes on Google Maps while meeting to complete project details.
When brainstorming don't forget to take note of valuable input. You can activate multi-active windows by running up to three applications at once. So during a meeting with Zoom or Google Duo, you can edit project details in Samsung Notes so no time is wasted.
#5 Time for project presentation
After all the project details are complete, it's time to present this proposal. The Auto Framing feature on the Galaxy Tab S8+ will help when you are presenting. The position of the 12MP front camera is in the center when the tablet is horizontal, and the camera will also follow your movements during video calls, making sure you don't go out of frame.
Likewise, if you invite 1-2 core team members, Auto Framing will ensure that all participants in front of the camera are within the field of view. Do not forget to record the inputs received in this presentation session. Taking notes is even more fun with the updated Samsung Notes on the Samsung Galaxy Tab S8+.
#6 Execute the project, prepare a to-do-list and set small goals
After the proposal is approved and project execution begins, don't forget to record all the progress of your project or work. So that nothing is forgotten, make a to-do-list in Samsung Notes or arrange a schedule or timeline in the Noteshelf application with small and gradual goals.
Sometimes if we only set one big goal, it will be difficult to achieve, while small goals will make you always in control and more productive. Projects of any size will not look scary. Routinely monitor your to-do list and goals, and cross out the ones you have successfully completed.
+1: Don't forget self-reward
At the end of each project or work achievement, give yourself a reward. The mind becomes fresh, the body relaxes, so that new ideas can come back. Enjoy relaxing entertainment or plan a trip while on vacation can be an option.
The Galaxy Tab S8+ has a clear and spacious 12.4-inch Super AMOLED display to stream your favorite series or listen to Spotify while reading an e-book on the same screen. The sound quality feels premium, thanks to the quad-speakers with Dolby Atmos technology to deliver cinematic surround sound.
Galaxy Tab S8+ Present at Consumer Launch
The Samsung Galaxy Tab S8+ 5G is available at a price of IDR 16,999,000 in Graphite, Silver and Pink Gold colors, with 8GB RAM memory and 256GB internal storage which can be expanded up to 1TB. Get special offers at the consumer launch event on March 9-27 2022 at the following locations:
Grand Indonesia Jakarta 9 – 13 March 2022
Pondok Indah Mall 2 Jakarta 9 – 13 March 2022
Botani Square Mall Bogor on 16 – 20 March 2022
Bandung Electronic Center Bandung 23 – 27 March 2022
Pakuwon Mall Surabaya 23 – 27 March 2022
Purchase of the Galaxy Tab S8+ at this consumer launch event has the opportunity to get an attractive bonus of up to IDR 3,800,000 in the form of a keyboard bookcover bundling, an additional discount of IDR 1,000,000 for trade-in or Purchase with Purchase (PWP), and bank cashback of up to IDR 1,000,000. .