Tondano is one of the cities in North Sulawesi which is about 35 kilometers from Manado. This city has a lot of tourist attractions. If you want to visit North Sulawesi, take the time to stop by some of the following tourist attractions in Tondano:
1. Kandera Falls
This waterfall is located in Touliang Village, Kakas District. This waterfall is unique with a waterfall height of 75 meters.
Kandera itself has several parts. The first part is the bathing place. In this place there is a pit that resembles a pond. Its beauty is complete with natural stones that are shaped like chairs (kandera).
From the pool, towards the downstream of the river, tourists can find another waterfall which is smaller in size. There was a giant footprint. That said, the footprints belonged to a giant named Kombangen.
Read also:
2. Pulutan Ceramics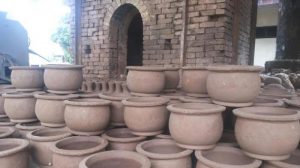 Pulutan Ceramics is located in Pulutan Village, Remboken. Most of the residents work as traditional ceramic and pottery craftsmen.
Pulutan Village itself is located in Minahasa Regency, or about 31 km from the center of Manado City. Many tourists come there.
This location is about 5 kilometers from Lake Tondano, North Sulawesi. If you visit Lake Tondano, please stop by there to just look around or buy souvenirs.
3. Palamba Falls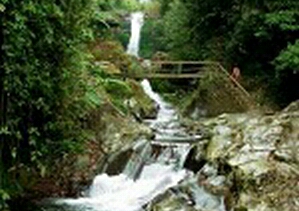 Palamba Waterfall has a height that is not so high, which is only about 9-10 meters. The width of the waterfall is only about 2-3 meters. However, this waterfall is very beautiful.
This waterfall is also close to other cultural attractions in Palamba, namely the Waruga Toar Lumimuut tour and the Klenteng tour. This is what causes many tourists to stop by there too.
This waterfall is located in Palamba Village, South Langowan District, Minahasa Regency, North Sulawesi Province. or bIt is about 18 km from Langowan City. To get there, tourists can use four-wheeled or two-wheeled vehicles, with road conditions that are quite adequate for tourism.
4. Timbukar Waterfall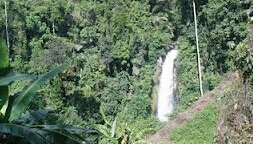 Timbukar Waterfall is located in Timbukar Village, Sonder District. The interesting thing about this waterfall is the height of the waterfall which reaches 90 meters.
In addition, this waterfall is also close to other waterfalls. Not far from Timbukar Waterfall, there is Tincep Waterfall which can also be visited by tourists. The location is in Tincep Village.
The two waterfalls are some distance apart and will meet again on the Nimanga River. If you are going to visit, make sure you visit these two waterfalls because they are guaranteed to be very beautiful.
Read also:
5. Kayuuwi Waterfall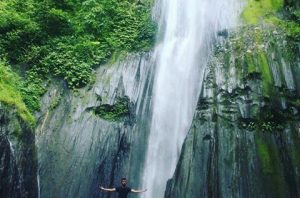 Kayuuwi Waterfall is located on the border of Kawangkoan District, Kombi District, Sonder District, Pineleng District, and North Tondano District.
There are five waterfalls in total. The names of each of these waterfalls are Maasem, Ranoasem, Tangkowal, Makawuluud, and Ranowangko. The distance from one waterfall to another is around 400 to 800 meters. This is what makes it unique from other waterfalls.
However, this waterfall has not been fully opened as a tourist attraction, so there may not be adequate and adequate facilities. But for hunters of natural beauty, this waterfall is definitely suitable for an impressive adventure experience.
6. Nimanga River Rafting
Rafting is currently not only done by adventure sports activists, but also usually done by tourists. The goal is to trigger adrenaline.
One of the rafting activities that tourists can try in Tondano is the Nimanga River Rafting, because it has rapids that are very challenging to navigate.
The Nimanga River itself does have a river character that is quite unique and quite different from other river characters. However, even so this river is quite safe for beginners though. So, those of you who have never done this sport don't need to worry.
There you will see a combination of views of the natural landscape of the forest and local residents' plantations.
7. Timbukar River Rafting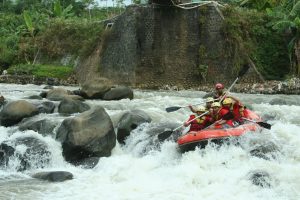 In addition, in Tondano there is also a rafting which is quite famous, the name is Timbukar Rafting. For those of you who like rafting, you can stop by there and feel the sensation of this adrenaline-triggering sport.
The starting place for Timbukar rafting is in the village of Timbukar, Sonder District, Minahasa Regency. This is the village that you should visit for the first time rafting. While the finish place is in Tangkuney Village, Tumpaan District, South Minahasa Regency.
To get to the starting position which is in the village of Timbukar, tourists can take a trip from Manado City with a journey time of about 1 to 2 hours, depending on conditions.
Read also:
8. Inscribed Stone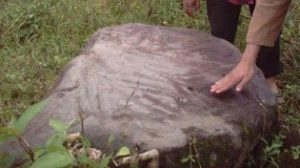 If you want to visit a different tourist attraction, it's a good idea to visit one of the historical sites around Tondano, namely Batu Bertulis Kali. The Batu Bertulis Kali is located in the village of Kali, Pineleng District, Minahasa Regency.
This site is in the middle of a plantation owned by local residents. The location is at an altitude of 313 meters above sea level, and has a fairly steep slope of about 33 degrees.
The Kali Inscribed Stone is located on Pinawawatu Hill. There was an inscribed andesite stone wall. There are three stone walls in total, and all three are lined up.
On the stone walls, there are ancient paintings in the form of animals such as snakes, plant vines such as ferns, as well as pictures of humans. The size of the scratched stone field is quite large, which is 4.5 meters with a height of 3 meters.
9. Lake Tondano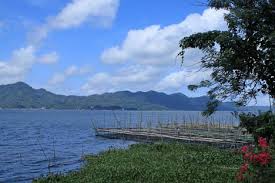 Who does not know Lake Tondono? Tourists who go to Tondano will definitely want to visit it. This lake is one of the famous lakes in North Sulawesi.
This lake has a natural natural beauty with quite a challenging walking path. No wonder, because its position is in the hills. However, tourists can enjoy it more casually, namely by riding a wagon.
There is also a building with typical European architecture. In addition, tourists can also try fishing while accompanied by beautiful views of Mount Kaweng Manado. The ticket price for this tour is also very cheap.
10. Bentenan Centre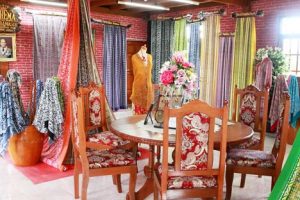 The Bentengan Center is located in Kolongan Atas, Sonder District. Reportedly, the Bentengan Center has become one of the centers for the development and marketing of the famous Bentenan woven fabric of North Sulawesi.
Bentenan Center occupies a very green and beautiful place. There is a Minahasa style house on stilts. The lower part of the building has been modified and is currently being used as a showroom for North Sulawesi's traditional Bentenan woven fabrics.
The Bentenan Center complex is managed by the North Sulawesi Community Creation Foundation (Karema). Karema Foundation carries out a noble mission, which is to restore the cultural traditions of Tribal handicrafts, and also to revive some of the original weaving motifs from the area.
Well, for tourists who claim to love culture, please stop by there to see in person.
Read also:
Those are some of Tondano's attractions that can be visited. However, in addition to these several tourist attractions, in Tondano and its surroundings there are also several other tourist attractions in Tondano that must be visited, such as the following:
Table Rock Hill
Prayer Hill
Mount Soputan
hill of cross
Former Japanese Base Tasuka
Watumea Old Church
Cave 50 Rooms
Kawangkoan Japanese Cave
Maria Cave
Japanese Heritage Cave
Mountain of Mutual Cut Area
Minahasa Kembes Waterfall
Boulevard Tondano Culinary
Pine Valley
Loji Tondano
Dr. Sam Ratulangi's grave
Kyai Modjo's Tomb
Toar Lumimuut's Tomb
Al-Falah Grand Mosque Kyai Mojo
Ranosaut Nature Feel
Bukit Tinggi Beach
Parigi Pingkan
Tondano Market
The Sculpture of the Saraphic Cork
Makawembeng Mountains
Masarang Mountains
Natural Bath
Hot water bath
Pinagiimbalian Hot Spring
Ranopaso Hot Spring
Relief of Waruga Sawangan
Roong Tondano
Kawangkoan Happy Coffee House
Sumaro Endo
Tondano City Park
Waruga-Waruga Sawangan Archaeological Park
Toar Lumimuut Tourism Park
Sendow Reservoir
Walepapeteupen
Waruga
Pinawetengan Stone
Watutumoutowa Talikuran
Watutumoutowa Toi Toi
Winawanua
Siladen Island
Malalayang Beach
Upper Kima Waterfall
Tandurusa Wildlife Park
Mount Tumpa
Love Hill
That's a list of 60 tourist attractions in Tondano that must be visited when traveling to North Sulawesi. Hopefully this article is useful. Happy holidays and have a nice holiday.