Bali is a place that is famous for its natural beauty. There are many tourist attractions on this island. Of the many tourist attractions in Bali, many of which require you to pay a lot of money. But if we look closely, it turns out that there are not a few tourist attractions in Bali that offer beautiful natural panoramas without having to make us spend extra funds or free. (Also read: Photo Spots in Bali)
Who doesn't want to get a free tourist spot for a vacation? We think everyone likes it. So, here we present a review of free tourist attractions in Bali that might interest you to visit. Hopefully this information will provide insight for all of you, as follows:
1. Bali Marigold Flower Field
This one place is suitable for you young people who are shrouded in the umbrella of youth romance. This place is perfect for those of you who don't have a steady income from work because this place is free to visit. Even though it's free, it doesn't make this marigold flower field ugly. In fact, you will feel the sensation of a romantic background in the style of royal films in Europe.
This marigold field is located along the highway between Bedugul and Kintamani, before the location of the Bali Botanical Gardens.
If you have reached the Bedugul area, all you need to do is follow the road to Belok Village, in the direction of Tabanan.
After passing through the rural area you will find the beautiful scenery that is presented by this marigold flower field. (Also read: Honeymoon Places in Bogor)
This place is also very suitable for those of you who want to do pre-wedding photos here. With a backdrop of flower fields, the time in the morning or evening will be the perfect moment for your pre-wedding photos. A little backwards, apart from being a pre-wedding location, of course this is also a special place for those of you who want to express love. (Also read: Honeymoon Places in West Java)
2. Nusa Dua Water Blow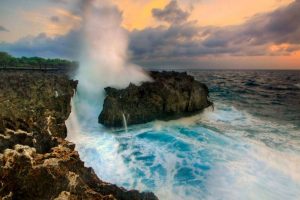 It's not complete if you go to Bali and don't stop by this place. This location is located on the beach of Nusa Dua Bali. By traveling approximately 30 minutes from Ngurah Rai airport, you can already enjoy the beautiful atmosphere in this place, as follows:
Nusa Dua Beach Bali is famous for a spot called Nusa Dua Water Blow.
This place is right behind the Grand Hyatt Nusa Dua Hotel. This place is actually two rocks located close to the beach.
When the water wave pulls over and hits this coral structure, the water will jump as high as approximately 4 m because it is trapped between the 2 corals. (Also read: Prewedding Places in Bali)
When that event occurs, the scenery will leave you all gasping in awe. What is certain is that you can take selfies with this amazing background. Even though the moment is very beautiful to be used as the theme of your pre-wedding photo, don't try to do it. To take pre-wedding photos there you have to ask for permission and pay 2 million rupiah.
3. Lotus Lagoon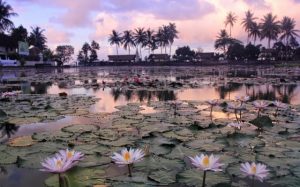 This one location will take you to a different era, namely to the era of the kingdoms. Lotus Lagoon is actually a garden above a pond. A pond with clear water and filled with lotus flowers that provides a soothing sight to the heart and eyes, as follows:
To reach this location, you have to travel quite a bit to Karangasem Regency, to be precise on Candidase Street.
Lotus Lagoon is located at a distance of about 80 km from Ngurah Rai airport. Or if you take it by car, it will take you at least 1.5 to 2 hours. (Also read: Cultural Tourism in Bali)
But the fatigue along your journey to this place will be paid off when you sit on the edge of this lagoon. Especially when the sun goes down, you will feel your life is so meaningful and beautiful. This place is suitable for those of you who want to talk heart to heart with the people you love. Of course, to visit this place is free of charge or free.
Read also:
4. Broken Sea – Pasih Uug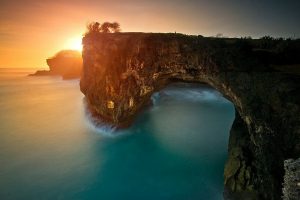 Pasih Uug Beach or better known as the Damaged Sea is located quite hidden, namely in Banjar Sumpang, Bunga Mekar Village, Nusa Penida District, Klungkung Regency, Bali. To reach this place you can use a speedboat via Sanur beach by traveling for about 30 to 45 minutes, as follows:
This beach is called the Damaged Sea because this beach was once a coastal area with caves.
Then the roof of the cave collapsed and finally formed as it is today.
By looking at its enchanting shape, it can be said that the Corrupt Sea is a hidden paradise in the world. (Also read: Waterfall Tour in Bali)
To enjoy the beautiful scenery here, you don't need to spend extra money because this place is one of the free tourist attractions in Bali. It's just that when you are there you have to be careful because the location is in the form of high cliffs with a fairly strong wind blowing around it. Have fun taking pictures of the sunset there.
5. Angel's Billabong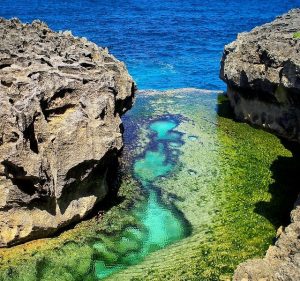 This tourist spot is also located in Klungkung Regency, Bali. The place is not far from Sanur Beach. Angel's Billabong is taken from English which means "the end of a dead end of a river". Angel's Billabong itself is the estuary of a river before heading to the sea, as follows:
The water at the mouth of this river is so calm and clear. Naturally, natural processes have shaped the location of such pools at Angel's Billabong.
This will certainly make you impatient to swim and enjoy the day together with your friends. (Also read: Tourist Attractions in Bali)
To reach this place you have to cross for approximately 1 hour from Klungkung district to Nusa Penida. What you need to pay attention to is the crossing schedule. By using a speedboat, the crossing time is scheduled at 7.30 WITA in the morning and 16.00 WITA in the afternoon. For those of you who come from western and eastern Indonesia, don't forget to adjust the hours. (Also read: Honeymoon Places in Jogja)
6. Tegalwangi Beach Jacuzzi
This free tourist spot in Bali is located on Jalan Pura Tegalwangi, Badung, Jimbaran. In this place you will be surprised by the magic that exists. While you enjoy the beautiful atmosphere that this beach provides, you can also enjoy the Jacuzzi on the beach, as follows:
You can imagine how cool it is to enjoy the sunset view on the beach while enjoying the caress of the small Jacuzzi pools on the beach.
An experience that is comparable to your efforts to come to this one tourist spot.
And of course this place is also free for you to visit. (Also read: Waterfalls in Bali)
To reach this place, you need at least 40 minutes of walking from Denpasar city. Not too far is not it. Travel access is also quite easy. Great views, equipped with rare natural phenomena such as Jacuzzi pools, easily accessible, and free. Is there anything better than this?
Read also:
7. Kelan Beach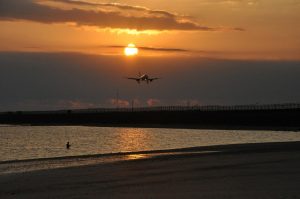 The next free tourist destination in Bali is Kelan Beach. This beach is famous for its unrivaled sunset panorama. For those of you who like sunset photography, you should try this one spot. Guaranteed you will not regret what you strive for to visit this tourist spot, as follows some of the uniqueness of this place:
What makes this sunset photo on the beach special? Right. You can take photos of the sunset with the object of the plane taking off or landing.
Of course not easy to get the photo. That is the challenge in itself. And also you may not necessarily be able to find the same moment like this in any location. (Also read: The Most Beautiful Beach in Bali)
To reach that location, you can start from Ngurah Rai airport because this location is located next to the Ngurah Rai airport runway. The exact location is on the northern plain from Jimbaran Bay to Kelan Beach via Jalan Segra Mady. In addition, you can also be accessed via the beach from Kdonganan. Please explore the beautiful sunset view as the object of your photography.
In addition, there are many more free tourist attractions in Bali, which are as follows:
Marigold Flower Field.
Nusa Dua Water Blow.
Lotus Lagoon.
Broken Sea – Pasih Uug.
Angel's Ballibong.
Tegalwangi Beach Jacuzzi.
Kelan Beach.
Treasure on Suluban Beach.
Nusa Penida Beach Snorkeling.
Aling Aling Waterfall.
Bedugul Recreation Park Hotel.
Campuhan Hill.
Plane Wreck in Kuta and Pandawa.
Banyan Tree.
Yeh Leh Beach.
Turtle Hatchery.
Banjar Hot Springs.
Tamblingan Lake.
Lake Batur Floating House.
Colorful Boat.
Ubud Water Palace.
Deaf Village.
Tohpati Batik City.
Rock Village.
Celuk Jewelry Workshop.
Mask Museum.
Salt Village.
Balinese Morning Market.
Anand Ashram Ubud.
Alas Jagasari Temple.
Batuan Village Gambuh Ensemble.
Blue Lagoon.
Tirta Gangga Terraces.
Amed Beach.
Sunrise Beach Sanur.
Nusa Dua Water Spray.
Campuhan Hill.
Jatiluwih River, Tabanan.
Tembling Lake.
Bugbug Asah Hill.
Sawangan Beach Nusa Dua.
Lake Beratan Bedugul
Padang Beach.
Garuda Wisnu Kencana.
Lovina Beach.
Uluwatu Temple.
Besakih Temple.
Jimbaran Beach.
Monkey Forest.
Tanjung Benoa Water Sports.
Kintamani Lake Batur.
Uluwatu Kecak Dance.
Telaga Waja River Rafting.
Ayung River Rafting.
Seminyak Beach.
Dreamland Beach.
Legian Beach.
Sangeh Monkey Forest.
Sukawati Art Market.
Menjangan Island.
That is, a glimpse of some of the tourist attractions in Bali with places that can be visited for free without you worrying about not having money for your vacation in Bali.