Even though this place to eat is called a warung, the interior design will not remind you of a typical Tegal shop. The room is arranged by combining elements of wood and glass. This creates a comfortable atmosphere to relax for a long time. Warpas also provides a free cell phone charger plus a key. Besides the delicious soup, this restaurant is also famous for its comfortable atmosphere. The restaurant manager provides two places to eat, with chairs and lesehan plus soft cushions. There is also a children's play area, so you don't have to worry about bringing your kids to this restaurant. Hence this restaurant children-friendly. Not only for families, this restaurant is also suitable for groups or couples.
What comes into your head when you hear the word Depok? University of Indonesia? Unfortunately, Depok is not only about the yellow-jacketed university. Depok has several tours that are no less interesting to visit. Depok culinary tourism has many variations, ranging from Korean restaurants to the Middle East. Curious? Read the following reviews.
1. Depok Pasta Shop
Warung Pasta provides a variety of pasta menus. This Italian food is beautifully prepared and of course, yummy. Here you can find a variety of pasta variants, from regular pasta to baked pasta. In addition, culinary tours in Depok, namely Warung Pasta also provide various Italian snacks such as the following:
Original/fluffy/pie pizza.
Spicy flavour.
Sweet pizza.
Pasta soup.
calzone.
Pancakes.
Frozen margaritas.
Bubble drinks.
Pudding.
Mojitos.
Salad.
Ravioli.
And other menus. (Also read: Romantic Honeymoon Places in Bogor)
If you don't really like Italian food or dessert, Warung Pasta or Warpas also provides a variety of western or asian food or desserts. In addition, you do not have to worry about excess or lack of portions. Warpas provides three serving sizes that you can choose from, namely small, medium and regular. (Also read: Cheap Lodging Places in Bandung City)
If you visit this shop, which only opened 3 years ago, you can invite your family or close friends. This shop is suitable as a gathering place or a casual hangout place for all ages. Especially at an affordable price. Even suitable for students. Prices for various menus start from Rp. 16,000 – Rp. 34,000. The Pasta Shop is always busy with visitors, especially on weekends. Even though it's always crowded, you won't run out of space. This shop has 2 floors. (Also read: Tanjung Lesung Beach, Banten)
You can find Warung Pasta at Jalan Margonda Raya No. 518, Beji, Depok. This shop is open at 07.00-01.00 WIB every day.
2. Takarajima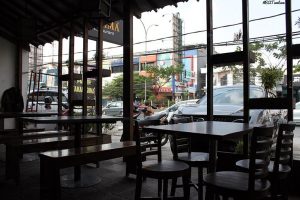 After the Italian menu, now switch to the Japanese menu. Takarajima provides a variety of menus from the land of Sakura. If you like things from Japan, give this place a try. (Also read: Rides Jungleland Bogor Sentul)
One of Takarajima's mainstay menus is Sushi Volcano. Can you imagine the shape? Sushi Volcano is shaped like a towering mountain with mayonnaise and melted toppings. You can get culinary tours in Depok with the display of Volcano sushi food with prices starting from Rp. 15,000 to Rp. 100,000. Other menus from Takarajima are as follows:
Tuna nigiri
Nigiri Salmon
Pat Salmon Donbury
Salmon Salad
Mentai salmon
Mentai Creamy Salmon
Mentai mayonnaise
Larvae roll
Avatar roll
Dragon roll
Miso soup
Beef yakiniki hot plate
And other menus.
The prices for various menus at Takarajima are quite affordable. You can visit Takarajima which is located on Jalan Margonda Raya, Beji. This restaurant is open from 10.00-22.00.
Other articles:
3. Mang Engking Restaurant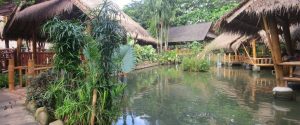 Next is the food from the host, namely Sundanese cuisine from Mang Engking. If you visit the land of Sunda, of course it's a shame to miss Sundanese food. As soon as you enter the location, you will immediately feel the cool and calm atmosphere of the restaurant. Moreover, the dining area floats above the huts where there is a fish pond underneath. The atmosphere in the dining area is beautiful, calm and cool. Guaranteed you will definitely feel at home for a long time there, as follows:
This shop is always busy, especially on Sundays. If you want to visit on Sundays, it is recommended to make a reservation at least 4 days in advance. (Also read: Curug Parigi Bekasi)
If not, your arrival will definitely be rejected because the available places are already full. (Also read: Pangandaran Ciamis Beach Batu Hiu)

Mang Engking is located inside the UI Campus. More precisely, it is located on Jalan Danau Salam UI, around a pine forest and rubber plantation. Near the location of Mang Engking there is a UI lake.

So while eating there you can enjoy the atmosphere of the lake. (read also:

Lebaran Tourist Attractions in Bogor

)

Warung Mang Engking is suitable for large meals with family, groups, office friends or together with a partner. Moreover, the menu served is famous for being delicious. Food prices range from IDR 50,000 – IDR. 100,000.
Mang Engking provides a variety of processed menus seafoodlike:
Butter fried prawns.
Honey grilled prawns.
Oyster sauce prawns.
Sweet and sour prawns.
Crab.
Gurame fish.
Boiled shrimp.
Menu prices in this one shop start from Rp. 50,000. Mang Engking is open at 10.00-21.00. Mang Engking restaurants have been opened in various regions in Indonesia such as Yogyakarta, Pasuruan, Semarang and Jakarta. (Also read: Prewedding Place in Bekasi)
4. Daebak Fan Cafe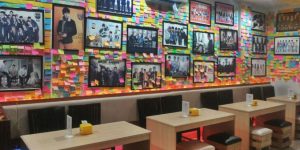 From the name, you certainly know which dishes are served at this restaurant. Yes that's right, Korea. In Indonesian the word Daebak means "wow" or "wow". For those of you who like various things from South Korea, you must visit this one place to eat, because it has a good display design as follows:
The interior design of the cafe is also made as close as possible to the typical Korean interior. If you come to this cafe, you might feel the atmosphere of a typical Korean restaurant. Moreover, the songs that are played are also songs from Korean girl/boy groups. (Also read: Prewedding Place in Tangerang)
This cafe is also famous for being very cozy. You can hang out or have a heavy meal with coworkers or family. (Also read: Tourist Places for Dating in Bogor)
Daebak Fan Cafe consists of two floors. The first floor is used as a kitchen. The second floor is used as a living room for visitors to enjoy food. The second floor is divided into two rooms: the Bukchon Room and the Hongdae Room. Each room is equipped with a television. Apart from the interior design, there is nothing different about the two rooms. Bukchon Room is laid out more gently and calmly and peacefully with ornate pictures of nature and Korean temples. On the other hand, the Hongdae Room is decorated with posters of Korean artists and post-it stickers containing messages from cafe visitors. Daebak provides a variety of Korean specialties for under IDR 50,000. One of the visitors' favorite menu is strawberry milk in the fandom punch menu which is very delicious. Other menus served at this restaurant are:
bulgogy.
Bibimbab.
Kimbab.
Jajangmyeon.
Japchae.
Sundubu jjigae.
Chicken Gangjeong.
Fandom punch.
Ramyeon.
Kimchi jigae.
Rapoki.
And other menus. (Also read: Cheap Shopping Center Bandung)
You can visit Daebak at Jalan Margonda Raya No. 239, culinary tour in Depok. This cafe is open from 11.00-22.00 on Monday-Thursday. On Friday, 13.00-23.00. on saturday sunday, 10.00-23.00. (Also read: Tourist Attractions in Cikarang)
5. Soto Bu Tjondro
For those of you who like Soto or Central Javanese food, this one stall is suitable for you to make your next Soto culinary destination. Although the main menu is soto, this shop also provides other menus such as the following:
Karedok.
Gurame fish.
Gudeg.
Rames rice.
Grilled chicken.
Mixed vegetables with the peanut sauce.
Variety of ices and coffee.
The shop manager also provides four kinds of chili sauce, namely shrimp paste sauce, soto sauce, onion sauce and penyet sauce. To add your chili sauce, there will be no additional fees or free. The price of food at this one Javanese restaurant is quite cheap. Various menus are available with prices ranging from Rp. 13,000 to Rp. 50,000. Wow, cheap isn't it? This soto stall is located on Jalan Siliwangi No. 1, Pancoran MAS, Depok City. This restaurant is open from 10.00-22.00 WIB, closed on Sundays. (Also read: Tourist Attractions in Majalengka and Kuningan)
Other articles:
In addition to the several places to eat above, there are many other culinary tours in Depok, for example,
Nasi Lead Si Teteh.
Laras Cottage.
Soerabi Enhaii.
Christina's Grilled Chicken.
Mr. Bewok's Black Meatballs.
Mang Kabayan.
Hello Bingsu Cafe.
Green T Depok.
Whats Up.
Cammo Milk Bar Kedai Susu And Sticky Rice.
Goblock Shop.
Korean Cafe And Resto.
Milan Pizzeria Cafe.
Coffee Bar.
Zoe Cafe And Library.
Mix Dinner And Florist.
Fulcaff Cafe Coffee Shop.
Stomach Stories.
The Scooter Cafe.
Warung Pancong Mang Mustache and Mang Dadang.
Lava Pancong Shop.
Ramen Bed 69.
Waroeng SS Special Sambal.
Kimung Coffee Shop.
Delysh Coffee Shop.
Berly's Coffee Margo City.
Soup Duren Margonda.
Ice Pocong.
Ghawil Cafe And Coffee.
Shirin.
We are Ruang And Cafe.
Saung Talaga.
Fat Bubbles.
Eddy's Toast.
Burg'O.
Shell War.
Pecel Lele Lela.
Pidie 2000.
Healthy Beans Beans Tofu.
Yellow Truck Coffee.
Maxx Coffee.
Imperial Kitchen And Dimsum.
Steak Moen – Moen.
Tibumi Coffee House.
Flamingo Cafe.
Pancake Parlor.
Book Shelf.
Pecel Pincuk Ibu Ida.
Richeese.
Typical Grilled Fish Lodge of Kalimantan.
San Francisco Martabak.
Wing Stop.
Mujigae.
AH Resto Cafe.
Cork Pucung Leuwinanggung.
Those are some culinary tours that you can visit in Depok. Hopefully these reviews help you determine your next culinary tourism destination.