Fakfak may be an area that is not familiar to many people, but actually the name of this district and city is in West Papua Province and is even the oldest city in Papua. Judging from the history of Fakfak, during the Dutch rule, in 1898, the land of Papua was divided into two residencies or afdeeling, namely Afdeeling West en Zuid Nieuw Guinea in Fakfak and Afdeeling Noord Nieuw Guinea, located in Manokwari. Entering the year 1952, the division into four afdeeling and Fakfak apparently became part of the afdeeling West Nieuw Guinea.
In 1961 there was another change which became the last change in which six afdeelings were created. There are three onderafdeeling under the leadership of Fakfak afdeeling, namely Mimika, Kaimana and Fakfak himself. Fakfak Regency was finally formed at the time after the 1969 law was issued. The law was about the regulation of autonomy in West Papua so that in the end a district was formed. Although not very popular, there are a number of tourist attractions in Fakfak that can be explored by tourists who have never set foot in West Papua.
Tapurarang Archaeological Site
Tourists with a great curiosity about historical things, a historical tour to the Tapurarang Archaeological Site is the best thing to visit. Everything that can be found when entering this site, among others, is a cliff painting in red. This painting is known to be a relic of prehistoric times and its shape is similar to hand painting.
In addition, what is unique about this site is a tradition where people who died then their bodies will be thrown into this cliff (not buried), so don't be surprised if you find human skull bones in the cliff area of ​​this one site. Another unique side that will be found in the paintings at the Tapurarang Archaeological Site is that the dyes used are still very clear even though they are natural. It is even known that the red color contained in this painting is exactly like human blood, so the painting is referred to as a blood handprint painting by local residents.
Kitikiti Falls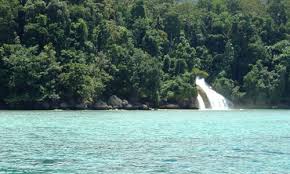 Natural tourism that will add to the excitement of a holiday in the city of Fakfak is the Kitikiti Waterfall whose water immediately falls into the sea. Arriving at this waterfall, you will be able to feel for yourself how beautiful the view of the waterfall is. Even the beauty of the underwater world is presented by this place with various types of fish and beautiful coral reefs. For visitors who like fishing, this activity can also be done in this place because there are various types of small fish to large ones in the Kitikiti water.
Stingrays, snapper, grouper, tuna, mackerel, and more will be found when you play to Kitikiti Falls. Apart from fishing, snorkeling It's definitely fun in this place because your eyes will be spoiled by the variety of ornamental fish. Not only waterfalls and underwater life are interesting, visitors can also use long boat or speed boat to explore the heterogeneous forest, but prepare at least IDR 3.5 million to rent boat with a travel time of about 3 hours.
Patimurak Old Mosque
In addition to natural and historical tourism, religious tourism can also be done while in Fakfak by visiting a mosque whose construction was more than 200 years ago. Known as the oldest mosque in Fakfak Regency, this building was built in 1870 and it was Abuhari Kilian who built this mosque with a height that can reach 100 meters. The reason why this mosque needs to be visited is because this mosque was built with a building that combines a mosque and a church.
The good news is, when you arrive in the area where this mosque is located, you will also be able to see for yourself how the environment around the mosque really upholds kinship. This is evident from the presence of 35 heads of families who more or less inhabit this area, but the kinship ties to each other are very close.
Tagor Falls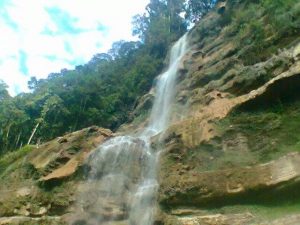 Even though it's not too touched because many tourists don't know this location, this waterfall can be the main destination for those who want to vacation in a quiet place. Located in Mambunibuni Village, access to this waterfall is still quite difficult, let alone using a car. The height of this waterfall is unknown, but a grandmother once tried to find out the height of the waterfall using a sweet potato that she wrapped with leaves in ancient times.
The sweet potato wrapped in leaves was the same size as a pillow bundle. The grandmother finally deliberately washed away the sweet potato packet by throwing it into the Tagor Waterfall from above. If the package of sweet potatoes can be shattered into pieces, then that is a sign that the waterfall is really high, and if it doesn't break then the waterfall is not that high. Apparently, after the grandmother washed away, the package was shattered into pieces so that there was a conclusion stating that this waterfall was so high and very dangerous.
Patawana Beach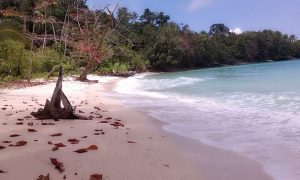 From the city of Fakfak, this beach is indeed very far away. The exact location of Patawana Beach is in the East Fakfak District, in Kotam Village. To enjoy the white sand that stretches widely along with a number of waving palms, tourists are guaranteed not to be disappointed when they come to this place because it is a tourist spot that is visited by many tourists.
Tourists who have an interest in activities surfcome in August and December for maximum satisfaction.
White sand beach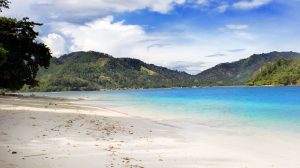 From the city center of Fakfak, tourists can try to head to the east by traveling a distance of approximately 8 kilometers to get to this beautiful beach. This beach which is also still quiet has white sand that spreads widely accompanied by a variety of coastal vegetation that looks very natural. For tourists who want to relax in a cool and quiet place, Fakfak Regency has a number of places that they will like, including this beach.
A series of tourist attractions in Fakfak have been mentioned one by one. Hopefully it can help and become a reference for those of you who are interested in going to Fakfak. Just to add, from Torea Airport to the city center, prepare a pocket starting from IDR 60 thousand for taxi fees.
Also read articles on other unique tourist attractions