Indonesia has a variety of beautiful natural resources to be explored. Therefore, there is actually no need to go abroad to get a special impression from a trip. Including the honeymoon. For honeymooners, there are still many places that can be visited from Sabang to Merauke. That way the cost of the honeymoon can be more efficient. Here are some recommended honeymoon places in Indonesia.
Honeymoon in Bali
Talking about a honeymoon in Indonesia, maybe some people will immediately think about the Island of the Gods, Bali. Bali is indeed one of the tourist areas that saves a lot of special places. Here are some cheap honeymoon spots in Bali that you can make as a promising alternative destination.
1. Angel Billabong Nusa Penida
Angels Bilabong is located on the island of Nusa Penida, Bali. This place is one of the cheap romantic honeymoon locations in Bali. Angels Billabong itself is actually an estuary of river water that pours directly into the open ocean. However, due to natural and environmental factors, the mouth of the river forms a very charming pond.
You and your partner can soak and also swim in the natural pool while enjoying the romantic atmosphere and impression. Moreover, this tourist attraction is still quiet so you can explore to your heart's content.
Angels Billabong Nusa Penida is at
Sakt Village, Nusa Penida District, Klungkung Regency. For now there is no entry ticket there, aka still free.
2. Waterblow Nusa Dua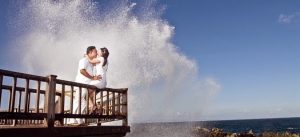 If you and your partner want to honeymoon in Bali with a different feel, maybe this is the right location. You can sit with your partner on the beach while waiting for the high waves. This is the main attraction of the Nusa Dua Bali waterblow.
Nusa Dua waterblow tourist attractions are indeed very romantic. In fact, many do pre-wedding photos there. Come in the morning around eight o'clock so you can get a quiet feel, because during the afternoon and evening this area will be crowded with visitors.
You don't have to pay anything to get in there. Not even a parking fee is charged. This of course will save you both travel costs. The location is in the area BTDC Nusa Dua Bali. Prepare the best camera to capture romantic moments together.
Read also:
3. Tegal Wangi Beach Jimbaran
4. Bedugul Botanical Gardens
5. Tegalalang Rice Terraces Ubud
6. Canggu White Wood Beach Bridge
7. Penatahan Hot Springs
8. Penglipuran Bangli Tourism Village
9. Atuh Beach Nusa Penida
10. Turtle Island
Honeymoon in Java
The island of Java is also no less beautiful than Bali. Even though Java is already very densely packed with people, there are many cool places on this island that you can explore with your partner while on your honeymoon. Here are some recommendations.
1. Bromo Tengger Semeru National Park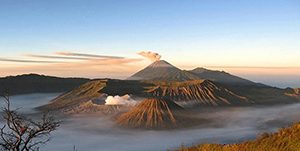 Romantic and Cheap Honeymoon Places, Who doesn't know Mount Bromo? This tourist mountain in East Java may even have often appeared in magazines and on television. Its beauty is undeniable.
In addition, this area can be easily reached, which can be from the south (Malang) or north (Pasuruan, Probolinggo, even Lumajang). Good road access will make it easier to get there.
Besides Mount Bromo, in TNBTS there are still many tourist attractions that are suitable for honeymooners. There are several hills, waterfalls, Mount Semeru, pine forests, and much more. You and your partner can also visit these attractions at will. So if you live in East Java, visit TNBTS for your honeymoon.
2. Karimun Jawa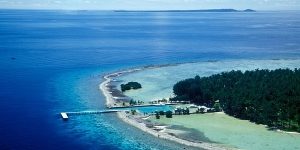 The Karimun Jawa Islands are one of the tourist sites that are synonymous with beach tourism. Its location is in the north of Java Island and is directly adjacent to the Java Sea, namely in the district of Jepara. Karimun Jawa has a group of 27 islands. In total, the total area of ​​the islands is 111,625 hectares.
Karimun Jawa is suitable for you and your honeymoon couple. There, the two of you will be presented with the beauty of the beach and also beautiful views from under the sea. You and your partner can dive to meet the underwater habitat directly.
In addition to the sea, there are also some land tours that are no less enchanting. If you and your partner like to explore the forest, then you can track the mangrove forest while enjoying the typical mangrove scenery.
For lodging problems, there is no need to worry, because there are lots of lodgings that you can order, from low prices to high prices. Choose a very romantic inn for you and your partner.
Read also:
3. South Malang Beach
4. Dieng Plateau
5. Yogyakarta Tourism City
6. Attractions in Madura and Surrounding Areas
7. Batu Tourism City
8. Mountain Tour in Bandung
9. Bogor Peak
10. North Coast of Jakarta
Honeymoon in Lombok
Apart from Java and Bali, Lombok is now also starting to develop well. This will also contribute to income from tourism. Lombok is also famous for its beauty, therefore this location can be visited for a honeymoon. Here are some tourist attractions in Lombok that must be visited while on their honeymoon there.
1. Kuta Beach Lombok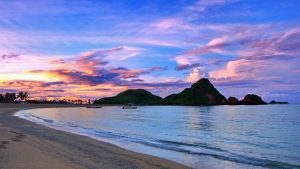 Kuta Beach is not only in Bali. But Lombok also has Kuta Beach. This beach is also very beautiful and very romantic for you and your partner.
Kuta Beach Lombok has a stretch of white sand that is very clean. The coastline is wavy. The good news, Lombok's Kuta Beach is not as busy as Bali's Kuta Beach. So that the impression of privacy will be more awake.
Like Kuta Beach in Bali, Kuta Beach Lombok offers a beautiful sunset view. In addition, those of you who like water sports can play surfing, even diving (snorkeling). This beach is one of the beaches that must be visited in the afternoon in Lombok.
2. Gili Trawangan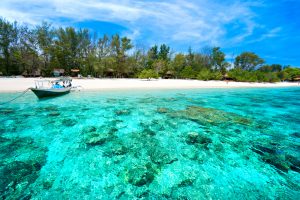 Romantic and Cheap Honeymoon Place, Who doesn't know Gili Trawangan? This island is the best location for partying all night with your partner on their honeymoon. If you and your partner really like culinary tourism, then this island will also be of interest to both of you. This island also never sleeps, so you and your partner can spend the night.
Gili Trawangan also keeps a variety of amazing marine beauty. Around the shoreline, there are so many fresh seafood that can be enjoyed romantically. In addition, there are also many Lombok specialties that can be tried.
There is also a shopping tour in the form of an art market that provides many souvenirs, souvenirs, and other art objects. Although you and your partner don't like to party until late at night, there are still many things to enjoy.
Read also:
3. Gili Meno
4. Gili Air
5. Sendang Gile Waterfall
6. Mount Rinjani
7. Gili Nanggu
8. East Lombok Pink Beach
9. Senggigi Beach in West Lombok
10. Sembalun in East Lombok
Honeymoon in Sumatra
The island of Sumatra is also often used as a destination for tourists who want to honeymoon. No wonder, because this island also holds a variety of natural wealth which is also famous. Here are some places that you can visit on your honeymoon.
1. Bintan Island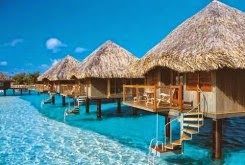 Indonesia, which is an archipelagic country, has many islands that are worthy of being used as a location to spend a honeymoon. One of the charming islands in Sumatra is Bintan Island.
Bintan Island is one of the islands in the Riau Archipelago, which is more precisely located in Tanjungpinang City. Although the popularity of this island is not like Bali or other small islands in Lombok, the charm of Bintan Island is no less beautiful.
The beach atmosphere on this island is very cool and it is guaranteed that you and your partner will feel at home. The beach on Bintan Island looks so luxurious and exclusive. This is because this island has not been visited by many people. But don't worry, because on this island there are many inns or resorts for you and your partner.
2. Lake Toba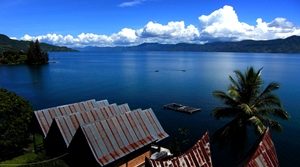 Romantic and Cheap Honeymoon Places, namely Lake Toba, are already famous throughout the world. Seen from the number of foreign tourists who come there. Lake Toba is also one of the best places for a honeymoon.
The natural beauty of Danaj Toba is complete with the presence of Samosir Island. The expanse of blue and very calm water is indeed suitable to accompany your romantic atmosphere with your partner. Moreover, there are many green trees which are very soothing to the eyes.
You and your partner can go on a boat, fishing, and culinary tour. You can also cross to Samosir Island and learn about the culture there. All of this will provide a memorable experience for you and your partner. You can also stay at a cool resort there.
Read also:
3. Lake Maninjau
4. Mount Kerinci
5. Mentawai Islands
6. Mount Sibanyak
7. Lagundri Beach
8. Pulau Weh Sabang
9. Lampuuk Beach
10. Rubiah Island
Other Honeymoon Spots in Indonesia
Raja Ampat Papua
North Maluku Clean Water
Komodo island
Ora Maluku Beach
Liang Ambon Beach
Derawan Island
Kelimutu National Park
Ende Flores
Atambua
Bunaken
Tana Toraja
Cenderawasih Bay National Park
Lake Sentani
Baliem Valley
Moyo Island
That's a list of Romantic and Cheap Honeymoon Places in Indonesia that you can visit with your partner. Congratulations on choosing and determining which objects are suitable for you and your partner. Happy honeymoon and have a nice honeymoon.