Want to go on a culinary tour? Maybe Semarang is one of the cities that is suitable for fulfilling culinary tourism. This city in Central Java is indeed famous for a variety of delicious and distinctive foods. Many tourists also come to Semarang to taste various Semarang specialties. If you are interested, maybe you can visit some of the following delicious restaurants in Semarang.
Read also:
1. Loenpia Gang Lombok
The first good place to eat in Semarang is Loenpia Gang Lombok. This place to eat even its name is well known to foreign countries. As the name suggests, the food sold here is a typical Semarang food, namely spring rolls. There are two types of spring rolls sold, namely wet spring rolls and dry spring rolls.
If you stop by Semarang, it won't be complete if you don't visit here and taste this typical Semarang culinary. The address is at Jalan Gang Lombok No. 11, Purwodinatan, Central Semarang, Semarang City. Opening hours are daily from 8am to 5pm.
You can taste large spring rolls filled with bamboo shoots, dried shrimp or shrimp, or scrambled eggs. This Semarang specialty food does have a distinctive smell from the bamboo shoots. But that is precisely the attraction.
2. Primarasa Grilled Chicken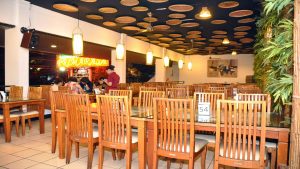 Do you like grilled chicken? Maybe this one place is suitable for your tongue while traveling in Semarang. Yes, this is Primarasa Grilled Chicken Restaurant. The location is on Jl. Gajahmada No.99D, Miroto, Central Semarang, Semarang City.
If you want to visit this place, you can come from 7 in the morning to 10 in the evening. The food menu offered here is a typical grilled chicken menu. In addition, this restaurant's mainstay menu is peps milkfish, complete with spicy spices and delicious vegetables.
The drink menu is also typical of Central Java and can be enjoyed. Some typical Javanese drinks that can be enjoyed there are dawet. However, other drinks such as young coconut ice, soft drinks, chocolate, and others can also be enjoyed there. The place is also very distinctive and will remind you of grandparents' houses in the village.
3. Banyan Shop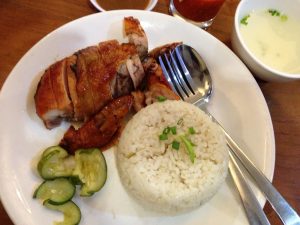 Kedai Beringin is one of the restaurants that is very crowded, especially during meal times. Reportedly this is because the food menu has many choices and everything is delicious. In fact, because of the crowd, to have lunch there, visitors must be willing to queue or even make a reservation beforehand.
The location is on Jl. Imam Bonjol No.114, Sekayu, Central Semarang, Semarang City. While the opening hours are from 8 am to 9:30 pm. If interested, try to make a reservation there.
The menu offered at Kedai Beringin is also very much. However, the best-selling menu and the most preferred by visitors are chicken and duck. The food is served very simply with a simple arrangement. But the taste is guaranteed to be very tasty and delicious. There is also a Chinese food menu that you can try.
4. Cimory on the Valley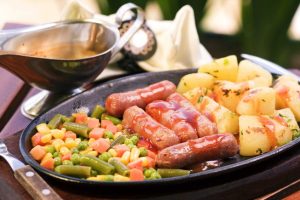 This one place to eat is quite unique because it has an open concept. Initially this place was a place for processing cow's milk, but now it has added facilities in the form of a restaurant that has a good taste.
Because it is a cow's milk processing industry, its location is quite far from the city center of Semarang. However, the location is still accessible. The exact position of this restaurant is on Jalan Raya Soekarno Hatta KM 30 Bawen, Semarang Regency. If you want to visit there, you can come from 9 am to 9 pm.
The food menu served at this restaurant is also quite numerous and varied, ranging from Indonesian and Asian oriental food menus, to western food menus. The appearance of the food is also very tempting and tastes good too.
Read also:
5. Trattoria Semarang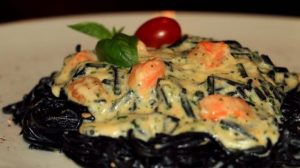 If you want to taste something unique but still delicious, this may be the place for you. The location is at The Vee Building, Jalan Gajah Mada, Brumbungan, Central Semarang, Semarang City. Opening hours are from noon to midnight.
The uniqueness of this Trattoria Semarang is that it presents a menu of Italian specialties that still displays a distinctive Italian taste. This restaurant is even the first Italian restaurant in Bali which has now opened branches in several Indonesian cities, including Semarang.
If you want to experience authentic Italian pizza and no frills Indonesian taste shift, then come here. In addition there are also other Italian specialties such as pasta. In addition, there are other food menus that are no less delicious. Curious to feel an Italian menu that really tastes Italian? Please come there.
6. Spiegel Bar & Bistro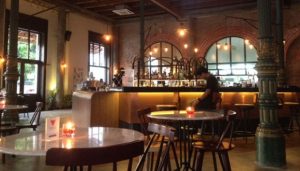 If you want to visit the old city of Semarang while having a culinary tour at a restaurant around there, then stop by this place. There you will get a menu of typical European food. In addition, this restaurant occupies a Dutch colonial building. So the typical European atmosphere combined with the feel of the old city will feel right.
To find this restaurant is not difficult because it is opposite the Blenduk Church, Semarang. More precisely at Jalan Lieutenant General Suprapto No. 34, Kota Lama, North Semarang.
This restaurant has been around for a long time. The name Spiegel itself is taken from its owner during the colonial period, H. Spiegel. The food menu offered there is a typical and delicious European food menu. While enjoying the food, visitors can also enjoy the classic and vintage atmosphere of Amsterdam.
7. Goodfellas Restaurant & Bar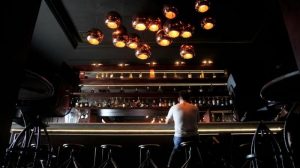 Besides Spiegel Bar & Resto, another good restaurant in Semarang that carries a European concept is Goodfellas Resto & Bar. This restaurant building occupies space on Jl. Gajah Mungkur Selatan No.11, Petompon, Gajahmungkur, Semarang City and is open from 10 am to midnight.
In addition to the restaurant there is also a meeting room and several other facilities. The interior of the building is very well designed and vintage, reflecting a distinctively majestic and classic European atmosphere. Whether night or day, this place will look in accordance with the concept presented.
This place is perfect for hanging out with friends or family. The food menu served is a western menu. For those of you who like a cool colonial atmosphere and want to spend time in that place, come to this Goodfellas Resto & Bar.
8. Sea Village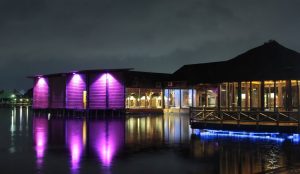 Want to enjoy eating on the water while fishing? This is a restaurant that fits the concept. This Kampung Laut restaurant is a place to eat that is designed with the concept of eating on the water and has a fishing pond.
In addition, the atmosphere is designed very cool. At noon, many people have lunch there to relieve fatigue for a moment. At night, people who come there aim to have dinner while enjoying the atmosphere of Semarang at night.
The location is at Puri Maerokoco Jl. Anjasmoro Tawang Mas, Semarang City. Opening hours are from 10 am to 10 pm. This restaurant is suitable for spending quality time with family. The food menu served is a typical pond fish menu. In addition there are also other menus such as spare ribs and a variety of delicious vegetables.
9. Lekker Paimo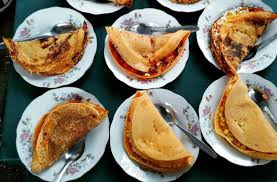 This one place to eat may not be a pretentious restaurant and classic concept like before. It's just a simple place. However, there are many visitors and customers. This is Lekker Paimo, one of the places that sells the best-selling and delicious lekker snacks in Semarang.
The menu offered is lekker which has many flavors. The price offered is also very cheap, less than 10,000 per portion for the regular variant, and approximately 20,000 per portion for the cheese variant. This place to eat is suitable for you students or backpackers who want to spend time in Semarang for culinary tours.
The location is on Jl. Karang Anyar No.37, Brumbungan, Central Semarang, Semarang City and is open only from 10 am to 5 pm. Get there before they run out.
10. KoenoKoeni Cafe Gallery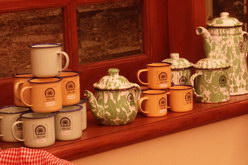 KoenoKoeni Cafe Gallery is a restaurant that has a Javanese concept plus a Western food concept. It can be seen from the food menu served there, most of which are Javanese menus and Western menus.
If you like mixed rice, then this place is the right place to enjoy this dish. In addition, there is also the typical lontong cap go meh and several other menus such as fish, lodeh rice, gudeg, and other Javanese specialties. For the Western food menu, there are several preparations from mushrooms, meat, and many more.
The concept of interior arrangement is an ancient or old school concept. The building occupies a joglo model building. The location is at Jl. Tabanan No. 4, Tegalsari, Candisari, Semarang City, and is open from noon to midnight.
Read also:
In addition to some of the good restaurants in Semarang that have been mentioned above, here are some lists of other good restaurants or places to eat in Semarang that you should try.
Milkfish Juwana – Elrina (Pandanaran)
Warung Asem-Asem Koh Liem
Soto Kudus Mbak Lin
The Tavern
Kampoeng Kopi Banaran
Gama Grilled Fish & Seafood
Lunpia Delight
Rainbow Cafe
Soto Ayam Bokoran Semarang
Tong Tji Cafe Lobby Hotel Hom Semarang
Cianjur Grilled Fish
Restaurant Taste
Sate & Goat Gule 29 Blenduk
Mr. Supar's Fried Chicken
Kali Kampung Fried Chicken
Soto Bangkong
Loenpia Mbak Lien
Nestcology
Rodjo
Horapa Seafood & Thai Kitchen
A to Z Bar, Wine, Brasserie
Bakmie Hap-Kie
Chung Gi Wa Korean BBQ
P Karmin tripe fried rice
Sasono Bakmi Djowo Pak Doel Noemani
Tekodeko Koffiehuis
Keboen Party
Shabu Auce
Pak Untung's Fish Head Curry
The Salt
Marugame Udon Paragon Mall
Fried Ajam Lombok Idjo
Rustico Kitchen and Bar
Mrs. Nyoto's Chicken Rice
De'Sushi
Met Duck
Lunpia Express
Cianjur Grilled Fish
Milkfish Juwana – Elrina (Pamularsih)
Holiday Restaurant
Indonesian taste
Steak Hotel by Holycow!
Shabu Zen
Seoul Palace Korean Restaurant
Soto Selan
Read also:
Those are some good restaurants in Semarang that you can visit with friends and family to get a taste and a distinctive Semarang atmosphere that gives an impression. Hopefully this article is useful and happy holidays.