It is possible that many of you who have lived in Metropolitan Jakarta for a long time think that this city only contains boring skyscrapers so that you are reluctant to look at it, let alone to immortalize it. Or those of you who don't live in this city feel that Jakarta is like having a view that is not unique or special, and visiting it only for work purposes, visiting relatives or just shopping.
Read also:
But did you know that the city of Jakarta has many unique spots, so it would be a shame if you missed it and didn't capture it in a photo. It could be that you see this spot or you pass by every day but you haven't been able to capture its aesthetic. Where are the interesting spots? Let's explore the capital by taking a peek at the 52 best photo spots in Jakarta:
Read also:
1. Root House
Of course, the most unique location as well as the sexiest photo spot is the Kota Tua area in Jakarta. Old and authentic buildings and historical museums are the perfect spots for photography lovers.
If you want more spots, enter several museums and buildings within the area, one of which is the Root House. You can see the roots of the trees that penetrate a house building.
By utilizing sunlight, you will get amazing photos in this area of ​​the house
Read also:
2. Old Town & Fatahillah Square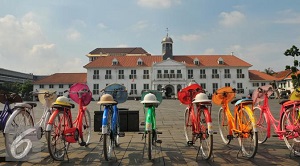 If you don't want to enter one of the buildings in this area, the atmosphere around it is also able to present a vintage impression which is actually very sexy for photography lovers. Please walk around and capture the uniqueness in your camera.
Read also:
3. Beautiful Kapuk Beach Mangrove Forest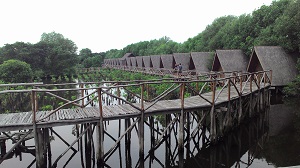 This location is one of the tourist sites that many Jakarta residents do not think it exists. This place is very comfortable and beautiful with mangrove forests and beautiful artificial lakes that you can explore for unique photo objects. Here you can not only relieve stress and stress but also find photo spots that are different from the others.
Read also:
4. Hotel Indonesia Roundabout & Welcome Monument
This place may be very common because it has been passed tens or even hundreds of times, but we also admit that this place is one of the most well-known spots in Jakarta and has become one of the characteristics of this city.
Many photos of the city of Jakarta, will never be complete without presenting photos in this area. You just have to choose the best point where you can capture the most beautiful and unique pictures of the Selamat Datang Monument and its HI Roundabout so that it becomes an amazing photo work.
The speed of the vehicles that seem to never recede around it will make the resulting photo even more spectacular.
Also Read:
5. National Monument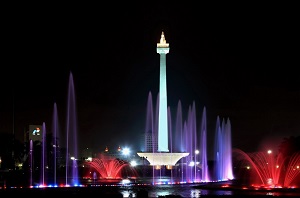 Mentioning the city of Jakarta usually people's memories will be fixed on this giant golden wax monument. The monument, whose construction began on August 17, 1961 by President Soekarno, has so many stories and is so great as a monument landmarks the city of Jakarta, even Indonesia.
Try to take a picture of this building from a unique angle that people never expected, then your photo will become a viral photo and many people are looking for.
Read also:
6. Sunda Kelapa Harbor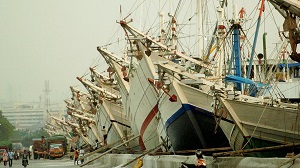 Stepping not far from the location of the old city, you can immediately find the location of Jalan Maritim No. 8 where the Sunda Kelapa port is located and here you can get uniqueness in a picture.
With an old feel accompanied by the ranks of when Phinisi are moored along the harbor, this place that has been operating since the Tarumanegara Kingdom is very beautiful. You can also capture the splendor of this harbor in your camera making people not believe that this location is in Jakarta.
Read also:
7. Inscription Garden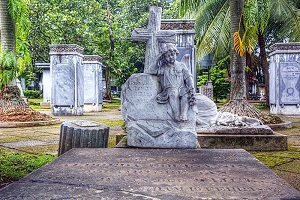 If you want a more unique photo location with a gothic and mysterious impression, please visit Taman Inscription on Jalan Tanah Abang I No.1. Although it is named Taman Inscription, but its appearance is not like an ordinary city park in general. This place is a Dutch burial ground which is currently being vacated.
Even though it was empty, this place still presented an unusual sight. There are still many neatly lined gravestones of various sizes and shapes in a typical European style. It is said that the bodies previously buried at this location were the bodies of influential VOC figures during their time. Hunting for photos in this place, without trying too hard you will get interesting photo spots and different from the others.
Read also:
8. Beautiful Indonesian Mini Park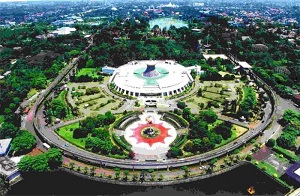 Want to travel around Indonesia, enjoy all the uniqueness of culture in an instant? Of course you can visit Taman Mini Indonesia Indah. Even though it is only a mini Indonesia, what is presented at this location really presents the authentic features of each region, so you can say that you can find thousands of cool photo spots in this place.
Not only can you take photos of houses or traditional clothes, this place also has a lake with a miniature of the archipelago. In addition, you can take photos from the Cable Car ride, the puppet palace or some of the museums that are there. Get ready to explore 150 hectares of land and find your special shots here.
Read also:
9. Menteng Park
This neat city park was previously the Persija Jakarta stadium or better known as the Menteng Stadium, before being transformed into a beautiful park with complete facilities. The park, which was initiated by the Governor of Jakarta Sutiyoso in 2006, provides facilities for futsal, basketball and children's playgrounds as well as a parking area.
If you want to hunt for photos at this location, you should manage the time well. If you need a location, please come on weekdays, while if you want to catch the activities of the residents there, please come on weekends. The location of this park is quite strategic in the middle of the city, reminiscent of Central Park in New York City, United States.
Read also:
10. The Cloud Lounge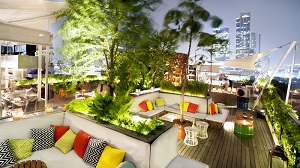 If you want to take photos of the city of Jakarta from a height, you can enjoy the super atmosphere cozy and delicious food, it could be that The Awan Lounge which is located on the rooftop of the Kosenda Hotel is the right choice.
Located on Jalan KH. Wahid Hasyim 127, Tanah Abang, Kebon Kacang, this lounge is one of the best places to visit. hangout which happening in Jakarta. For photography lovers, try this place to get beautiful photo spots in the night atmosphere of Jakarta.
Read also:
11. Car Free Day Spot Sudirman
During Car Free Day, you will feel and encounter a road situation that is much different than usual. If on a busy day, let alone being able to get a good photo spot in this place, even getting through it will be difficult.
Car free day is the right time for you to take photos around the Jalan Jendral Sudirman location as well as record our own activities while enjoying it or while exercising.
Read also:
12. Le Bridge Ancol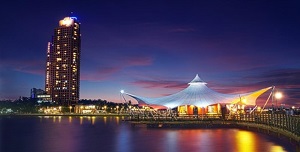 Ancol is one of the places where there are many beautiful photo spots if we pay close attention. Among the many photo spots, Le Bridge Ancol is one of them.
Here the photo spots are quite complete where there are views of the beach, wooden bridges, several ships and taking photos sunset also you can do at this location. You can also enjoy delicious food at this location because this place is a place to eat in the Ancol area.
Read also:
Of course, that's not all the best photo spots in the city of Jakarta. Here are some other locations that are perfect for you to target when hunting photos:
Parks in Jakarta that have beautiful photo spots besides Menteng Park and Inscription Park are:
Suropati Park, Jalan P. Diponegoro, Menteng
Situ Lembang Park, Lembang Street, Menteng
Cattleya Park, S. Parman Street, Tomang
Langsat Park/Elderly Park, Barito Street
Ayodya Park, Jalan Mahakam II, Kebayoran Baru
Read also:
Museums in Jakarta also have a great attraction for you to make photo hunting spots other than the National Museum, such as:
Puppet Museum, Old Town Area
Fatahillah Museum, Old Town Area
Independent Museum, Old Town Area
Onrust Island Museum, Thousand Islands
Maritime Museum, Sunda Kelapa Harbor
Textile Museum, Palmer
Herald of Culture Jakarta, Palmerah
Joang '45 Museum, Menteng
Cathedral Museum, Cathedral Church, Big Rice Field
Sasmita Loka Ahmad Yani Museum, Jalan Lembang
There are also several restaurants or places to eat that can be an option, for example:
House of Hobbit Grill & Bar, Pantai Indah Kapuk
Bong Kopitown, Kelapa Gading
Bottega Ristorante, Menara Bank Danamon, Jalan. Prof. Dr. Satrio
Strawberry Café, Grogol Petamburan
Sampireun Lake, Bintaro Sector 7
Odysseia, Pacific Place Mall, Sudirman
Jimbaran Outdoor Lounge, InterContinental Jakarta Midplaza Hotel, Sudirman
Hello Kitty Café, Pantai Indah Kapuk,
Mbah Prancing, Setiabudi
Nanny's Pavillon, several places in Jakarta
Blumchen Coffee, Fairground SCBD Lot 14, Sudirman
Hospitalis Restaurant & Bar, Gandaria
Fitzroy Gastro Bar, Kebayoran Baru
Read also:
In addition, several places to stay or hotels in Jakarta can also be interesting photo spots because they have unique and interesting concepts, such as:
Hotel Artotel, Thamrin
Hotel Maxone, Sabang
Pullman Hotel, Central Park Mall
Hotel Keraton At The Plaza, Thamrin
Morrissey Hotel Residences, Sudirman's golden triangle
Hotel Kosenda, Tanah Abang
Hotel Novotel Gajah Mada
Harris Suites, FX Sudirman
The Dharmawangsa Jakarta
POP! Hotel, Kemang
MaxOneHotels, Sabang
Amos Cozy Hotel & Convention Hall, Melawai
So, even though you are still in the hustle and bustle of the city of Jakarta, you can find millions of interesting places for you to take pictures or photo objects that are not only beautiful but also unique and different from the others. Don't give up looking for interesting photo spots in Jakarta, because actually these places are all around you! Happy hunting !
Read also: