That's how it is. The Ethnobotany Museum is in Bogor, precisely on Jalan Juanda no 22-24. The location is very close to the Palace and the Bogor Botanical Gardens. Bogor is a city that borders Jakarta. Bogor has many tourist objects, both natural tourism, educational tourism, and other tourism.
Not inferior to other cities, Bogor has special food and also a very complete shopping center. There are so many tourist attractions in Bogor. If you are tired of the urban weather full of police, then visit Bogor because Bogor has cool weather.
Many people know that Bogor is only the peak or the right place in the center of Bogor, namely the Bogor Botanical Gardens. Actually, there are still many tourist objects that you can visit. The holiday season is coming soon if you have plans for a vacation to Bogor, here are 50 cheap tours in Bogor. Listen and remember the recommendations for tourist attractions in Bogor below!
Read also:
1. Bogor Botanical Gardens
Bogor Botanical Gardens is one of the most famous tourist attractions in Bogor. The area of ​​​​the Bogor Botanical Gardens is 87 hectares, besides that, the Bogor Botanical Gardens are also very diverse in terms of plants, approximately 15,000 species of plants in this Bogor Botanical Gardens.
You can feel the fresh air in this botanical garden. Don't worry about this very spacious place, because there is a signpost at the entrance gate so you can easily get to where you want.
To enter this tourist spot you only need to pay Rp. 15,000 for domestic and Rp. 25,000 for foreign tourists. If you want to use a 4-wheeled vehicle to get around, you only need to pay Rp. 30,000 and Rp. 5,000 to get around by bicycle. (Also read: Moramo Kendari Waterfall which must be visited)
2. Zoological Museum
The zoological museum is a museum that stores various collections of preserved specimens or fossils from various kinds of animals. The location of the zoological museum is located on Jalan Ir. H. Juanda No.9. Until now the zoological museum has 24 rooms. The collections in this museum are mammals, birds, reptiles, fish, amphibians, insects, invertebrates, almost all types of preserved specimens and also animal fossils can be found in this museum.
Read also:
3. Museum of Ethnobotany
The ethnobotany museum is located on Jalan Ir. H. Juanda No. 22 – 24 is quite close to the zoological museum. Ethnobotany comes from two words, namely Ethnology which means the study of culture and Botany, which is the study of plants. So ethnobotany is the study of the relationship between humans and plants.
In the ethnobotany museum you can see various photos of Bogor in the 1920s or 1930s. Some of the collections in this museum include batik made with natural dyes, besides that there are several rooms consisting of a spice room, a tempoe doloe work room, a spice history room, an archipelago green gold room.
At the end of the room there are several stands that present types of tubers from the cross and can also see various batiks. In addition to plants, there is also a collection of various kinds of regional crafts whose basic ingredients are rattan such as fishing rods, musical instruments, and tools used on a daily basis. And there are also various kinds of objects made of plants. Don't worry about budget problems to enter this place, because to enter this place is free. (Also read: Curug Cilember)
4. Malimping Lake
Talaga Malimping tourism object is one of the objects located in Ciades village, Cigompong district, Bogor regency. Various facilities have been provided for visitors ranging from gazebos, fishing grounds, music studios, tents, lodging, culinary, and many more.
With a variety of complete facilities make visitors feel comfortable on vacation in this place. To enter this place you only need to pay Rp.2,500/person not including the cost of the rides. Each ride has its own rate and for sure the price of each ride can be said to be cheap. (Also read: gitgit waterfall)
5. Mekarsari Park
Mekarasari tourism park is a family tourism place for gardening. Starting from fruits, vegetables, flowers and also ornamental gardens in this tourist spot. Mekarsari tourism park is located in Cileungsi Jonggol, Bogor Regency. The facilities at this tourist spot are very complete so this place is suitable as a place for family recreation.
The entrance ticket price is IDR 25,000 for weekdays and weekends, while for national holidays it is IDR 30,000 / person. Ticket prices offered vary depending on which package we will take. Immediately visit the Mekarsari tourist park when the holiday season has arrived.
6. Alessano Hill
Alessano Hill is located in the village of Cijeruk, Bogor. Alessano Hill until now there is no official party that manages it, so there is no official fee to enter this tourist spot. The existing facilities in this place are still in the process of being developed. This place is perfect for you nature lovers, because Alessano Hill is one of the camping spots that you must visit.
7. Bidadari Waterfall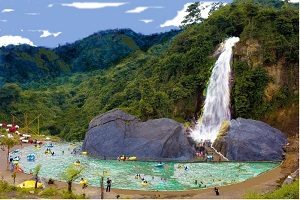 Bidadari waterfall is located in Sentul, Bogor city. This tourist spot is surrounded by Mount Salak and Mount Mas. This angel waterfall opens at 08.00 WIB for the entrance fee to this tourist spot, which is Rp. 30,000 / person and Rp. 5,000 for parking fees.
After paying the entrance ticket, you have to walk to get to the waterfall. Various beautiful scenery is served in this place, starting from hills, rice fields, fields, and also looks like Mount Salak.
Swimming pool facilities are also available at this tourist spot with water coming from the angel waterfall. Various rides are already available such as flying fox, and other water rides. What are you waiting for, immediately take a vacation to this angel waterfall.
8. Mount Pancar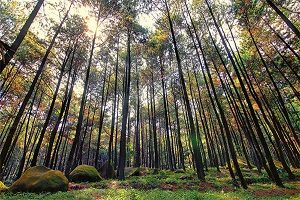 Mount Pancar is located in Citeureup, Bogor regency. You can enjoy the beauty of the pine forest and also the very cool weather in this place.
This place is very suitable as a vacation spot to get rid of tired work and also the hectic life in a big city. Inside the pine forest, there is also a cafe with a natural feel.
This pine forest is not only used as a place for camping, many also make this place for pre-wedding. Another facility from Mount girlfriend is a warm bathing pool.
9. Curug Cotton
Curug Cotton is located on Jl, Gunungwangun, Cibadak, Bogor. This waterfall has very clear water. To enter this place you only need to pay Rp. 15,000/person. Invite your friends and family to enjoy the beauty of this cotton waterfall.
Read also:
10. Sindangbarang Cultural Village
Vudaya Sindangbarang Village is located in Tamansari District, Bogor Regency. This place is the oldest village in the Bogor area. In ancient times there was the Sindangbarang kingdom. In this Sindangbarang cultural village, there are 8 kinds of Sundanese arts, and once a year a traditional ceremony of Seren Taun is held. This place is very suitable to be visited to preserve Indonesian culture.
11. Tree House & Hanging Wooden Bridge Curug Ciherang Jonggol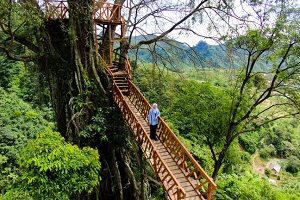 For those of you who have a hobby of taking pictures, you must visit this tree house because it has beautiful photo spots. This tree house is located in Pabangon Village.
With a very beautiful view and also a very cheap ticket price of Rp. 5,000/person, this place is a must for you to visit.
This place is perfect for you to visit on your weekend, and this place is also the most unique place and very suitable for you who are very contemporary. With a low standard entry price, you can get tourist attractions that smell of nature.
12. Matahari Tourism Park
Matahari tourism park has many rides including flying fox, ATV adventure, mini outbound, etc. Sun tourism park is located at the peak, Bogor. To enter this tourist spot, you need to pay Rp. 15,000 / person, not including the ticket for each ride. (Also read: Curug Parigi Bekasi)
13. Big Situ
Situ Gede is located in Situgede, Bogor. There, there is a forestry research center because in this place there are many natural forests. This place is perfect for those of you who have a hobby of fishing. Don't worry about budget problems, you only need to pay Rp. 4,000/person to enter this tourist spot.
14. Pura Parahyangan Agung Jagatkarta
Parahyangan Temple is the largest temple in Java. This temple was built in 1995 and is a place to hold Hindu religious rituals. Natural beauty is served along the way to the temple of Parahyangan. When visiting this place there are rules that you must obey.
15. Eco Park Ah Poong
Ah Poong Eco Park is located in Sentul, Bogor. This tourist spot has a concept like a floating market. Various foods are available ranging from Sundanese food, Javanese specialties, and also various other dessert drinks. You can enjoy food on the boat or in the usual place. For transactions you must have a special card for the purchase process. Visit this place soon. (Also read: Medan Culinary Tour)
16. Cibodas Botanical Gardens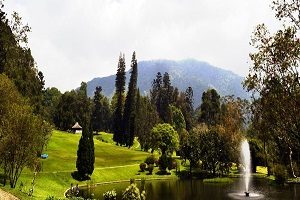 Cibodas Botanical Gardens is one of the cheap tourist attractions in Bogor. Cibodas Botanical Gardens is located at the foot of Mount Gede Pangrango. There is a small lake and also various plants in this tourist spot.
The cool air and beautiful scenery make us comfortable on vacation in this place. This place is perfect for doing various outdoor activities such as camping, outbound, etc.
This place is very familiar, because you can visit this tourist spot with your friends or with your family. With a low standard entrance fee, you can enjoy a very green natural atmosphere and can make your mind calm.
17. Little Venice, the City of Flowers, Puncak Bogor
Little Venice is located in Puncak, Bogor. This place provides various rides such as gondola, rubbet boat, Mississippi ship, etc. This place is widely used as a place for pre-wedding photos. To enter this tourist spot, it starts from Rp. 25,000 and Rp. 35,000 for rides.
Read also:
18. Green Lagoon Halimun
This tourist spot is a nature reserve consisting of various protected flora and fauna species. Green Lagoon Halimun is located in Citalahab, Bogor. There are various facilities such as mountain biking, hot springs, and waterfalls. Visit this Halimun green lagoon right away. (Also read: Cikaso Waterfall)
19. Eagle Lodge Sanctuary
One of the places that you must visit when visiting Bogor is the Loji Eagle Sanctuary. The Loji Eagle Sanctuary is located on Mount Halimun, Loji village, Cigombong sub-district. To get to this place you need to struggle because the road is still rocky. But don't worry, your struggle to get to this place will be paid off with the stunning natural beauty of this eagle lodge sanctuary.
20. Leuwi Lieuk
Curug Leuwi Lieu is one of the natural attractions that has an enchanting beauty. This nature tour is very popular and very cheap to enter this tourist spot.
Warso Farm
Mount Munara Rumpin
Barong Waterfall
Hordeng Waterfall
Jonggol Rock Mountain
Tirta Sanita Ciseeng Hot Spring
Cibaliung waterfall
Map Museum
Cibalung Happy Land
Soil Museum
Archipelago Flower Garden
Lake Dora
Cisadane River Rafting
Ciparay Hot Spring
Curug Cikoneng
Ah Poong Market
Jungleland Theme Park
The Highland Park Resort
Sakura Park, Cibodas Botanical Garden
Giri Jaya Cariu Deer Breeding Bogor
Peak Color Lake
Melrimba Garden
Ciburial Waterfall
Klapanunggal Limestone Mountain
Cilember Waterfall
Green Lagoon
Jackfruit waterfall
Water House Bogor Nirwana Residence
Fly Indonesia Paragliding
Apache Indian Camp
Ciapus Waterfall
Curug Cikaracak
So, those are 50 recommended tourist attractions when you are going on vacation to Bogor. Remember to stay healthy and always check the vehicle when going on a vacation trip out of town. Hopefully this article can help find tourist attractions in Bogor. Happy Holidays.