Bogor is one of the cities that is famous as a rainy city. In addition, this city is also famous as a tourist city that is often visited by tourists from the capital city when the long vacation has arrived. This is because Bogor does have a beautiful panorama. In addition, the distance from Jakarta which is not so far makes Bogor often crowded during the holiday season.
People who vacation usually intend to hunt photos. For those of you who want to find photo spots, here are some recommendations for hunting places in the Bogor area that must be visited. Especially by young people who really like contemporary and cool photos.
1. Fly Indonesia Paragliding
Fly Indonesia Paragliding is one of the hunting places in Bogor that can be visited while traveling. Especially for adrenaline lovers from a height, namely paragliding.
There, tourists can try paragliding. A beginner can also try it and fly while enjoying the natural scenery. Don't worry if it's your first time trying it because there will definitely be an accompanying instructor.
If you don't want to try paragliding, the atmosphere around Fly Indonesia Paragliding is beautiful enough to be immortalized as a cool hunting spot in the Bogor area. Try to come there from 9 to 5 pm to enjoy the view.
Read also:
2. Leuwi Lieuk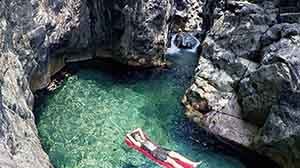 The next hunting spot in Bogor is Leuwi Lieuk. Leuwi Lieuk is a hunting location that is suitable for those of you who like water and natural nuances. Of course the resulting photo will be very beautiful.
Leuwi Lieuk's location is in Madang District, Kab. Bogor. You will find something unique when you stop by there, namely a puddle from the river flanked by high rocks.
Besides hunting, tourists who come can also swim and play in the water there. Of course, the scenery that will be obtained is very unique and may not exist anywhere else.
3. Sindangbarang Cultural Village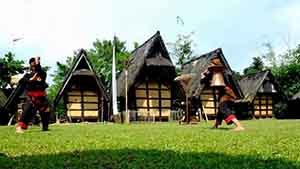 If you want to find another unique hunting place in Bogor, maybe Sindangbarang Cultural Village is the right place. Especially if you want to find the theme of cultural photos.
In Sindangbarang Cultural Village, you will find some relics from the Pajajaran Kingdom. In addition there are also some typical Sundanese arts that can be seen.
Sindangbarang Cultural Village also has a natural beauty that is not inferior to other places because it is located in a very shady and green area. However, to enter there you have to pay a ticket which is quite expensive, which is IDR 55,000.
4. Little Venice Peak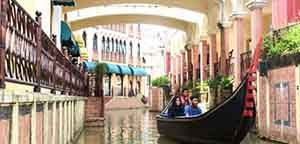 Ever heard of Venice in Italy? If you have, then maybe you will be curious about the uniqueness of the city. The city is said to have stood on islands which were then connected by canals and bridges.
Now you don't have to go all the way to Italy to see it. Just stop by Little Venice Puncak Bogor. There is a miniature of the city of Venice which is designed similar to the original.
Little Venice Puncak can be one of the best places for photo hunting in the Bogor area because it has a uniqueness that doesn't exist anywhere else. You can also take a boat to get around.
Read also:
5. Mongolian Camp
One more place for hunting in the Bogor area that can be visited for those of you who like to hunt for photos at tourist attractions. This is the Mongolian Camp that will remind you of the Mongolian-style camping scenery.
The location of the Mongolian Camp is at the foot of Mount Salak. The name of the Mongolian Camp was taken from the atmosphere and shape of the existing tents. In addition, to travel there, you can get a beautiful view because it is still at the foot of the mountain.
Mongolian Camp has a cool and relaxing temperature. Of course it will not make you tired and hot because of the existing temperature. You and your friends are free to linger there with cool temperatures and spoil the eyes.
6. Giri Jaya Deer Captive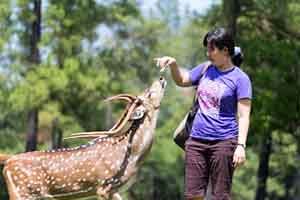 No need to go far to do cool hunting. It turns out that this 25-year-old tourist attraction is also cool to visit while taking photos.
The Giri Jaya Deer Captivity is one of the tourist attractions that has deer habitat. Even you and other tourists can interact directly with the deer that are there, such as feeding and also taking pictures together.
For you animal lovers, the Giri Jaya Deer Captive is a cheap place and deserves to be visited. In addition, there are also campgrounds and outbound facilities that you can try.
7. Bread Hill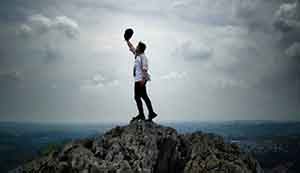 Bukit Roti is one of the names of a hill that is quite close to the center of Bogor. To get there and take photos there, it only takes a journey of 45-60 minutes.
The best view is at the top of the hill. To get to the top it is necessary to do a little effort, namely trekking or climbing. But of course the view up there is a fair price for the fatigue.
This hill is actually a limestone hill and is also one of the former limestone mining sites that still exist today. The view from the limestone hills combined with the natural scenery there will amaze you.
Read also:
8. Lake Dora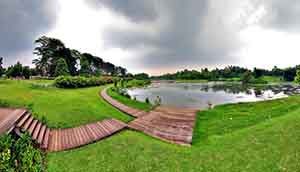 The lake is a tourist attraction which is always interesting to visit. Lakes are usually surrounded by greenery. The calmness of the water around the lake will also spoil the eyes.
Likewise with Lake Dora. Lake Dora is one part of the Bogor Botanical Gardens area. The location is certainly easy to find because it is still in the city area.
This place is really beautiful and interesting to visit and be used as a hunting ground. In fact, there are also many people who carry out the pre-wedding photo process in this place. The cool nuance with panoramic views of natural trees will spoil the eyes and make the photos very interesting and natural.
9. Cibodas Sakura Park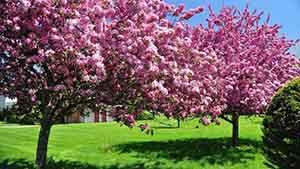 Another cool place to be used as a hunting location in the Bogor area is the Cibodas Sakura Park. As the name suggests, this location will remind you of cherry blossoms in Japan, because there are Sakura plants planted there.
You can take pictures as if you were in Japan. Of course, the type of cherry that is planted is a little different from the cherry blossoms in Japan. The types of sakura planted are Prunus yamasakura and also Prunus arborea.
To enjoy the cherry blossoms in bloom, come during January-February and also during July-August. And get the best photos with the background of the blooming cherry blossoms.
10. Quarry Lake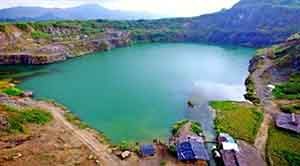 Quarry Lake is one of the tourist attractions whose name has recently become popular. But now there may have been many tourists who have started to come there.
This relatively new tourist attraction is indeed interesting to visit. There created a beautiful lake from the former activities of sand mining in the past.
Calm water combined with a clean environment will make the photos interesting. The location of this lake is in Cigudeg District. To enter there, the fare is only Rp. 2,000.
11. Two Stories Cafe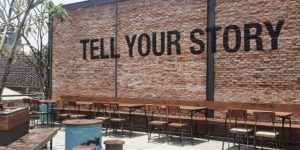 In addition to the natural and cultural attractions above, several cafes or places to eat in Bogor are also modern to be used as hunting places as well as places to hang out with friends.
One such place is the Two Stories Café. The uniqueness of this place can be a cool photo spot or hunting spot, especially if you visit it at night.
Many photos are scattered on social media that describe the uniqueness and beauty of this place. If you are curious, just come to Jalan Padjajaran Indah.
12. Yellow Truck Cafe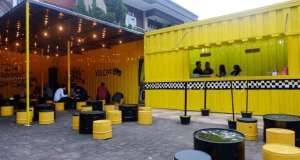 Besides Two Stories Cafe, another place to eat and hangout in Bogor that can also be used as a modern hunting location is Yellow Truck Safe.
As the name suggests, this place has an accounting warning concept and also uses decorative elements like a truck body. In addition, the seats and tables also come from recycled barrels.
if you are curious and want to hunt there, just come to Jalan Dr. Semeru No. 102. The mainstay menu of this place is snacks at friendly prices and of course very cheap.
Read also:
Those are some hunting spots in the Bogor area that you can visit. In addition to some of the places described above, the following places are also worthy of being used as cool hunting locations with family or friends.
The Jungle Water Adventure
Cilember Waterfall
Archipelago Flower Garden
Bogor Botanical Garden
Great Cave of Garunggang
Tree house around Ciherang waterfall
Ciparay Hot Spring
Water House Bogor Nirwana Residence
Hordeng Waterfall
Cibaliung waterfall
Mount Pancar
Ah Poong Floating Market
Mount Gede Pangrango National Park
Warso Farm
Matahari Tourism Park
Big Swamp
Peak Tea Mountain
Indonesian Safari Park
Alesano Hill
Matahari Tourism Park
Tirta Sanita Ciseeng Hot Spring
Cigamea waterfall
Bogor Botanical Garden
Jagatkartta Great Parahyangan Temple
Megamendung Tourism Area
Curug Bengkok Leuwi Hejo
Ciburial Waterfall
Jungleland Adventure Theme Park
Cisadane River Rafting
Tirta Sanita Ciseeng Hot Spring
Sentul Angel Waterfall
Jackfruit waterfall
Mekarsari Park
Oktias Brasserie
Big Situ
Princess Kencana Waterfall
Zoological Museum
Maarcopolo Adventure
Zamzam Tirta . Swimming Pool
Riung Mountain Park
Those are some hunting spots in the Bogor area that you can visit, both with the concept of nature, culture, and the concept of a contemporary city in the Bogor area and its surroundings. Prepare your best camera and visit the place that suits you. Happy hunting