The holiday season will soon arrive, of course, vacation moments are the most valuable moments because they can gather with family. Bandung is one of the cities that are often chosen as a place for vacation, Bandung is known for its very beautiful natural attractions as well as shopping and culinary places.
No wonder if Bandung continues to be the choice for a vacation. Cool weather and beautiful scenery are one of the destinations for tourists, Bandung is usually visited by people who live in urban areas. For those of you who are confused when you go to Bandung where to go on vacation, see about cheap tours in Bandung below.
Read also:
1. White Crater
Kawah Putih is a tourist attraction located in Andung Regency, precisely in Ciwidey, approximately 50 KM to the south of the city of Bandung. Kawah Putih is a natural tourist spot that was formed due to the eruption of Mount Obedi.
The soil or sand around the white crater is white, the lake water is greenish white. Kawah Putih is located at an altitude of 2400 masl, therefore the temperature at Kawah Putih is quite cold with temperatures between 8 to 22 degrees Celsius.
The beauty of the natural scenery is very good as a place to take pictures and also for refreshing. The entrance ticket price is 15,000 per person, not including parking fees. For more details about the White Crater, read Bandung Tour, Ciwidey White Crater.
2. Situ Patenggang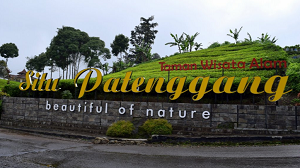 Just like the white crater, Situ Patenggang is located in Ciwidey, Bandung Regency, West Java. Situ Patenggang is a lake located at the foot of Mount Obedient, this lake is located at an altitude of 1600 meters above sea level.
The view of the green tea plantations and also the cold weather makes us even more happy on vacation in this place. You can also go along the lake by boat and in the middle of the lake there is a love stone. This lake was used to shoot one of the famous films in Indonesia, namely my heart.
The ticket price for weekdays is Rp.18.000, while for foreign tourists it is Rp.135.000 and for weekdays Rp.20.500 while foreign tourists are Rp.185.000, the ticket price does not include parking. (Also read: Green village gedangsari)
3. Ranca Upas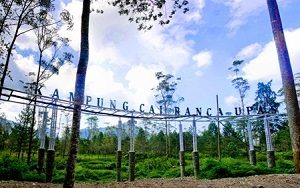 Ranca Upas is located in Ciwidey, Bandung Regency, West Java. Ranca upas is a protected forest area and as a place for plant and fauna conservation such as deer.
This tourist attraction is located at an altitude of 1700 meters above sea level so the air temperature is quite cold. The facilities provided are camping areas, deer breeding, outbound, hot spring pools and also a water park water park.
The entrance ticket price is IDR 10,000 per person for each ride, the cost is different, not including parking. (Also read: Eid holiday tips)
4. Cimanggu Hot Springs
Cimanggu hot spring is located in Ciwidey. This hot spring water comes from Mount Obedi, even though the weather is very cold, the water is still hot. Cimanggu is located in the same village as Situ Patenggang. In addition to bathing, there are various children's play areas.
It is said that by soaking in this hot tub can treat various skin diseases. For those of you who come all the way, don't worry, there are various kinds of lodging at relatively cheap prices. Only with Rp. 5,500 you can enter this hot spring pool. (Also read: photo spots in Bali)
5. Bosscha Observatory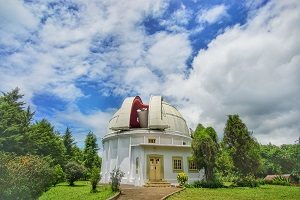 Bosscha Observatory is a stargazing place located in West Bandung Regency, precisely in Lembang. This place is not only suitable for refreshing, it can also add insight into the science of astronomy.
This place was once used as a filming location for Sherina's adventures. You can not just enter this place, you must register first.
By visiting Bosscha Observatory, you can research or see the beauty of objects in outer space. You can also see live views of celestial bodies, such as stars, moon, and other celestial bodies.
6. Begonia Garden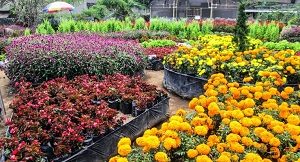 If you are a flower lover, then you must visit this attraction. Begonia garden is located at Jalan Maribaya no 120 A Lembang, West Bandung Regency.
This tourist attraction presents various types of balinese flowers. Balinea flower is a beautiful type of Balinese begonia flower, suitable as an ornamental plant either in the yard of the house or anywhere.
This Balinese begonia flower has attractive colors such as red, pink. In addition, there is a cafe with a very beautiful and colorful view of balinese flowers. (Also read: Tourist attractions suitable for the new year)
7. Forest Park Ir. H. Juanda
This Grand Forest Park is located in the Dago Pakar area, about 7 KM from the city of Bandung. As for this year, there are Dutch Caves, Japanese Caves, and Omas waterfalls. The cool atmosphere with the expanse of tall trees makes the holiday perfect. Only with IDR 10,000/person you can enter this place. (Also read: Educational tourism in Bogor)
8. Maribaya Waterfall
This waterfall is located in the Forest Park area of ​​Ir. H. dJUANDA. To enter this area, you have to pay another Rp. 8,500 and Rp. 5,500 if you want to take a shower.
Read also:
9. Stone Garden
Stone garden is located in Padalarang, West Bandung Regency, about 26 KM from Bandung City. To enter this tourist spot, it is only Rp. 5,000.
10. Situ Cileunca
Situ Cileunca is located in Pangalengan, Bandung Regency, about 45 KM from Bandung City. The beautiful scenery and the bridge of love on it add to the natural beauty of this place. You can camp in this place and can also fish. To enter this tourist area, you only need to pay Rp. 2,500/person. (Also read: The most beautiful beaches in the world)
11. Graphic Cikole Tourist Terminal
This tourist attraction is located at Jl. Tangkuban Perahu Km.8, Cikole is approximately 25 KM from the city of Bandung. The available facilities are outbound and available accommodation such as hotels, houses on stilts and also camping areas. In addition, there are also various kinds of culinary here.
12. Anteng Slope
Lereng Anteng is one of the new places to eat in Bandung which is quite popular. The unique concept makes this place to eat a lot of visitors, this place is perfect for dinner with a lover. This restaurant is located in Punclut, Pageurmaneuh, approximately 13 KM from the city of Bandung. This restaurant is open every day from 08.00 – 22.00 WIB. (Also read: Sundanese food in Bandung)
13. Keraton Cliff
The cliffs of the palace are located in the village of Ciharegem Puncak, Ciburial village, Bandung. It is approximately 13 KM from the city of Bandung. To enter this area you only need to pay Rp. 11,000. Beautiful scenery and a very good place to wait for the sunset. (Also read: Photo spots in Bandung)
14. Tangkuban Perahu Mountain
This tourist attraction is very famous for its legend. Tangkuban Perahu Mountain is located in Sukajaya Village, Lembang District, about 20 KM to the north of Bandung City. The beauty of the mountain and also the crater is the main object of this tour, with complete facilities this place is a must-visit for you. Entrance ticket price is only IDR 35,000/person
15. Bukit Bintang
This place at night will be very beautiful, the twinkling city lights can be seen from this place. This place is located on Jalan Bukit Dago Timur. To enter this place you only need to pay Rp. 3,000. It is recommended to visit this place at night, because it will look very beautiful. (Also read: photo spots in Bali)
16. Ciater Hot Springs
Ciater hot spring is located on the border of Subang. This tourist spot is very crowded with tourists, this hot spring comes from Tangkuban Perahu Mountain. For those of you who like to bathe, you must visit this place. (Also read: The advantages and disadvantages of tourism in Bali)
17. Farmhouse
This tourist spot was founded in 2015. Even though it is a new tourist spot, this place is very famous, so many tourists come to the farm house. You can feel the flower garden with European ornaments, besides that there is also a house like a hobbit house. In addition, you can feel like a European girl with a European-style costume.
18. Saung Udjo
If you want to take a vacation and want to add insight, then Saung Udjo is the answer. Saung udjo is located on Jalan Padasuka 118. In this place you will be introduced to various cultures from West Java. Usually there are shows every day, from 15.30 to 17.30. The show presents angklung games, traditional dances, and there is also a puppet show.
19. Geological Museum
One of the other educational tourist attractions is the geological museum. This place is a national heritage which is a historical tourist spot. The geological museum is located on Jl. Diponegoro No. 57 Bandung. To enter this museum you only need to pay Rp. 3,000/person. Visit this geological museum when you want to vacation in Bandung.
20. Cibaduyut Shoe Center
A vacation without shopping feels incomplete. As we know, Cibaduyut is the biggest shoe center in West Java. You can hunt for the best quality shoes in this place. Besides shoes, there are also shops selling souvenirs typical of Bandung here. (Also read: pre-wedding places in Bali)
21. Zoo
22. New Market
23. Trans Studio Bandung
24. Bandung Square
25. Jl. Braga
26. Dago Waterfall
27. Maribaya Waterfall
28. Cimahi waterfall
29. Cutug Bride
30. Dulang Resort & Resto
31. Bamboo Village
32. Ciwidey Strawberry Garden
33. Sungan Sanghyang Tikoro
34. Rancabali Tea Garden
35. Traffic Park
36. Reef swimming pool
37. Sausage House
38. Pine forest camp
39. Princess Mountain
40. Balista Lembang
41. Lawang Wangi creative space
42. The lodge maribaya
43. De Ranch Lembang
44. Elephant Village
45. Bandung Treetop Aventure Park
45. Ciwidey Rabbit Park
46. ​​Moko Hill
47. Situ Cisanti
48. Gedung Sate
49. Spring Geulis Kahuripan
50. Upside Down World Bandung
So that's a cheap travel recommendation when you want to vacation in Bandung. Hopefully this article can help you choose which place to visit. How? Interested in visiting Bandung? Don't forget to prepare everything when you go on a trip.