The city of Jakarta will not be completely discussed. Every corner of the city has an interesting story. Starting from tours to places to eat. The places to eat are always unique and interesting, ranging from contemporary favorite places for young people to old-school restaurants that serve snacks from the 90s. Everything is in Jakarta. (Also read: Children's Tourism in Jakarta)
After working until the evening, of course you want a dinner with a homely feel. You can get a home atmosphere with home-made food or with stretched legs or feet. But in a big city like Jakarta, where is a lesehan restaurant like that? The following is a review of some lesehan places to eat in Jakarta:
1. Talaga Sampireun
If you want a lesehan stall with a Sundanese menu, Talaga Sampireun is the answer. This restaurant is famous for its lesehan saung. And also the Gurame Bakar Cobek. The spices that seep into the fish meat are certainly very appetizing. The atmosphere in the dining area is very beautiful. Moreover, there is a super large fish pond or a small artificial lake filled with tilapia and gold fish in the middle of the restaurant. You can feed the fish with fish feed from the restaurant manager. Another Talaga Sampireun branch has a playground for children. (Also read: Cheap Tourist Places in Jabodetabek)
One thing that deserves thumbs up from this restaurant is the punctuality. After ordering If you have waited for 20 minutes and the food or drink has not arrived, you will get compliment in the form of vouchers. Sampireun Lake is very famous. If you come there you have to be prepared to find a car park on the side of the road. Often the parking area provided by the restaurant is not enough to accommodate guest vehicles. (Also read: Cheap Tourist Places in Jakarta)
At Talaga Sampireun guests can choose where to eat indoor (inside the room) or outdoor (outdoors). This Sundanese restaurant has several branches in the city of Jakarta, including:
Ancol Dreamland Park, Jl. Golf Course 7, Ancol, Jakarta. Tel. (021) 64700400.
Boulevard Bintaro Jaya Blok B7/N1, Bintaro Sector 7, Pondok Aren, Tangerang. Tel. (021) 7453999.
West Outer Ring Road, Cengkareng, Jakarta. Tel. (021) 58352555.
2. Kira Kira Ginza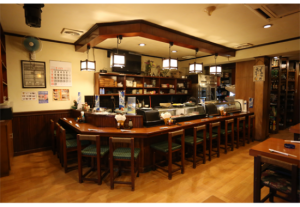 After the Sundanese restaurant, now continues to the Japanese restaurant, Kira Kira Ginza. Kira Kira Ginza commonly known as little Tokyoit's Jakarta. Inside this restaurant there is a sushi bar, a table and a tatami room or a place to sit down. As soon as you enter the restaurant you will immediately feel vibe Japan. The interior design is made like an izakaya in Japan. The writing is in Japanese characters. The TV that is broadcast is also Japanese TV. But don't worry, the food menu still uses capital letters. To wait for the order to come you can also visit comic corner to read the Kira Kira Ginza comic collection. This is the design view of this restaurant as follows:
Japanese restaurant located in Blok M area. Precisely on Jl. Melawai 9 No. 30, Melawai has an Okonomiyaki menu that is worth a try. Kira Kira Ginza's signature okonomiyaki is filled with pork beef and vegetables. (Also read: Cheap Hope Island Lodging)
As a finishing touch, the okonomiyaki is smothered in sauce and mayonnaise which is quite tempting. This restaurant has been a favorite Japanese restaurant for Jakarta residents since 1985.
Most visitors are Japanese expatriates who are still in Indonesia. This proves the taste of Kira Kira Ginza's cuisine is still authentic. (Also read: Pulau Sepa, Thousand Islands)
From Monday to Friday, Kira Kira Ginza is open from 11.40 pm to 2.30 pm and from 6 pm to 10 pm. On Saturdays open 11:30 am to 12 pm. On Sundays it is open from 11.30 in the afternoon until half past ten at night. (Also read: Lebaran Tourist Places in Jakarta)
3. Saung Alam Sunda Restaurant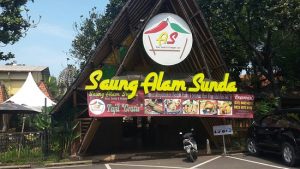 From the name alone, a place to eat Lesehan in Jakarta, you will immediately understand that this restaurant is a Sundanese restaurant. The main menu of this restaurant is Nasi Liwet. The contents are complete, you know, starting from rice, fried chicken, tofu and tempeh, chili sauce, to salted fish. (Also read: Prewedding Place in Jakarta)
This restaurant is located at Sport Club Kota Wisata, Jl. Transyogi, Cibubur. The atmosphere is very shady because of the many trees and spacious. The facilities owned by this restaurant include:
Lottery club.
buffet.
Birthday.
Meeting rooms.
Family gazebo.
Full AC.
Catering.
Karaoke.
Children's play area.
live music.
Lesehan open nature.
Delivery.
350 people capacity.
Parking is very wide.
The following is a favorite menu for visitors to Saung Alam Sunda Restaurant:
Flying carp.
Honey grilled prawns.
Crab field sauce.
Know the contents of the Sundanese nature.
Red grilled rice with Padang sauce.
Spicy sour gourami.
Gurame grilled basil.
Fried squid in Padang sauce.
Other articles:
4. Gubug Mang Engking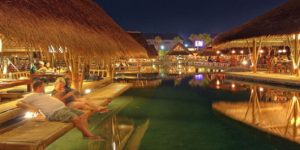 Another Sundanese lesehan restaurant in Jakarta. Gubug Mang Engking. As soon as you enter this restaurant, you will immediately feel the Sundanese atmosphere. Especially with lesehan huts and fish ponds filled with shrimp and freshwater fish. This restaurant is suitable to be visited with a group of friends or family. The owner of the restaurant provides a play area for children. In addition, there is also a prayer room. (read also: Beautiful Indonesia Miniature Park)
The visitor's favorite menu is Honey Grilled Shrimp. The portion is quite large, the shrimp meat is tender and the sweet taste of honey fits on the tongue. Initially, Mang Engking was a fish farmer. However, because of the crowds of visitors fishing in his pond, he took the initiative to open a simple meal to meet the needs of anglers. Now Gubung Makan Mang Engking is growing. He opened restaurants in several big cities such as Soragan, Yogyakarta; Pandaan, Pasuruan, East Java; Depok, West Java; and Semarang. There are 18 Gubung Mang Engking branches in total in Java and Bali, some of which are:
The Breeze, Jl. Grand Boulevard BSD, Green Office Park BSD City, Serpong, Tangerang. Tel. (021) 50385385.
Salam Lake, University of Indonesia, Beji, Depok. Tel. (021) 99569150.
Arowana Lake Cibubur, Jl. Jamboree Raya No. 8, Pondok Rangon, Cibubur, Jakarta. Tel. (021) 84311877.
The target audience for Mang Engking's restaurant is the upper middle class because he believes in the quality of his cultured shrimp. If you wish to come visit, this restaurant is open from 10 am to 10 pm. (Also read: Ancol Dreamland Jakarta)
5. Bandar Djakarta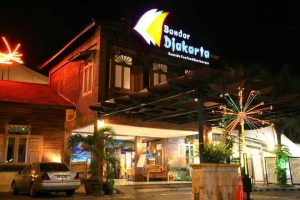 Bandar Jakarta restaurant is famous for its seafoodit sucks. Seafood used is really fresh. There, you can choose live seafood. Only then the order is cooked whether it is grilled, fried or cooked with gravy.
The most famous menu is the Jumbo Grilled Cheese Pancet Shrimp. The grilled and juicy aroma of the prawn meat is very tempting and the cheese is very palatable. For those of you who don't like to eat seafood, don't worry. This restaurant also provides a variety of noodle menus, chicken meat and others. Some of the addresses of Bandar Djakarta branches are:
Bay Walk Mall, Ground Floor, Jl. Pluit Karang Ayu, Pluit, Jakarta. Tel. (021) 66676060.
Ancol Dreamland Park, Jl. East Lodan, Ancol, Jakarta. Tel. (021) 6455472.
Flavor Bliss, Jl. Alam Sutera Boulevard, North Serpong, Tangerang. Tel. (021) 53140388. (Also read: Jakarta National Monument)
6. Mujigae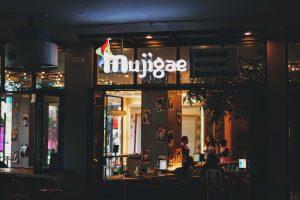 The restaurant this time is a Korean restaurant. Mujigae. Who doesn't know Mujigae? This Korean restaurant is spread in many big cities such as Bandung, Tangerang, Jakarta and Bekasi. As the name suggests, Mujigae which means rainbow, Mujigae has an attractive, colorful and beautiful interior eye catching. The music played here is also a music video from a rising South Korean girl/boy group. One unique thing that you probably won't find in other restaurants is ipad on every table. To order, you just need to select the menu at ipad the. After your order is ready, the waiter will bring it to your table. (Also read: Cheap Shopping Places in Singapore)
The menu served here from a lesehan restaurant in Jakarta is of course Korean food. Some of the menu is bibimbap, ramen and bulgogi. In addition, Mujigae also has a "mini grill". If you order enu BBQ, the waiter will give you a small grill at the table. You can cook your own BBQ according to your taste. Oh yes, don't worry, Mujigae has obtained a halal certificate from BPOM and MUI. Mujigae has many branches including:
Mall Kelapa Gading 3, Ground Floor, Gourmet Walk, Jl. Kelapa Gading Boulevard, Kelapa Gading, Jakarta. Tel. (021) 45848978. (Also read: Tourist Attractions in Jordan)
Ekalokasari Plaza, Ground Floor, Jl. Siliwangi No. 123, East Bogor, Bogor.
Summarecon Mall Bekasi, Ground Floor, Jl. Ahmad Yani, North Bekasi, Bekasi. Tel. (021) 29572493. (Also read: Ragunan Zoo Jakarta)
Apart from the restaurants above, there are many other lesehan restaurants in Jakarta, such as:
Situ Cibubur Shrimp Hut.
Waroeng SS.
Wooden House Dining Garden.
Leafy Nature.
Saenk Kito.
Lesehan Blok M.
Lesehan Mbok Ndoro.
Fatmawati Cat Rice Angkringan.
Lesehan Gurame Rawangmangun.
Lesehan Omah Pincuk.
Lesehan East Java.
Lesehan Restaurant.
Lesehan Gurame Youth.
Pondok Lesehan Saung Barokah.
Blooming Lesehan.
Gingo Duck Rice.
Asinan Betawi H. Mansyur Cambodia.
Merta Sari's Lesehan stall.
Basil Hut.
Hadramout Restaurant.
Serpong Basil Cottage.
Situ Gintung Grilled Chicken Restaurant.
Savory 7.
Larazeta Restaurant And Gallery.
Al Tahrir.
Sari Idaman Restaurant.
Kampoeng Eat Joglo 21.
Pie Apple Pie.
Kin No Taki.
Saung Saung.
Bale Lombok.
The Grill.
Waroeng Sunda Restaurant.
King Gurame.
Kitchen Shop.
Zam Zam.
Sundanese Kitchen.
Kaleyo Duck Branch 6.
Goat Kebon Sirih Fried Rice.
Riung Tent.
Ajwad-Original Arabian Cuisine.
Ampera's King of Flavors.
Karimata Grilled Fish.
Abu Nawas.
Those are some restaurants in Jakarta that provide a lesehan area. Hopefully these reviews help you determine your next culinary destination.