Wakatobi, which is a district in Southeast Sulawesi, offers a variety of natural beauty and is also a tourist spot in Indonesia. Wakatobi itself is an abbreviation which stands for Wangi-Wangi, Kaledupa, Tomia and Binongko. Even UNESCO itself has informed that there are about 750 of the 850 coral species owned by Wakatobi. Various types of biota and coral that cannot be found anywhere else are in Wakatobi. If you want to vacation in this area, check out the reviews of tourist attractions in Wakatobi along with various exciting activities.
1. Wakatobi Islands National Marine Park
If you've never been to Wakatobi, it's natural to feel confused about which tourist attractions are good places to play, then the Wakatobi Islands National Marine Park is the first to be recommended here. This is a marine park spot that has a variety of species from 25 clusters of coral reefs scattered throughout the Wakatobi area.
Because of these advantages, it is not surprising that Wakatobi is a favorite place for visitors to do exciting activities, such as swimming, snorkelingfishing and diving. With the condition of the sea water being so clear, snorkeling is enough to be able to see what's in it, or swim.diving fun to get a clearer underwater view.
For those who are looking for a spot snorkeling as well as diving the closest one, then visitors can go directly to the coral of Kapota Island by crossing it for about half an hour. Alternatively, please head to the ferry port area behind the Wakatobi Hotel, in the Patuno Resort area, Sousu Beach. Visitors who want diving may be calm because there are professional dive guides to accompany you. The tourists will also be escorted to do diving at the best dive sites in Wakatobi.
There is one island that is quite famous and is a favorite location for professional divers from within and outside the country, namely Hoga Island, which is not far from Kaledupa Island. The beauty of the underwater world is indeed extraordinary, so it is not wrong if divers from abroad also like it. So, for the experience diving more fun, try to come to Hoga Island.
2. Wakatobi Resort Beach Tour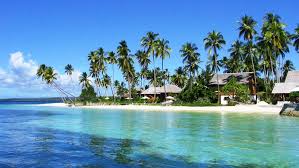 Wakatobi Resort is one of the best locations that must be visited, especially by divers. Located in a stunning and beautiful beach area on Onchmobaa-Tomia Island in the Wakatobi Islands, world-class diving is offered by this place where there is also a very good coral house and is the most beautiful beach in Indonesia.
To get to the dive site is not difficult and the access is fairly easy with the variety of the underwater world that will amaze us. Diving activities in this place are guaranteed to be comfortable and safe for both amateur and professional divers because the marine area is very well protected.
3. Molii Sahatu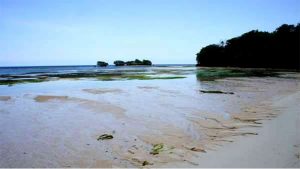 Molii Sahatu is also a tourist spot in Wakatobi and should not be missed. Regarded as a beach of a hundred springs by Wangi-Wangi residents, this beach is only about 20 kilometers from the capital of Wangi-Wangi.
The reason why Molii Sahatu is considered that way is because from the bottom of the beach there are hundreds of springs that come out, so it is not wrong if the name becomes 'one hundred springs'. Near this area there are also other tourist objects that can be visited, namely Bajo tribal villages and natural cave tours which will certainly add to the excitement of the holiday experience in Wakatobi.
4. Liya Togo Palace Fort Site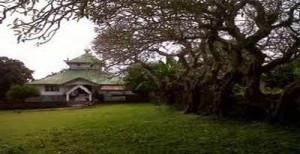 Not only is the beach the most popular and excited to talk about, tourists are guaranteed to be satisfied when visiting the Liya Togo Palace Fort. We can not only find the palace in Yogyakarta or Solo, but in Wakatobi we also have a palace which is a cultural heritage.
This historical tour is certainly different from the palaces in the two cities. Apparently, this fort is considered one of the best of the 120 forts that the Sultanate of Buton has. Still in Southeast Sulawesi Province, Wakatobi Regency, visitors can directly come to Wangi-Wangi Selatan District to find the location of the fort in a village called Liya Raya.
5. Anano Runduma Island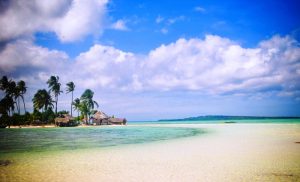 This is one of the islands that is also unique and must be enjoyed while in Wakatobi. This island offers more insight for its visitors because this is where the green turtle nesting center is located.
If tourists come at the right time, then there will be a process of releasing the baby turtles which will be displayed and automatically become the spectacle of the visitors. The hatchlings that are already big enough will eventually be released into the beautiful sea in the Wakatobi archipelago which will be the main attraction in every beautiful sea in the Wakatobi archipelago.
Interesting Activities
a. See the View of Wakatobi from Tomia Hill
From Tomia Hill, which is thought to have been the bottom of the sea, visitors will be able to more freely enjoy the view of Wakatobi. The reason why many people think that this hill is the seabed in ancient times is because there are many large corals found on the ground. Not only the scenery is soothing, but the freshness of the air will also become a favorite for tourists.
The green hills also look very clean so that every visitor will feel more comfortable while in this place. Cleanliness is still classified as good and maintained, this is because the location of Bukit Tomia itself is still rarely visited. A cool atmosphere and a fairly quiet atmosphere can be the right location to be able to calm your heart and mind.
b. Snorkeling and Diving
Arriving at Wakatobi, of course the first thing that should be on the minds of tourists is snorkeling. Actually, just by snorkeling, you can see the beauty of the underwater world in Wakatobi because the sea water is so clear that you don't even need to dive, your eyes can catch the marine life in it. A number of corals will also fascinate us for a long time.snorkeling.
But for those who prefer to dive, aka diving, they can also get a new experience of having fun diving in Wakatobi. The advantage of diving is that you can see more clearly and up close to everything that lives under the sea. Just don't forget to bring a special camera that can be used to record underwater so that all of its beauty can be captured.
for spot snorkelingitself is also everywhere and can be easily reached according to our choice. If it's quite confusing, we can try asking the people around and also those who have taken us by ship. For the sake of getting an extraordinary snorkeling experience, Hoga Island and Tomia Island are the most popular and most recommended to try. Hoga Island itself is an island that is not so big and is located near Kaledupa.
c. Watching the Traditional Dance of the Butonese
Wakatobi is also very rich in art and culture where dances typical of the Butonese can be witnessed to increase knowledge and inspire tourists. The dances in question include the Buton tribal war dance in which the children usually demonstrate and this dance is called the Eja-eja dance. Other dances that are also quite popular in Wakatobi are dances with a background of a man from abroad returning to his hometown and choosing a woman to be his wife; The dance is called the Mborira dance.
d. Make a Visit to the Village of the Bajo Tribe
The village of the Bajo tribe is not located on land or on an island, but their houses are built above the sea. The people there used to have no permanent residence and were always nomads because they lived on boats, but now they can finally build houses and no longer live a nomadic life. When visiting Wakatobi, the visit will feel even more perfect if Bajo Village is included in the list of destinations and even in this place visitors can watch the extraordinary Bajo children playing futsal on the water.
e. Culinary Typical Wakatobi Food
Vacations in Wakatobi are not only about the beauty of the beach and its underwater life and interesting activities in Wakatobi are not only snorkeling and diving, but also tasting Wakatobi specialties that can't be found anywhere else. Kasuami is the staple food of the Wakatobi people and this food is apparently made from cassava or cassava which is cooked and grated using a cone mold. So that kasuami can last up to two weeks, kasuami dough must be completely dry and this is usually used as provisions for fishermen before going to sea.
If you have the opportunity to mingle with residents around Wakatobi, then there is no harm in trying to taste this kasuami dish. Parende fish is a friend for serving kasuami with grilled fish that has been seasoned with star fruit sauce. If you want to enjoy something fresh, you can eat parende fish soup while you are still in Wakatobi. In addition, Luluta bamboo rice is also delicious, especially because this food goes through a process of burning with coconut milk and shellfish as well.
Other Things to Pay Attention to While in Wakatobi
Apart from Wangi-Wangi, the electricity on other islands will only be on from 6pm to 6am, so apart from these hours be prepared for the dark.
Bring license diving so that you can enjoy diving to your heart's content.
Because the majority of the Bajo and Buton people are Muslim, tourists should wear clothes that are not revealing even on the beach.
So much information about tourist attractions in Wakatobi along with exciting activities that can be done while on vacation in this place. In addition to adding to the exciting experience, there is a series of artistic and cultural knowledge that visitors can get from Wakatobi. Hopefully the above review can be a useful guide for you right before leaving for this exotic tourist location.
Also read articles on other unique tourist attractions: