Does anyone know where Queenstown is? Yep! Queenstown is a major tourist destination in New Zealand. The city is located on the crystal clear shores of Lake Wakatipu and is a haven for stunning natural beauty. For those of you who are true adventurers, Queenstown is the right city to hone your adventurous spirit, with a backdrop of landscapes, lakes and mountains that will accompany every step of your adventure.
And for those of you lovers of extreme sports, this is also the place, there are ski activities in winter, bungy jumping, skydiving, canyon swinging, jet boat rides, horse riding and rafting that will thrill your adrenaline, and if extreme tourism is not your hobby, here you are You can also relax while enjoying the stunning natural panorama of Queenstown. Anyway, complete, Queenstown is indeed a traveler's paradise.
Want to know what destinations you must visit here. Here are tourist attractions in Queenstown:
Milford Sound
Located on the west coast of the South Island, Milford Sound is a spectacular area with stunning natural beauty in every corner. In fact, Milford can even be called the 'eighth wonder of the world' in Rudyard's kiping. Milford Sound was formed by glaciers during the ice age, if you visit here in any weather Milford Sound is still enchanting and stunning. The cliffs of the towering vertical fjord, sky-piercing mountain peaks and the soothing roar of waterfalls, some of which are as high as 1000 meters.
If you are lucky, when it rains in Milford Sound, you will see the amazing rain effect of the waterfall effect which is like multiplying. There are also cruise boats that are on standby day and night, here you can enjoy the beauty of Milford Sound in a perfect way, for those of you who are adventurous, you might be able to try sea kayaking, diving and sightseeing. Explore Milford Sound, visit the underwater observatory at Harrison Cove to learn about local marine life such as black coral, 11-legged starfish and a variety of beautiful anemones.
And for those of you who are hiking or trekking enthusiasts, here there is also the Milford Track which is perfect for completing your hobby, this trail starts at the northern end of Lake Te Anau and creeps through various amazing wilderness, and this trekking ends with a boat trip from Sandfly Point to Milford Sound wharf. How interested is not it?
Lake Wakatipu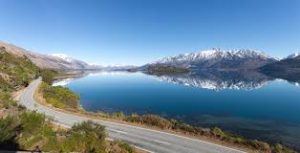 Lake Wakatipu is the third largest lake in New Zealand which is shaped like a thunderbolt. There is a Dart River that flows from the northern end of the Kawarau River, snaking until the outflow is in Queenstown. The uniqueness of this lake is that it has a single moat carved by glaciers and surrounded on all sides by towering mountains, the tallest and most famous of which is Mount Earnslaw, with a height of 2819 meters. There are also many settlements scattered around the lakeside including Queenstown, Kingston village, Glenorchy and Kinloch village.
Because Lake Wakatipu has an unusual shape, it is also unique in that it experiences a very large 'tidal wave' or rather a 'stand wave', which produces a unique phenomenon, the water will rise and fall about 10 centimeters every 25 minutes. And this phenomenon is believed to be the heartbeat of a giant monster named Matau who is believed to be sleeping at the bottom of the lake. At Lake Wakatipu, you can also fish for trout all year round in Greenstone and Lochy River and when you visit in summer, the shores of lake Wakatipu are very exciting for the arena. swim.
Lake Wanaka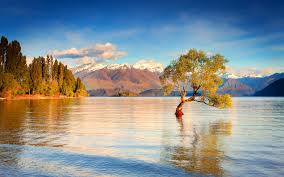 Lake Wanaka is a stunning lake and snow destination, with a length of about 45 kilometers and covering an area of ​​193 square kilometers, these crystal clear waters are perfect for fans of jet boats, sailboats and kayaks. Situated hidden beneath towering mountains , here is the most comfortable and peaceful place compared to the lakes on the south island (South Island). Ski lovers from all over the world will flock to enjoy the coolness of skiing and snowboarding at Cardrona and Treble Cone in winter, here you can cross-country ski at Snow Farm and heli ski at the top of the Harris Mountains.
However, Wanaka is not just a winter tour, here you can also fish, nature trekking, explore canyons, climb (climbing) and parachute, for those of you who just want to relax, you can also shop and just sit back and relax in the cafe while looking at the expanse amazing nature. In addition, an attraction that is no less impressive than Lake Wanaha, you can combine the warmth of a small-town lifestyle with the quality of an international holiday destination when you decide to spend the night here. Shops and restaurants, all facilities have been met, luxurious lodging to backpacker class are also available. To explore other destinations around Lake Wanaha, you can also use the services of a transportation provider that offers daily services. Interesting right?
Routeburn Track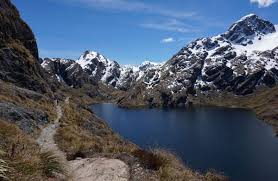 In this place you can enjoy the sensation of an amazing adventure (Great Walks), because this place has some incredible view points. With a backdrop of soaring mountain peaks, vast valleys, waterfalls and lakes whose water is like gems, you can trek with joy and a flowery heart, this trail connects Mount Aspiring Park with Fiordland national Park.
The highest point of this trail is at an altitude of 1,255 meters above sea level, you can imagine, this is not just a hike, but more can be considered a mountain climb. For those of you who are beginners, you might be able to complete this track in three days with a track length of 32 Kilometers, but for those of you who are used to it and have extra stamina, it can take a day. The Routeburn Track falls within a treasured area of ​​New Zealand called Te Wahipounamu South West Zealand, it is formed by glacial jets that evolve into narrow coves between high cliffs, rocky beaches, lakes and waterfalls.
Two thirds of the area is protected by southern beech trees and podocarps, some of which are said to be more than 800 years old, here you can also see the Kea, the only mountain parrot and several unique and rare species in the world. The climb will feel enchanting, when you have reached Lake Harris which is the highest point of this trail. Lake Harris welcomes you with beautiful dark blue water (depending on the weather). From this place, you are surrounded by mountains, Mount Tutoko (2,746) meters, Mount Madeline (2,537) meters. Here you can also climb to Conical Hill which is 1515 meters high, with panoramic views around you. In the end you will chuckle, Routeburn is indeed very exotic.!
Hollyford Track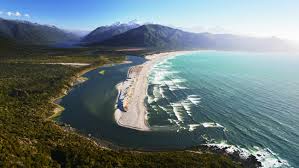 The Hollyford Track is the only major track in Fiordland that can be traveled in all seasons. Tracing this route usually takes four days with a length of 56 kilometers. This trail starts at the end of Lower Hollyford Road, the diversity of vegetation and wildlife along the valley is unmatched, this trail runs along the Hollyford River until it empties into the sea.
The steep rock walls of the Darran Mountains will accompany most of your steps, regularly blending with the low hills between the two picturesque hills of Alabaster and Mckerrow. If you decide to trek the Hollyford trail independently, it is important that you prepare and arrange your own equipment, including first aid and meals, transportation if needed and pre-purchased accommodation tickets. You can get Backcountry Hut tickets for accommodation at any Department of Conservation office, the price is around 15 dollars / person per night to stay in the lodge, and for those of you who decide to camp just pay 5 dollars / person per night. And best of all, it costs nothing to walk the Hollyford track. How?
Those are some fun destinations that you can try if you explore Queenstown, hopefully they can be a reference for your vacation. Happy holiday yaa.
Also read articles on other unique tourist attractions