As a city of culture, Semarang also has its own charm for tourists who visit there. Famous for its cool tours for colonial buildings or its old city, Semarang is suitable as a city for pre-wedding pictures.
If you are a native Semarang child or an outsider who wants to find a pre-wedding place in Semarang, maybe the following place recommendations can help you make a choice.
Read also:
1. Brown Canyon
Located in the Demak area, the Brown Canyon area is a former mining area which has now become quite popular in Semarang and its surroundings. The reason is, the former mine is a beautiful area.
Many tourists have come there. There are also several couples who also carry out their pre-wedding photos at this place. Don't get me wrong, the results are really cool. Like being abroad.
Maybe this place is suitable for you and your partner. If you are curious, please come to the location yourself and determine the theme or concept of the pre-wedding photo you want.
2. Maerokoco Castle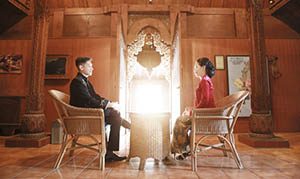 The Mini Garden of Central Java stores all kinds of culture and typical buildings of Central Java and its surroundings which can also be used as pre-wedding locations.
If you and your partner want a Javanese or traditional concept, this location is for you. There are many spots that can represent the Javanese concept for your pre-wedding photos.
Of course, you and your partner really need to make sure which spot or building is suitable for your wedding theme later. There are also several couples who have done pre-wedding photos there, and the results are in accordance with what they wanted.
3. Coffee Hut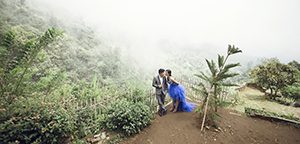 Coffee accompanied by the typical mountain air? It is common. But a pre-wedding photo in a contemporary coffee shop with a distinctive mountain feel? Only at Pondok Kopi can.
You and your partner can take pre-wedding photos at Pondok Kopi located in Sidomukti Village, Badungan, Semarang. There you will find lots of cool spots to be used as photo backgrounds.
The typical view of the cool hills will also add to the beauty of your photo and your partner. At night, you can get views of the city of Semarang from a height from there, you know.
4. Susan Spa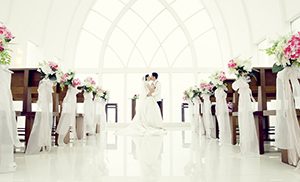 Located in Badungan, Semarang, Susan Spa is a great location to hold wedding receptions and also pre-wedding photos. You are free to choose to take pictures indoors or outdoors.
Many wedding vendors and couples hold their weddings and pre-weddings at this place. If you and your partner want a luxurious concept, this is the place.
But still adjust to the budget you have. Also adjust the concept of the photo that you both want.
5. Old Town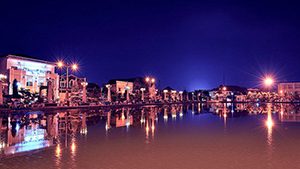 The view of the colonial buildings that are typical of Semarang can also be considered as a pre-wedding location. Yes, that's the Old Town.
You and your partner who want to reduce costs, can choose this location as a pre-wedding location because to take pre-wedding photos there you will not be charged a penny.
In addition, the buildings there are also very cool to be immortalized. Just adjust it to the concept you want with your partner, and get the best photos from the best spots.
Read also:
6. New Semarang Hill (BSB)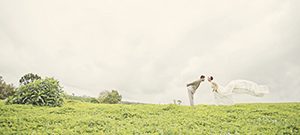 Recently, the BSB area has been very busy being discussed by the people of Semarang. There are lots of cool photo spots that can be considered in choosing a pre-wedding location for you and your partner.
The beautiful scenery and green trees will make your photos more natural. The good news, there are some spots that can be free or not paying.
Be clever in choosing photo spots from Bukit Semarang Baru. Guaranteed, your photos will look charming and won't disappoint.
7. Container Terminal (Tanjung Mas Port)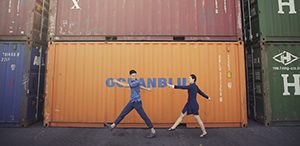 The unique thing about this location is the piles of containers that are ready to sail or have just docked at the port of Tanjung Mas. Photographers usually make the container a stunning backdrop for photos.
You and your partner who want a different concept from the others may be able to come there and take pre-wedding photos there.
There are already several couples who have proven the uniqueness of this place as the background for their pre-wedding photos. And their photos are very unique and also quite rare, aka anti-mainstream.
8. Mangrove Forest (Demak)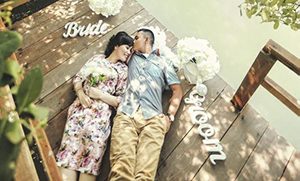 A mangrove forest in several other areas is also often used as a location for taking pre-wedding photos, the results are no less interesting than other locations. Including this mangrove forest in Demak.
You and your partner can explore the mangrove forest while taking a pre-wedding photo procession. Many spots in this location are interesting to be used as photo backgrounds.
The typical view of the mangrove forest or mangrove plants will make your pre-wedding photo not disappointing, as long as the concept and color of the clothes you choose are appropriate.
9. Lawang Sewu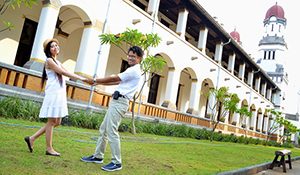 This legendary building is not only famous as a tourist attraction but also as an object for pre-wedding photos. In addition to the Old City, Lawang Sewu will also give your photos a retro colonial impression.
Any concept seems to fit into this location. Whether it's an old school concept, elegant, casual, retro, and others.
Adjust the visiting hours of tourists with your pre-wedding photo schedule. Don't let your pre-wedding photo process be interrupted just because you set the wrong schedule.
10. The Great Mosque of Central Java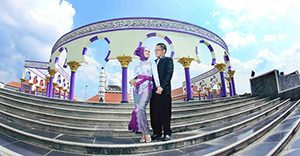 This mosque, which is very similar to the Grand Mosque, is also a cool pre-wedding photo location by several couples who have proven it themselves. The majestic exterior of the mosque with its unique architecture will make your photos feel even more sacred.
You and your partner will not regret doing pre-wedding photos at this mosque. However, to take pictures here, it's better only from the exterior. Don't let you and your partner come to take pre-wedding photos, it will only interfere with the activities that take place inside the mosque.
Read also:
11. Sam Poo Kong Temple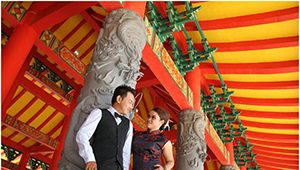 Want a pre-wedding photo concept that impresses Chinese or Chinese? You can choose Sam Poo Kong Temple as your pre-wedding photo location.
This Chinese Peranakan building is suitable for those of you who really want the Chinese Peranakan concept to be present in your pre-wedding photos.
There are several couples who have taken pre-wedding photos at this place and the results are very cool. Adjust the concept, clothing, and color of the clothes if you want to take pictures here. Do not let the wrong clothes and actually make the photos look bad.
12. Tinjomoyo Bridge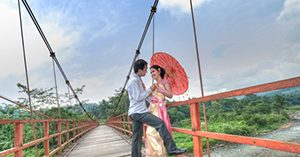 This Tinjomoyo forest is often used as a photo object, both tourist photos and pre-wedding photos. There you will find views of the trees. There is also an interesting bridge to serve as a photo background.
The suspension bridge hovers over a river. You and your partner can come to the Tinjomoyo Forest, which is located in the Banyumanik area.
Make sure you and your partner always check the location first for the results of pre-wedding photos that are charming and as you expect.
13. Benowo waterfall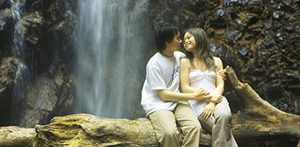 A waterfall is also suitable as a place for pre-wedding photos. In Semarang there is a waterfall called Curug Benowo. The location is on the slopes of Mount Ungaran.
The cold, cool, and natural atmosphere will be beautiful to be the object of your pre-wedding photo with your partner. This location is suitable for both of you who like outdoor activities or nature activities.
There are some people who take pre-wedding photos there, but not many people take pictures there for pre-wedding. Though the scenery is very worth fighting for.
14. Tugu Temple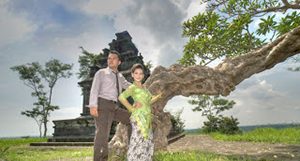 Still in the city of Semarang, Candi Tugu is a temple that is located quite easily to reach. You don't have to go all the way to the outskirts of the city to find cool pre-wedding photo locations.
This location is suitable for those of you who like the concept of culture or the concept of Java. But you can also take other concepts, as long as they are in line with the shape and layout of this temple.
The temple complex is not too wide. However, there are definitely many photo spots that can be explored more deeply for pre-wedding photos.
15. Tinjomoyo Tunnel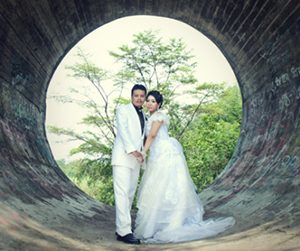 Not far from Tinjomoyo Bridge, there is a cool spot shaped like a circular tunnel. This photo spot is very charming to capture.
You and your partner can come there to prove yourself. There are many poses and many concepts one can imagine while there.
There are also several other couples who have done their pre-wedding photos there. The results of photos that are very simple but still cool actually become the main attraction later.
Read also:
Those are some recommendations for pre-wedding places in Semarang. Here are some additional references that you can find out about pre-wedding locations in Semarang.
16. Tawang Station
17. Mangkang Zoo
18. Mandala Bhakti Museum
19. Marina Beach
20. Fish Smoking Center
21. Water Blaster
22. Kampoeng Djowo Sekatul Tourism Village
23. Lakers Club
24. Hills Joglo Villa
25. House of Roots
26. Maerokoco Park, Central Java
27. Campus Area in Semarang City
28. Semarang City Hall
29. Wonderia Semarang Recreational Park
30. Watugong Buddhagaya Pagoda Semarang
31. Kali Pancur Waterfall Semarang
32. Tirang Beach Semarang
33. Semarang Catfish Park Tour
34. Semarang Family Planning Park
35. Supeno Semarang Minister Park
36. Menara Mosque (Layur) Semarang
37. Central Java Grand Mosque (MAJT)
38. Semarang Tawang Station
39. Water Blaster Bukit Candi Golf Semarang
40. Gombel Hill Semarang
41. Simpang Lima Semarang
42. Jalan Pahlawan Semarang
43. Mandala Bakti Museum
44. Semarang Youth Monument
45. Semarang Chinatown Complex
46. ​​Semarang Old Town
47. Cave Kreo
48. Maron Beach
This is an explanation of the highly recommended pre-wedding location in Semarang. Make sure you and your partner choose it with a lot of consideration. Happy choosing.